Hide Dresser Storage Under Your Bed With This Clever IKEA Hack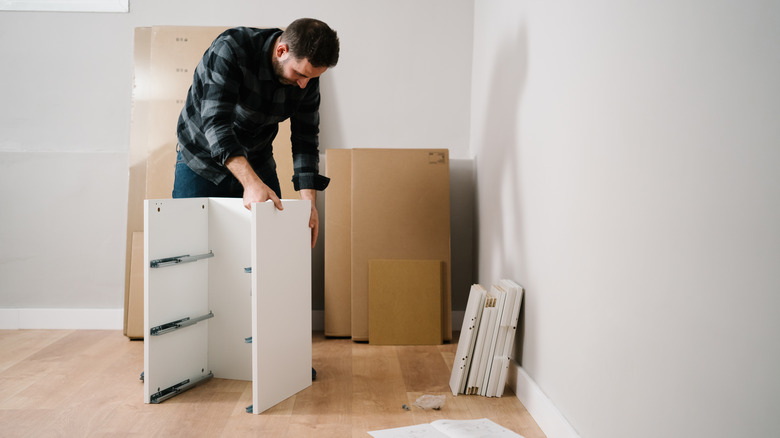 Manu Padilla/Shutterstock
If you don't have enough space for a dresser, you're probably accustomed to living in a cluttered environment. Not having enough storage is a common issue. It could be because your children share a room, your own room is on the small side, or even because it's shaped in such a way that you just can't fit a dresser. Instead of living in a permanent state of mess, try this ingenious IKEA hack to elevate your storage needs. 
All you need for this hack is a couple of the NORDLI two-drawer chests from IKEA that you can buy either online or in person. Once you have the dressers, assemble each one per the instructions and make sure they're steady (this is very important, as you'll be placing further weight on them). Set each dresser up side by side and then place your bed frame on top, ensuring everything is in place and feels secure. Add a mattress and the rest of your bedding and you'll have yourself a built-in alternative to a dresser that doesn't take up any extra room. 
The NORDLI dressers all differ slightly from each other
Conveniently, the NORDLI collection features a few configurations. Alongside the two-drawer dresser, there's a NORDLI four-drawer dresser and a NORDLI three-drawer dresser that features more spacious drawers for larger items. All items in the NORDLI collection come in either black or white. 
Plus, the three options mentioned have open spaces for handles instead of hardware, meaning they won't disrupt any silver or gold harmony you have in your bedroom. If you're feeling DIY-ready, you could even paint the drawers a different color or add hardware. 
To prevent the NORDLI drawers from being visible under your bed, use a valance to cover up the bottom part of your dresser and bed hybrid. This will create a smoother look that won't make your crafty storage hack as obvious. You could also buy a duvet or comforter that's bigger than your bed. That way, your bedding will hang over the sides, hiding your drawers while looking super cozy.