HGTV's Meridith Baer Appreciates These Tiny Details When Staging A Home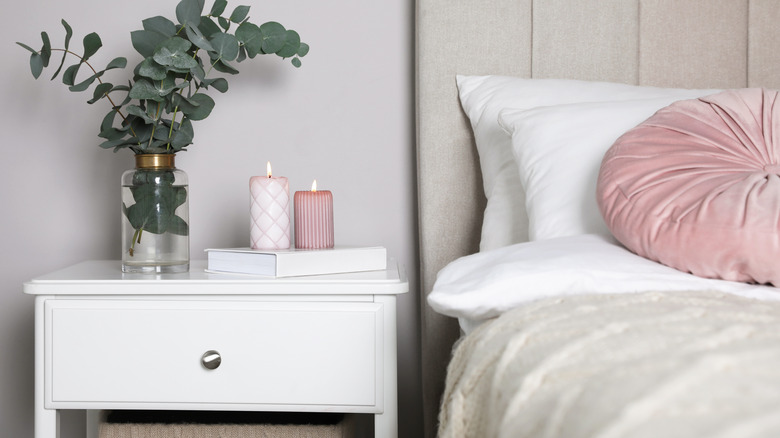 Liudmila Chernetska/Getty Images
Preparing to sell a home can be a stressful and busy time focusing on big-picture things like mortgage approvals, offers, and upgrades. However, sometimes the smallest details can work toward making a swift and successful sale. According to Meridith Baer, host of HGTV's "Staged to Perfection," implementing charming yet subtle touches when staging a home often helps homebuyers see themselves living inside the residence. This feeling is intangible but has a huge impact and can sometimes influence a buyer's decision.
Baer told Lohud that well-placed accessories like an open cookbook on the kitchen counter or a cozy bedside nightstand could help a buyer imagine how'd they live their life in your home and where they would store or display their personal items. The key to staging a residence is to master the feeling of lived-in and cozy without too much clutter or overly personal details that may interfere with the buyer's imagination. Baer suggests keeping this balance in mind to reveal your home's true potential.
Personality vs. Personal
Baer suggests removing at least 50% of personal items when staging your home to avoid visual clutter, but be careful not to create a sterile and boring environment, per Lohud. Great additions to a kitchen, for example, include well-placed cookbooks, a bowl of fruit on the countertop, or fresh flowers. While your bathroom counters should remain hotel-like and product free, try adding accents like a basket with rolled towels, pretty hand soap, or a candle. In the bedroom, a bedside carafe, a novel, and a casually strewn throw blanket can give the impression that someone has just stepped out of the room, helping the buyer imagine themselves in the space.
While Baer and other real estate experts suggest painting walls white to create a blank slate and a feeling of largeness, this does not necessarily mean your walls should be left empty. While white walls can help buyers imagine their decor and furniture in a room, you don't want the home to feel too cold and without personality. For artwork, opt for simple styles that don't overwhelm the space and complement the home's architectural style. However, Baer advises avoiding hanging too many family photos because it can make it harder for buyers to picture their own family in the home.