Whatever Happened To Sand Cloud Beach Towels After Shark Tank Season 8?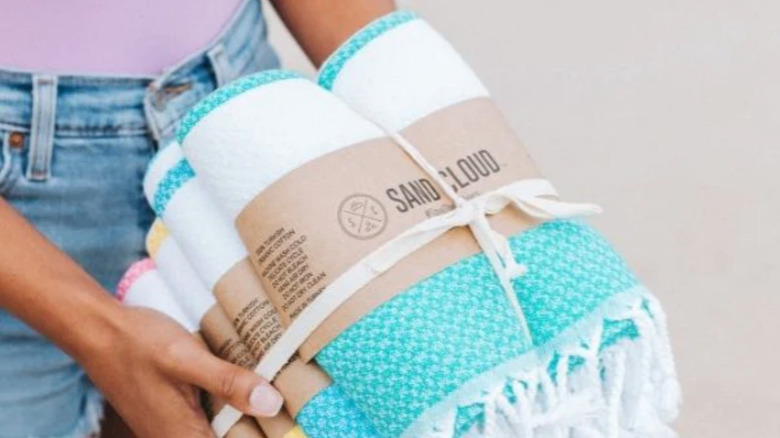 Sand Cloud
We may receive a commission on purchases made from links.
The beach towel has been around for centuries with little innovation. That changed when San Diego buddies Bruno Aschidamini, Brandon Leibel, and Steven Ford had the idea to attach a pillow to the drying cloth. It was a product that didn't make them any money but created the building blocks of their company Sand Cloud. These beach fanatics went from taking insurance calls to pitching on national TV in front of "Shark Tank" investors.
Sand Cloud creates premium beachwear. Each Turkish cotton towel is sand-resistant, lightweight, and stylish. Better yet, the company donates proceeds to save wildlife. Aschidamini, Leibel, and Ford designed the product because they felt the standard towel needed a facelift.
A product for beachgoers that saves the beach had all the Sharks' attention. Robert Herjavec, Kevin O'Leary, Daymond John, Mark Cuban, and Lori Greiner didn't hide their interest. Multiple offers were made, and the entrepreneur trio left the tank with a fourth partner.
Sand Cloud secured a deal with over a million-dollar evaluation
The former insurance salesmen came into the tank seeking 200k for an 8% stake in Sand Cloud. Bruno Aschidamini, Brandon Leibel, and Steven Ford pitched the product as a lightweight and multifunctional beach towel. You could use them to dry off your skin after a swim, as a scarf when summer's over, or hang them as a tapestry to turn your living room into a beachy escape. The young friends were marketing to a new generation that appreciated funky designs and saving the environment.
With 300k in the bank and over a million dollars in sales at the time of airing, Sand Cloud was already a success, and the wealthy investors wanted in. Mark Cuban was the first to make an offer. He was willing to give the founders double what they asked for, 400k but for 25% of their business. However, the trio didn't want to give up a quarter of the company. Fashion expert Daymond John offered the entrepreneurs 300k for 25%. The Sand Cloud owners countered with 200k for 10% before John went out.
Negotiations weren't favoring the seaside innovators, but Kevin O'Leary's love for their positive cash flow turned things around. He gave Aschidamini, Leibel, and Ford their best offer — 200k for 15% equity. It was so good Robert Herjavec copied the deal. The businessmen accepted Herjavec's investment, hoping to take their beach towel business across the seven seas.
Business boomed after Shark Tank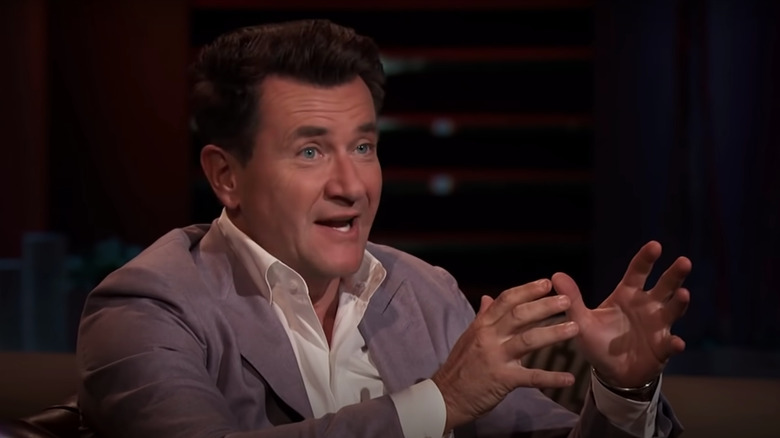 Like with many entrepreneurs who stand on the infamous "Shark Tank" carpet, you get the chance at a life-changing deal and amazing publicity. Sand Cloud benefitted from both. Traffic to their website skyrocketed after their season 8 episode aired, going from 600 to 13,000 clicks. They used the $200k investment from Robert Herjavec to update their site and stock up on inventory.
The improvements Bruno Aschidamini, Brandon Leibel, and Steven Ford made got them global recognition. In late 2017, the founders won the Shopify competition Build a Bigger Business with Tony Robbins. Sand Cloud's ability to create a loyal customer base centered around saving ocean life gave them the edge in the Best Raving Fan Culture category. The company was also spotlighted in "The Shark Tank Greatest Of All Time Special" as a business with great social impact. And Sand Cloud's influence continues to be felt.
Sand Cloud is still selling towels and saving marine life
Sand Cloud's lucrative story all started with an idea. "Looking back now, it was crazy how much risk we took because all we had was a name, we had nothing else," founder Bruno Aschidamini told CNBC. "We had a vision. That was like the biggest thing we had."
It wasn't always easy. Steven Ford admitted, "We [were] making rice and beans every single day trying to live as cheaply as possible." However, their sacrifice paid off. Since appearing on "Shark Tank," Sand Cloud has been featured in HGTV, The Fascination, Business Insider, and The San Diego Union-Tribune. 
The company has millions of dollars in revenue and hundreds of thousands in donations. They work with 20 organizations preserving sealife and the ocean environment, including Coral Restoration Foundation, Global Penguin Society, Hawaii Wildlife Fund, and Marine Conservation Institute. Thanks to Aschidamini, Leibel, Ford, and Sand Cloud shoppers, more than 1,000 marine life animals have been rescued, and over 500 pounds of trash have been cleared off of beaches. However, this is only the beginning for the towel company.
Sand Cloud is more than just towels
The Sand Cloud collection has grown from just towels to blankets, umbrellas, backpacks, sunscreen, and all your beach needs. The entrepreneurs started a system where customers vote for new products and designs on social media. They even make bath products, so you might want to trade your regular bathroom towels for Turkish ones.
Bruno Aschidamini, Brandon Leibel, and Steven Ford recognized they built a brand with a social cause that was more valuable than any product. "We wanted to take advantage of that and give people from all over the world — who don't necessarily live by the beach — an opportunity to represent Sand Cloud and what we stand for," Leibel told Inc.
Their sustainability mission is still at the forefront. Sand Cloud works with the Recover company to make garments from plastic bottles and recycled cotton. However, fun designs are also a part of the brand, with things like the Star Wars: The Mandalorian collection. You can support the "Shark Tank" alums while saving the planet by snagging a product on their Website, Tillys, or Amazon.