TikTok's Stylish Stuffed Animal Storage Trick Is A Total Organization Game Changer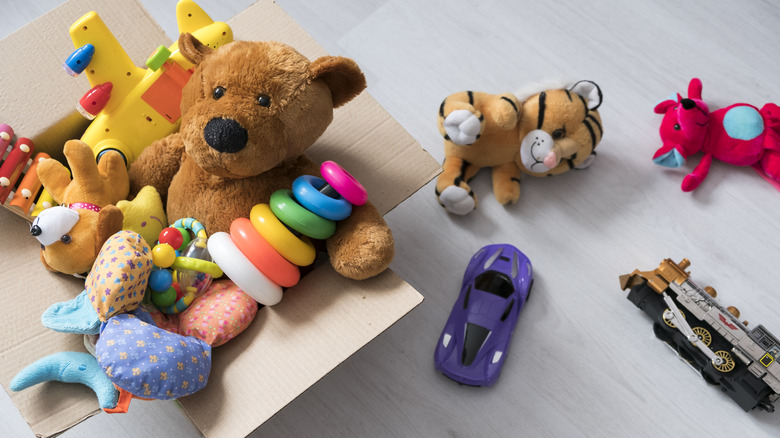 Yavdat/Getty Images
Stuffed animals are loved by kiddos. Regardless, if you win them at the fair or buy them in the store, these plushies become part of the family. Yet when it is playtime, the whole collection is sometimes randomly thrown on the floor. The beloved teddy, missed in the clean-up, now collects dust under the couch. Storing the stuffies in bins or baskets leads to the dramatic dumping that can turn the family room into a zoo crime scene.
Ideally, you want the huggable creatures easily accessible in a stationed container, so the little ones can't do the dreaded flip and dip. And all you need is a wall planter to create the perfect plush toy organizer. This hack turns the flower pot into a floating shelf that kids can't take off the wall and dump all their toys out of. You'll be left with a stylish yet functional storage idea that will help keep the playroom tidy.
Create a plushy toy shelf with a wall planter
You can find metal wall planters at your local hardware store. Home Depot sells 24 to 48-inch wide planters starting at around $34. Amazon also has plant hangers that come in sets of two, four, or six in case your plush collection is extensive. Just mount the metal basket onto the wall with the included anchors, remove the liner, and add all the stuffed animals. Plus, this hack is a great way to use awkward spaces like underneath windows.
The metal adds an industrial aesthetic touch to the colorful toys. These typically come in black but spray paint can transform them into the color of your choice. Use a paint designed for metal and coat the planter with a fun hue to match your play space's decor. 
The wall planter turned floating shelf makes the ultimate stuffed animal jail that will still come in handy once the plush toys are replaced by video games. Once the children grow out of the stuffies, you can use the floating basket for storing decorative cushions or books. You can even return the straw liner and add faux flowers for a unique way to decorate with plants.