Design Expert Reveals The Best Paint Colors For Your Outdoor Shed
Whether you use your shed for storing gardening equipment, sports gear, or seasonal items, having one means having a prominent fixture in your yard. Depending on your landscape and the placement of the shed, you may want to draw attention to your mini-building or have it blend into the background. On one hand, a bright, prominent color will bring the eye to the structure. If this is what you want, augment its presence in the yard with a wreath or shutters, pots of flowers, or other decorative accessories. On the other hand, more subtle shades will help the shed blend into the setting, making it less noticeable but no less functional.
We've mentioned how to make the most of your shed by organizing the interior. For the exterior, Martha Stewart has several ideas for applying the best paint colors for an outdoor shed. The outlet consulted with experts and representatives from major paint companies including Sue Wadden, director of color marketing at Sherwin-Williams; Erika Woelfel, vice president of color and creative Services at Behr; and Nivara Xaykao, associate manager of color marketing and development at Benjamin Moore. They describe how to highlight or camouflage a storage unit to make a larger or smaller presence in your yard.
Low-impact colors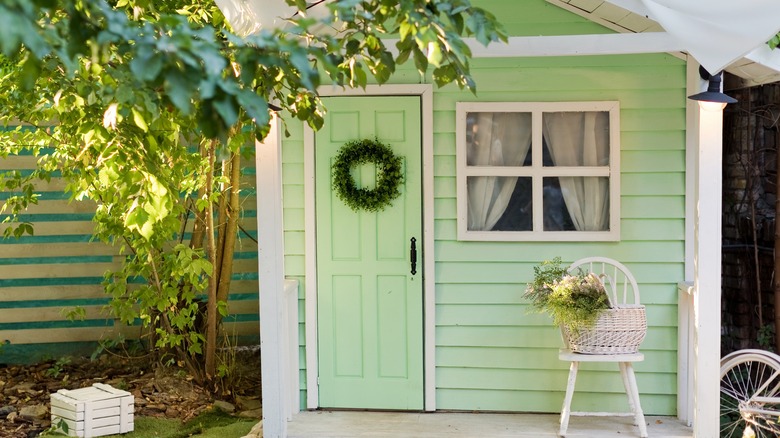 aprilante/Shutterstock
These experts explain how the shed's structure has much to do with its aesthetic appeal. Does it match the style of the house? Does it complement it? Is it meant to be a noticeable element, or is it simply a piece of equipment for storage and organization? Depending on the answer, the exterior paint job will help conceal or flaunt the shed.
For example, green is a vibrant, attractive shade because anything from herby sage or basil to a bright Kelly green can work with the surrounding landscape. Similarly, a neutral gray will blend into the background of many environments. Use a lighter shade for a flatter look, use a darker gray for higher optical impact. Blue is also a good choice since lighter blues visually fade into the sky and darker blues — such as navy — flatten houses painted white, beige, or gray. Though they don't mention it, beige or tan might work for a shed in an arid or desert environment, since the tone-on-tone of rock and sand will work with the rich yet quiet palette.
High-impact colors
Paint and color gurus point to vibrant red for an eye-popping exterior. Use red, they urge, especially if you love color but don't want a big dose of it inside your house. Another high-impact combination is black and white. This combo can be as intricate or simple as you desire. Before you start thinking about checkerboards, think instead about a white shed with black trim, or a black shed with white trim. While it's just a shed, black and white, applied correctly, highlights the bones and lines of the structure.
No matter what color you decide to work with, don't just slap on the paint. Be sure to take the necessary steps before applying the color you want. This may include removing hardware, deep cleaning the exterior surface, and patching and repairing the walls and roof. The best color for your shed is the color you want — distinct or subtle.