We Tried Martha Stewart's Trick To Removing Red Wine Stains And Said 'Cheers!' To The Results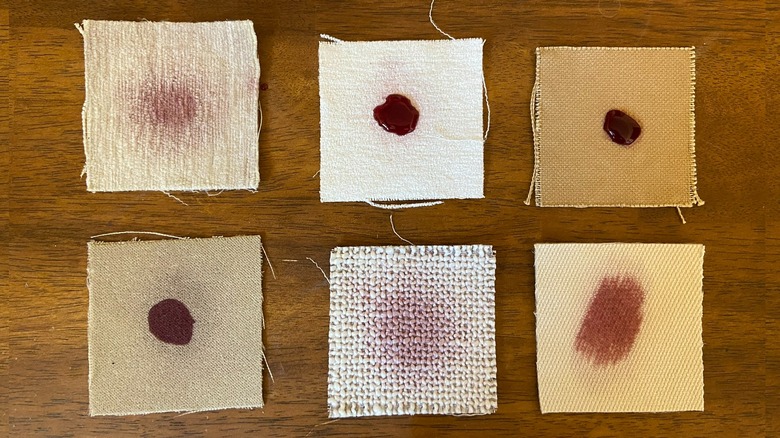 Kailen Skewis/Static Media
We may receive a commission on purchases made from links.
Martha Stewart is a legendary figure in all spaces of the home. From the garden to the kitchen, she is known as the master of home decorating, cleaning, cooking, and housekeeping. So, when we saw how she removes red wine stains from fabrics, we had to follow suit and give her method a shot. According to Stewart, the problem with red wine stains is their mixed composition. The tannins, sugars, and dye make the stain difficult to deal with, and it requires many measures to remove completely in comparison to other stains.
She uses a multi-step process that involves dish soap, vinegar, hydrogen peroxide, enzyme laundry detergent, and more. Though it sounds complicated, most of the items you need to clean a red wine stain are likely already in your home. With a bit of effort and a lot of patience, tough wine stains can be corrected. However, time is of the essence when dealing with these naturally-pigmented spills. As soon as you notice a stain, immediately take action. The longer you allow the wine to sit, the harder it will be to get the color out. With almost no exceptions, the first thing to do is gently soak up as much liquid as you can with a dry towel or another absorbent material such as baking powder or even kitty litter.
Gathering all of our supplies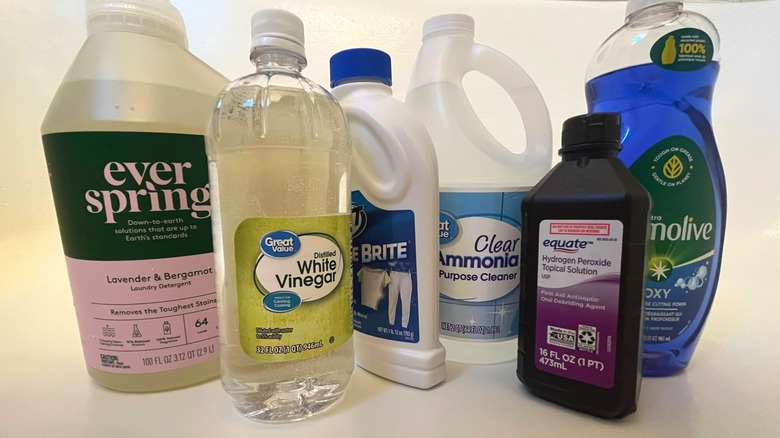 Kailen Skewis/Static Media
Before testing Martha Stewart's method, we first got some free fabric swatches from the Joybird website, as well as a bottle of Apothic Cabernet Sauvignon Wine from Walmart that cost around $10. Once we had our materials to create the problem, we needed cleaning supplies for the experiment. Most we already had at home from previous Walmart visits, including Palmolive Ultra Dishwashing Liquid Dish Soap that was about $4 and Equate 3% hydrogen peroxide that was just $1. We also already had a Boka Classic Brush Toothbrush, which is sold in a pack of two for $10 on Boka's website. We still needed distilled white vinegar and clear ammonia, which each cost less than $2 at Walmart. The Lavender & Bergamot Liquid Laundry Detergent was the most expensive item at $12 from Target.
With our large haul ready to go, we brought everything into our bathroom and got to work staining our fabric swatches in our bathtub. We chose six different materials to stain. The first was a white performance weave made out of multi-layered yarns, while the second was cream and had a mottled chenille texture. The third was ivory and made out of woven, recycled fibers with a water-repellent finish, making it the most promising fabric. The next swatch was oatmeal-colored and made of velvet but had a stain-resistant finish, the fifth was off-white and had a griddled texture made of thick yarns, and the last swatch was 100% cotton and biscuit-colored. 
Trying our hand at red wine stain removal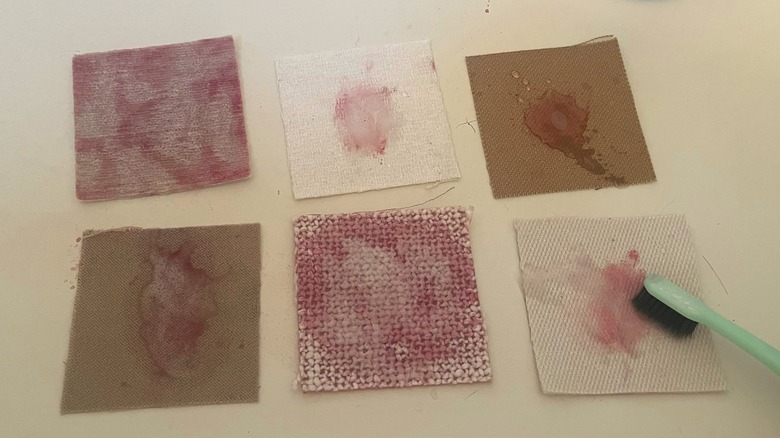 Kailen Skewis/Static Media
With our fabrics laid out, we stained them using red wine in a hobby syringe and let them sit for five minutes. Then, we dabbed the liquid swatches with a paper towel. Stewart's method starts by applying a diluted dish soap solution on the stain. The 100% cotton swatch and the one made out of woven recycled fibers had some issues during this first step, but tamping with our brush encouraged the fabric to absorb the sudsy solution. After flushing the swatches with water, the six stains persisted. So, we moved on to step two and applied the vinegar. Doing so made the stains brighter, like it was pulling the dye out. When the swatches were fully flushed, they showed some progress, but all were still visibly stained.
Step three called for hydrogen peroxide. We applied several drops and let them sit before washing them under the faucet again. This time, three of the fabrics, namely the performance weave, the velvet, stain-resistant swatch, and the woven recycled fiber swatch, appeared to be stain-free. The other three, particularly the mottled chenille texture, had some lasting discoloration. So, during step four, we applied a drop of ammonia to the remaining fabrics, which worked its magic on the final stains. After rinsing them with water, they disappeared, and all of our swatches looked clean. For good measure, we followed up with our enzyme detergent, which made the fabrics even brighter.
Our opinion of Martha Stewart's stain-removing trick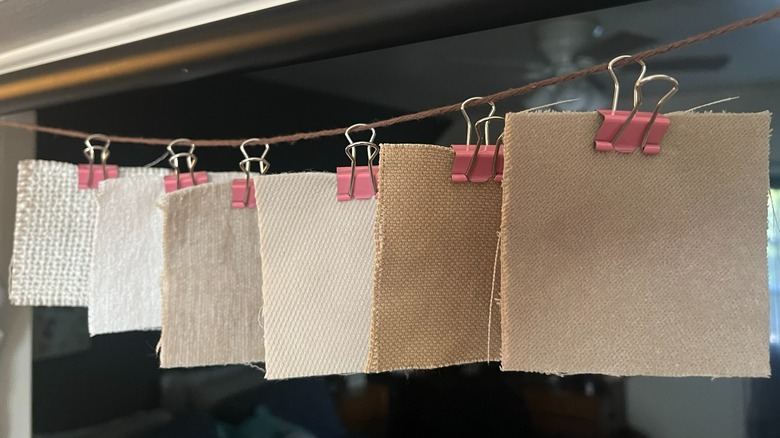 Kailen Skewis/Static Media
Following the last flush, there was no need to complete step five, which recommended applying a powdered, non-chlorinated bleach, because all of the stains had washed out by then. Or had they? The final result of our experiment couldn't be revealed until we hung up our fabric swatches and allowed them to air dry. After about two hours, they were warm, dry, and ready for inspection. Even the whitest option, the performance weave made out of multi-layered yarns, didn't have a mark on it.
Overall, Martha Stewart's method for getting red wine stains out of carpets and fabrics was very effective. It required some elbow grease, patience, and a variety of products to get the job done. However, the necessary materials for the job are commonly used in the home, easy to find at a grocery store, and somewhat affordable. If you are ever in a situation where you need to get a fresh red wine stain out of fabric, Stewart's clearly laid-out steps will do the trick.