The Fixer Upper Home That Replaced Joanna Gaines' Farmhouse Shiplap With Concrete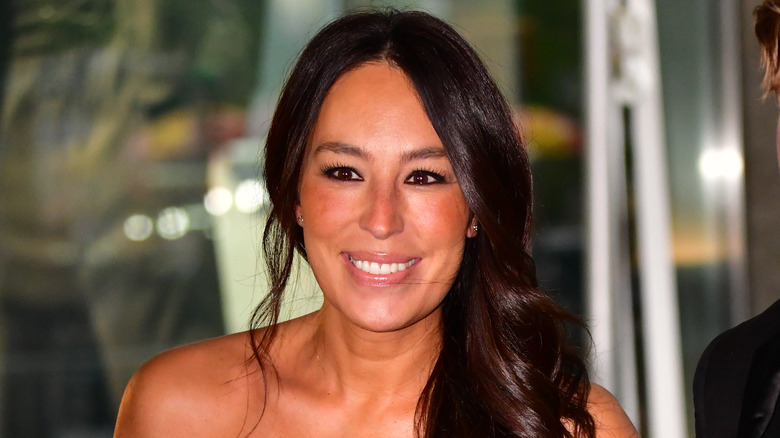 James Devaney/Getty Images
When most people think of a home renovated by Joanna Gaines on HGTV's Fixer Upper, usually one term comes to mind: shiplap. When the show debuted in 2013, the farmhouse decor staple became a beloved design that transcended all other styles at the time, and it remains popular in homes today. As a designer, using shiplap to create a rustic interior with timeless charm has become Gaines' trademark, but it is by no means her only technique when renovating a home. In fact, one memorable project on "Fixer Upper" featured a home design with a beautiful modern aesthetic. The homeowners had a preference for a contemporary style, so Gaines decided to achieve this look by using a material that was the complete opposite of her signature shiplap: concrete.
In an interview with Good Morning America, Joanna Gaines explains why she believes shiplap became so integrated with her style of design. It all began when she and her husband, Chip Gaines, purchased their family farm and discovered the original shiplap on the property. She goes on to explain that most of her clients started asking for shiplap after admiring her work. However, she's become eager to demonstrate that her talent for interior design is not limited to one particular style. She states that she loves many different interior design styles, and explains, "I don't want to be put in a box."
It's time to look at concrete in a new way
Many people may be surprised to learn that Gaines used shiplap in only about 40% of her projects on "Fixer Upper," according to research done by Homes.com. Her decision to use concrete as an integral part of her design in this modern home was an unexpected twist for many viewers. But the result of her efforts is just as stunning as ever. The kitchen has an industrial vibe with its cement countertop and coordinating walls, with open shelving made of butcher block in a light wood finish. The black farmhouse sink is a contemporary version of its traditional cousin, and the complementary dark cabinets and appliances contrast handsomely with the warm bronze of the faucet and wall light fixture.
The cool, gray finish of the cement is a neutral palette that Gaines used as a backdrop for different colors and textures. The sleek surface of the countertop is a simple contrast with the organic nature of the decorative accents. The even tone of the concrete is a perfect setting to feature pops of color from an assortment of potted plants and a collection of white pottery. Other areas of the home continue this design, such as the concrete panels in the living room that flank the fireplace and reach the ceiling, as well as the cement countertops in the primary bathroom.
Consider these tips for using concrete in your design
One way to achieve this modern aesthetic in your own home is to feature a concrete accent wall in a room such as a bedroom. Using a stamping technique can transform the finish so that it resembles brick or wood, or it can appear weathered like an ancient wall. Concrete can be fashioned into beautiful terrazzo tiles like the selection offered by Concrete Love, in order to give a touch of Italian elegance to a kitchen backsplash. Adding decorative concrete to your home doesn't require large structural projects. ConcreteWall presents a variety of wallpaper designs that look authentic and add character at a fraction of the cost of using the raw material. 
If you want to just dip your toes into the modern industrial look, you can opt for a decorative accent piece. Cream and Concrete offers a number of items made of concrete, such as bookends shaped in a half-moon that lend stability and chic simplicity to a bookshelf. You can also use their concrete oval centerpiece bowl as a clean and sophisticated statement piece.