The Charming IKEA Bookend Hack All Bookworms Need To Know About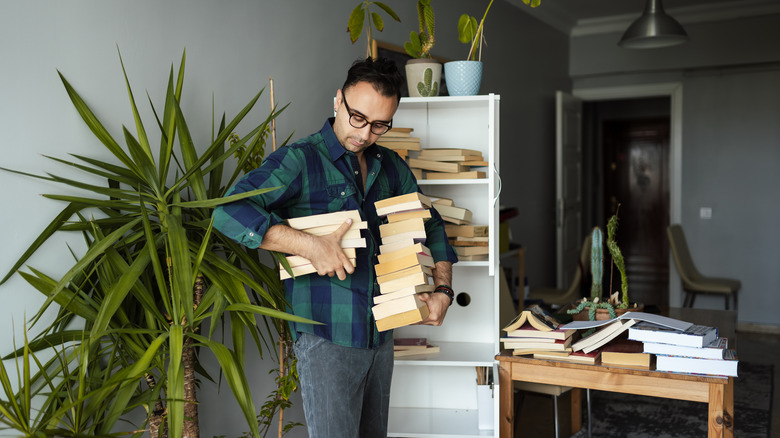 Kemal Yildirim/Getty Images
Bookends are functional on a bookshelf because they offer a sense of order and organization, and can add a design element too. Their sturdy presence keeps books upright, preventing leaning or clutter. Aesthetically, they add visual balance and symmetry to the display, creating a cohesive and pleasing bookshelf look. They come in various designs and materials, allowing personalization to match any decor style. Head on down to your local IKEA store and pick up the STOLTHET to add a unique Scandinavian touch to your book collection.
Originally designed to be a cutting board, the IKEA STOLTHET is a versatile wooden block with two long, narrow legs that, when flipped upside down, work perfectly to hold your books in place. Available for just $20, the natural bamboo finish on this would-be cutting board fit with many different aesthetics and provides a clean, uniform design. Just over a foot in length, it is the perfect size for small spaces — or pick up a few to style on a larger bookcase.
How to style your bookend
The bamboo cutting board turned bookend is a great way to organize your bookshelf. Simply flip it upside down, center it on a shelf, and place your books in between the two legs. Leave it as is for a simple look, or personalize it for your space with a stain to match the colors of your home. To do this, purchase your favorite stain and a few sheets of sandpaper. You'll need to sand down the outer coating on the board for the stain to seep in. Remember to wear your protective eyewear, too! After sanding, apply your stain in even coats with a dry brush, allowing each side to dry before turning it over. Be sure to wipe away any excess stain and drips or they'll show when it's dry.
Add a touch of glam to your space by painting your IKEA STOLTHET with a bold color. Consider which accent colors highlight your space, noting any subtle hues in your artwork, rug, or fabrics. Pick up a can of the color you'd like and sand down the surface of the bamboo before applying your paint in even layers, just as you did with the stain. Again, allow each side to dry in a cool place before turning over to minimize drips and smudges. You'll certainly impress your friends with this personalized splash of color.
Why the IKEA STOLTHET works as a bookend
The IKEA STOLTHET is a great addition to your home for a few reasons. First, it's a simple and unique tool to organize a typically cluttered space. Bookshelves are often overrun with castaways, long forgotten stories, and books you promised yourself you'd read. By using these new bookends, you'll be able to organize your shelves and take the opportunity to Marie Kondo your collection and say goodbye to some titles that no longer bring you joy. With only a foot of space to play with between the two legs of the STOLTHET, you'll need to be selective about which books you'd like to keep and which ones will need to sashay away.
Another reason this cutting board works so well as a set of bookends is due to its versatility. The simple design is a palette waiting to be styled. It begs for your personalization, whether that be through paint, stain, or other unconventional materials. Alternatively, leave the bamboo in its natural state and style the shelf with colorful books or trinkets. Either way, the unassuming classic bamboo cutting board will surely provide you with ample opportunities to enhance the aesthetic of your space.