The Unique Front Door Makeover HGTV's Alison Victoria Nailed On Rock The Block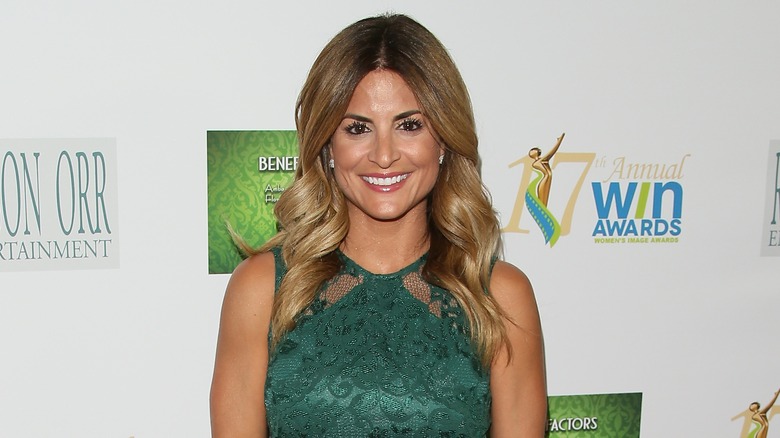 Jb Lacroix/Getty Images
A home's exterior is often an afterthought as many homeowners focus on creating an interior they love. However, any designer will tell you that improving the curb appeal of a home is just as important as the renovations you do on the inside. Alison Victoria of HGTV's "Windy City Rehab" proves just how impactful exterior design can be. During the design competition show, "Rock The Block," she put an effort into making the front door memorable. "[It's] all about curb appeal. It's your first impression. I want to make sure it looks like a million bucks," the designer explains to HGTV.
So, she upgraded the home's standard front door by using unlacquered brass as the finish. "We added some nail heads to it, and then we patinated it. All of it just looks like a solid brass door," she explained to the network. 
The sleek finish on the door evokes a traditional element with a hint of modern glamour. And, the unique feature sets the tone for the rest of the stunningly remodeled house. Here's how you too can nail the look for your own home's entry. 
Go for brass
HGTV
Most modern homes don't have a brass front door, which is what makes Alison Victoria's choice so unique. Traditional brass doors are durable, rust-resistant, and fireproof. Providing an elegant appearance, the unique finish is a definite boost to the curb appeal. However, solid brass doors can be difficult to find. Luckily, there are a few ways you can DIY a brass door-inspired finish. 
A metallic paint, such as the Rust-Oleum's Hammered Finish paint in Gold Rush, would be an easy way to transform a standard front door into one that looks like antique brass. The paint is durable, helps prevent rust, and withstands the elements, which makes it ideal for use on both the interior and exterior of a front door.
Another option is using shim stock, which is a thin gauge metal that can be cut into custom shapes for resurfacing furniture and decorative features. The material is a favorite of Alison Victoria. "You can, in essence, wrap anything in it," the designer explains on "Rock the Block" (via YouTube). Alison Victoria says vinegar is the secret to making the brass look patinaed. Spraying a little onto the surface and allowing it to sit gives the brass an aged and antique look. Adding decorative nail heads around the door panels finishes the look, giving the door a charming vintage touch.