Organize These Areas For The Smoothest Back To School Transition Possible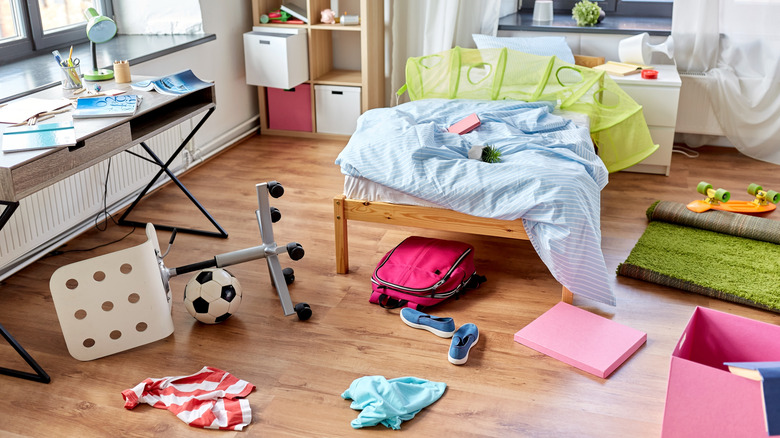 Ground Picture/Shutterstock
We may receive a commission on purchases made from links.
Preparing your kids to return to school requires a long checklist of things. You have to take them shopping to get everything they need, such as clothes, shoes, supplies, and backpacks. While you might want to make the most of what they have left of summer, it's vital to prepare so you're not overwhelmed when the first day comes. It's best to do some organizing and indoor cleaning before buying everything your kids might need. You'll be able to look through their closets and drawers to determine what they have and need replacing.
Kids always have a few supplies left over from the previous year, so if you go through what they have now, you won't have to spend as much money on buying everything. Instead, you can buy what they don't have. Plus, organizing ahead of time gives them and you a fresh start before the madness of overflowing papers and lost pencils happens. You'll create a smooth transition for your kids and yourself. Start with cleaning the areas that are the messiest.
Donate clothes that don't fit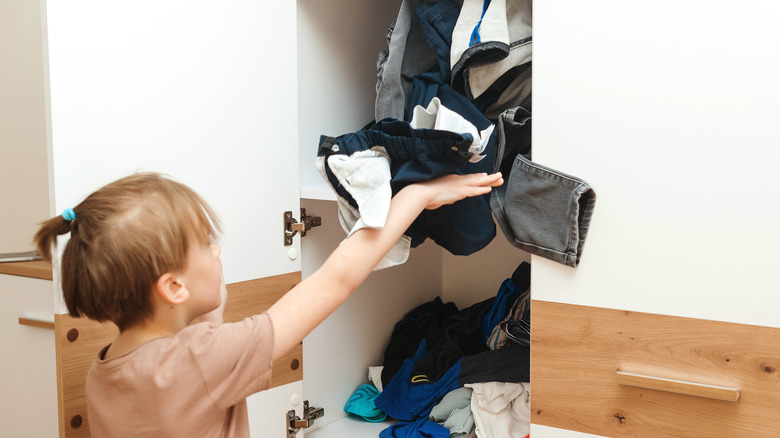 Volurol/Shutterstock
As your kid moves onto the next grade level, they start growing up, which means they will grow out of their clothes. Organizing their closet before buying new clothes is vital to figure out what they fit into and don't. When you decide to tackle the closet, ensure you go through everything, so if there's anything in the laundry hamper, it's best to wash it and have them try it on. Start with the oldest child and work your way down. You'll be able to pass down clothes to each kid instead of donating all of them or throwing them away.
Sort through their clothes and make a pile of things they could wear again and another pile that doesn't fit anymore. Once you've sorted all the clothes, decide what to donate and throw away. If their closets have shelves, wipe them down with a damp cloth to remove dust bunnies.
Use this same method for shoes. Kids are excellent at wearing out their shoes, so look at them and decide what can last another few months and what should be thrown out. If you bought your kids new shoes at the beginning of summer, they'll be able to use them for the first few months of school. When you decide to buy new clothes and shoes, wait until retailers have awesome deals a few months into the new year so that you can buy winter clothes.
Declutter homework stations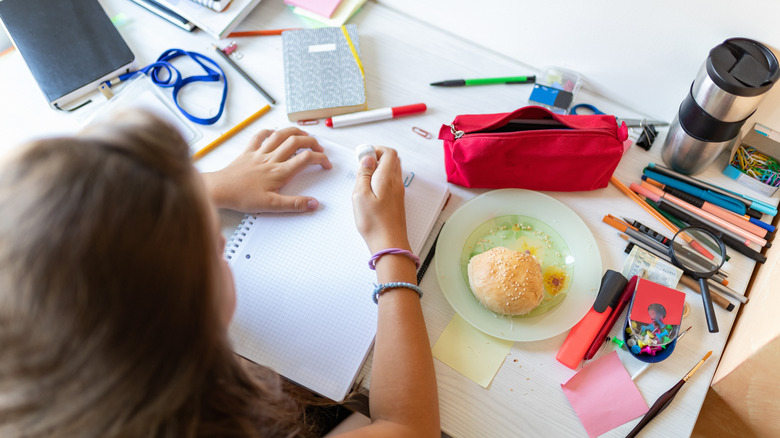 Zoranm/Getty Images
One high-traffic area that can get messy is your kid's homework station. If they have desks in their room, you'll definitely want to go through their drawers and clear out any old papers they don't need. Throw out broken pencils and dried-out pens, highlighters, and markers. There are many items you can use to organize your kid's desk.
Utilizing clear bins that fit in the drawer will make organizing supplies effortless. Simple Houseware has a six-pack of clear plastic desk drawer organizer for $11.87 on Amazon. Your children can place their pencils, glue sticks, erasers, sticky notes, etc., in their respectable places and always keep them in the same spot.
As for the top of their desk, having an extra cup to hold pens, pencils, and markers is excellent for easy access. Placing empty trays or file holders for their binders, folders, and calendars won't take up too much space. Amazon has a white magazine file holder organizer with six bins for $11.87. They can store books, magazines, and folders inside.
On the other hand, a dry-erase board can help keep your kids organized with their homework, daily to-do lists, and chores. Keeping things to a minimum is essential; the less your kid has on their desk, the more organized it'll be. Make a list of everything your child needs for their desk. They can place their desk essentials in their backpack, so you won't have to splurge on too many items.