Alison Victoria's Clever Solution For Little Counter Space Is A Game Changer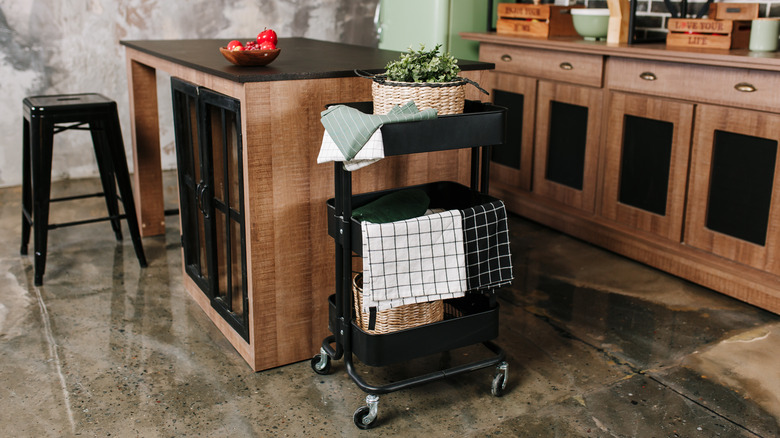 Oksana.Bondar/Shutterstock
We may receive a commission on purchases made from links.
Many of us have little counter space in our kitchens whether due to how our kitchens are structured or just having a ton of kitchen supplies. If you have limited counter space and need more room in your kitchen, HGTV's Alison Victoria recommends kitchen carts and pull-out cutting boards — two clever ideas for decluttering your space.
"[Kitchen carts] are so versatile and can be rolled out of the way when you're not using them," Victoria says in an HGTV Q&A. They can be incredibly useful and versatile additions to help maximize your workspace. Because they often come with shelves or drawers, you can use these extra storage spaces to keep tools, appliances, and utensils easily accessible so they don't take up limited counter space. Choose a cart that's appropriately sized and fits well within your kitchen layout and décor. According to Victoria, ready-made carts can be purchased for under $200. Get one from Home Depot or Target, or build one from scratch. DIY a small table with added compartments and wheels.
Pull-out cutting boards, which slide out from underneath the counter, are another smart alternative option. Because cutting boards can quickly take up your counter space if you have nowhere else to store them, portable cutting boards — or ones that pull out from your cabinet — are also clever solutions for reclaiming kitchen counter space. 
Additional uses for kitchen carts and pull-out cutting boards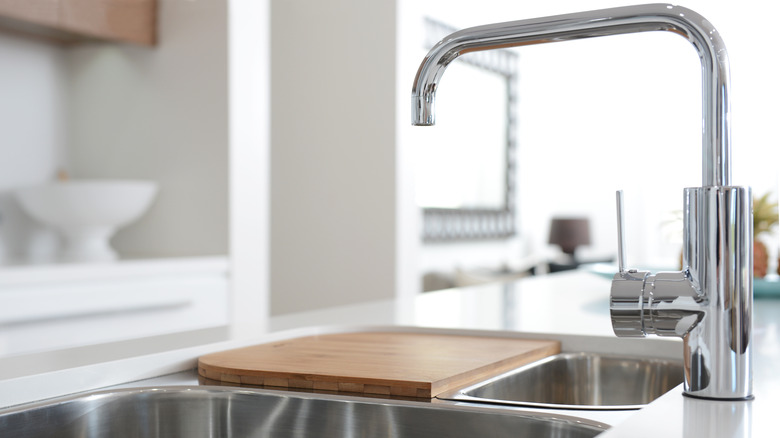 Adavino/Getty Images
Kitchen carts and pull-out cutting boards are even more versatile than you may think.
Kitchen carts can also serve as convenient dedicated stations for anything you do often. Whether it's baking or preparing coffee, they allow you to organize tools and supplies in a separate area away from the countertop and then easily move them over to the counter when necessary. A cart can also be used as an added surface. Place a cutting board on it, and keep it next to your countertop for simple food preparation.
Pull-out cutting boards also help create additional counter space because they can be easily tucked away when not in use. Use one to hold or store virtually anything in the kitchen. If you don't have a pull-out cutting board already, "a cabinet company can probably retrofit your current setup for a couple hundred dollars," Alison Victoria tells HGTV. Such companies can even provide a replacement for your current board or add a finger pull feature so it's easier to slide out.
Portable boards that are flexible or foldable are also useful because they can be easily moved and stored. Or try a cutting board that fits securely over your kitchen sink and which creates additional space. Some luxury sink supplies provide a fitted board as an attachment with the sink. If you have to buy one separately, ensure it's bigger than the sink so it can fit comfortably.