Terrible Wood Finishes HGTV's Emily Henderson Warns You To Avoid At All Costs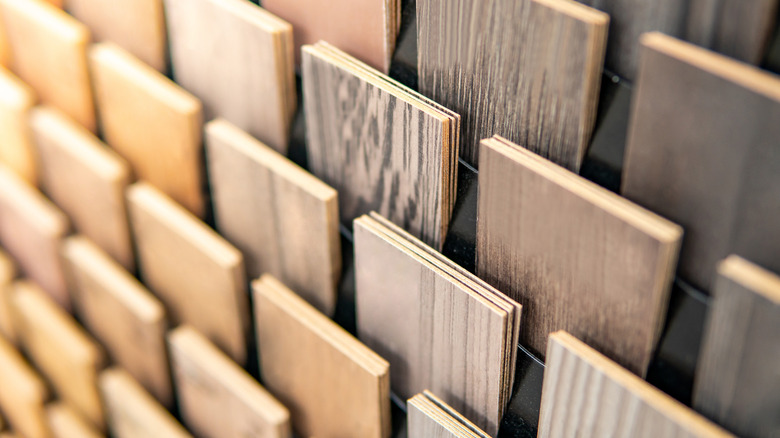 Zephyr18/Getty Images
The wood finishes we implement in our homes can completely transform our spaces. They set a foundation and undertone that all our other home accessories and décor choices build upon. Emily Henderson, founder of Style by Emily Henderson and host of HGTV's "Secrets From A Stylist," encourages her clients to be intentional in their choosings and avoid three major wood finishes: espresso, shiny maple, and cherry wood.
"My rule of thumb, although I do stray from it sometimes, is that wood should look as natural as possible. Don't buy something that is so off-colored that it doesn't look real, as if it couldn't exist in nature," she wrote in a blog post. "A little bit of stain or oil is fine — it's like getting highlights or putting on foundation — it just helps clean everything up. But make sure the tone works with the natural tone of the wood and stay away from shine" (via Style by Emily Henderson). You may find that one or even multiple of these finishes are in your home right now, but Henderson doesn't leave us hanging and shares her opinions on how to turn these design blunders into something that works for you. 
Espresso finished wood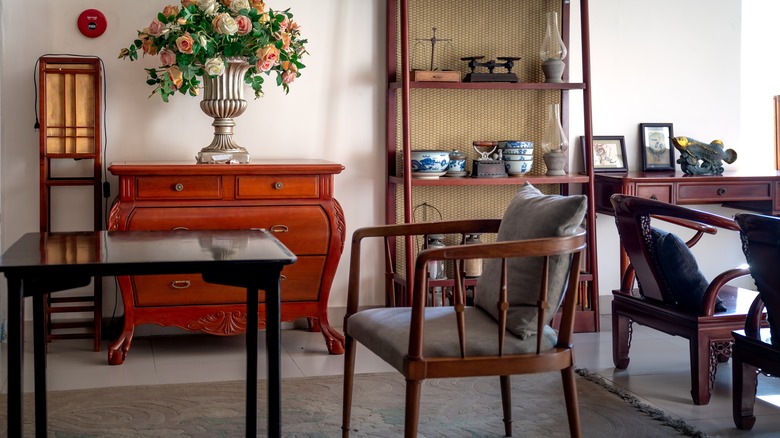 Quang nguyen vinh/Shutterstock
At one time or another, we have all likely owned espresso-finished furniture. Henderson points out that with how mass-produced and affordable it is, many homes incorporate it into their décor. "This 'espresso' is trying to look like real wood, and when things try to look expensive and fail, they look cheap, cheesy, and generic — a really, really bad combination," Henderson wrote. The thick, dark varnish is typically applied to lower-quality furniture, making the product appear higher in value than it actually is. Espresso finishes not only drown out the natural textures of wood, but it doesn't hide blemishes well and showcases dirt and grime.
If you are someone who enjoys darker woods, rather than purchasing an espresso-finished table from Amazon for what seems like a great price, consider using black paint instead. Whether painting espresso-toned furniture you already own or other woods, Henderson finds nothing amis with dark paints. "It's a good option that is masculine and high contrast but not cheesy," she said. "Charcoal is also a great option. It's not trying to look real, it's just trying to look gray, so therefore, it's inherently less cheesy." Another alternative is choosing natural dark woods, like walnut, that feature a heavier grain and less manufactured shine.
Lacquered orange maple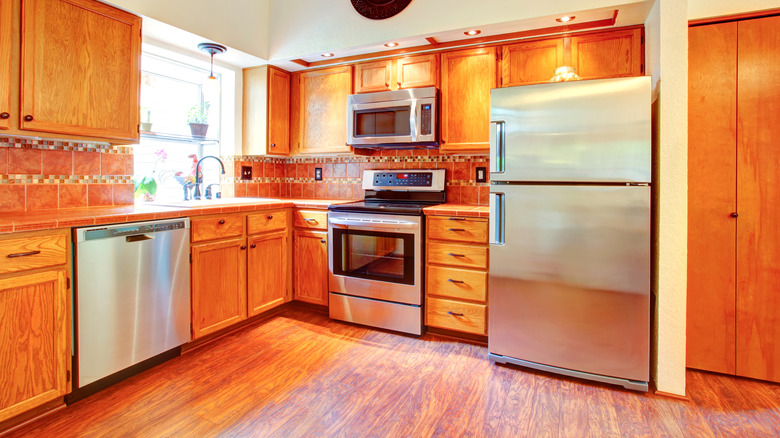 Artazum/Shutterstock
We're all familiar with the outdated '80s and '90s golden-maple cabinets and cupboards that still too commonly plague kitchens today. Henderson finds that it's a serious mistake when this orangey wood is paired with intense gloss. "It's basically an orange-toned wood, and it's always pretty darn shiny. It's hard to mix with other woods, and it just looks really unnatural," she explained. "Maple itself is a great wood. It's medium-toned and has never wronged you nor I. It's the manufacturers, who lather on coat after coat of orange varnish (typically on even cheaper wood than maple) to give it that real authentic 'maple' finish, who are to blame."
While high gloss finishes can give a classy and chic feel to a room, they can also quickly become overwhelming to the eye and are often a beacon for any dirt or blemishes. Henderson encourages the use of teak, oak, or other medium woods in place of this polished coppery maple. Teak will still keep a hint of orange in your space if that is what you're drawn to; it'll just look much more innate. Soft maple is another excellent choice; the feathery light color nicely displays natural grains and is easy to paint or stain to your liking. 
Red cherry wood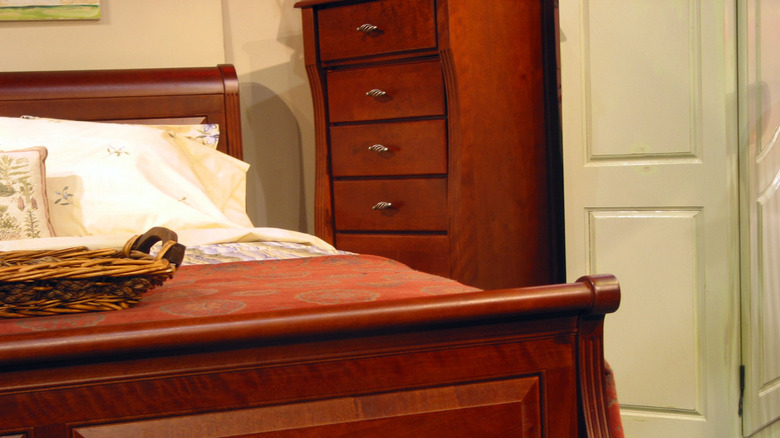 Elena Elisseeva/Shutterstock
In a similar fashion to the over-the-top orange maple we are warned to stay away from, cherry woods with a heavy red lacquer are also on the list of finishes to avoid. Cherry wood is often associated with vintage looks, having been especially popular in the 17th century. But this dark red undertone easily washes out other design elements in the room and siphons much of the natural light we let into our spaces. "Cherry itself might be a very pretty wood, but it is rarely seen in the wild (or at retailers) ...," Henderson noted. "So, it's not the wood that is the problem, it's that cherry varnish that is posing to be wood all the time. I think that the closest wood that has the same red undertone that I love is Rosewood, albeit very expensive."
For those who already own red cherry wood furniture or love the vintage charm but not so much the brash coloring that overshadows even the intricate brass hardware, Henderson advises stripping and sanding the wood back down its essence. From there, you could keep a distressed look that is very much in style or repaint it. Cherry wood can also be brightened and refreshed with white accents like countertops or backsplashes, a mix and match of materials like modern industrial metals, and lively statement lighting pieces that drown out the darkness cherry wood can infuse into a room.