HGTV Star Leanne Ford's Expert Tips For Layering Rugs Like A Pro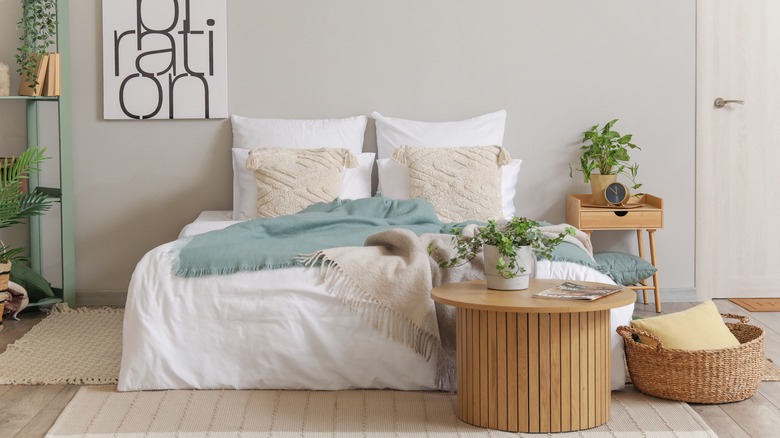 Pixel-Shot/Shutterstock
Area rugs are great at anchoring furniture pieces like sofas, chairs, and coffee tables. Whether they are entirely on the rug or placed on its edge, they help to define that specific area in the room. According to a post on her website Love, Leanne, Leanne Ford doesn't think there are fixed rules when it comes to styling area rugs and recommends experimenting to see what works. One tip she gives is to layer rugs of different sizes and patterns. This is a great way to add texture, dimension, and style to your living spaces. When done correctly, it can create a cozy and visually appealing look.
One expert way to layer rugs like a pro is to match rugs with contrasting looks and different textures to create a visually interesting combination. Another tip is to ensure the sizes work — the rugs shouldn't look awkward together. The top rug should also be appropriately sized in relation to the furniture it anchors. With a set of a table and chairs, for example, it should be large enough to still be underfoot when the chairs are pulled out.
How to recreate this effect in your home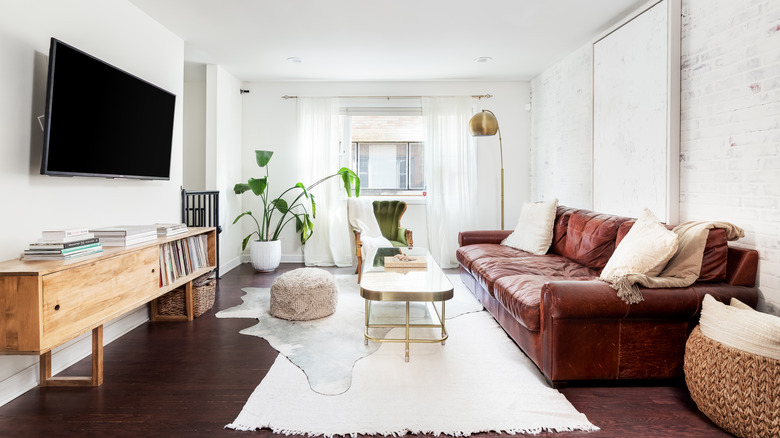 Hendrickson Photography/Shutterstock
Start by selecting your top and base rug. The base rug should be larger and heavier than the top rug, and the top rug should be able to fit right in the center. Typically, the top rug has a busier pattern or texture while the base balances it out with a more subdued design. If you want both rugs to have bold patterns, just make sure they work well together and don't clash.
"I love the look of a larger sisal or jute rug with a cool Moroccan rug over top," says Leanne Ford (via Love, Leanne). It's common for sisal or jute rugs to be the base rug because they are durable but not that soft — the top rug can be of a more comfortable material. Plush animal hides are great options for top rugs. The top rugs are more like accents, so don't be afraid to adjust their placement or switch them out according to trends. You can even change them based on the season by bringing in lighter material during the summer and then using heavier, cozier ones in the winter.