'White Boxing' Explained By Real Estate Agents - Is It Good Or Bad?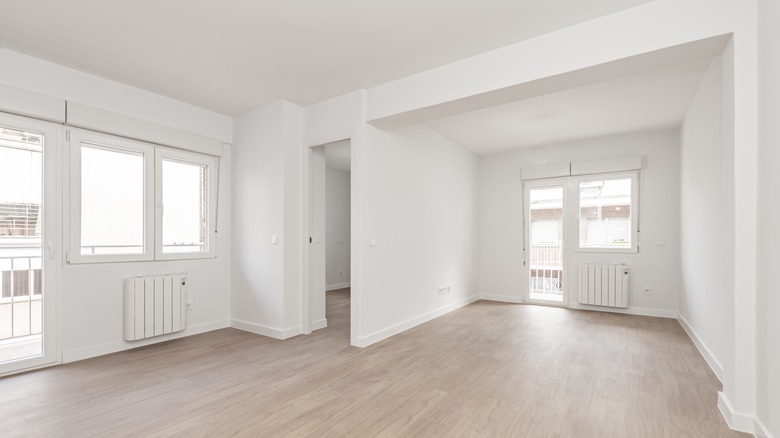 Toyakisphoto/Shutterstock
If you're getting ready to list your home for sale, you may be wondering about home staging, which is the process of setting up the home to be attractive to would-be buyers. However, white boxing is the opposite of dressing up the home. Instead, you're working to create an empty space with white walls and nothing on the floor. Real estate agents may recommend this method to those with a home that's more of a diamond in the rough.
The key value that home staging brings is allowing a person to see themselves in the home. However, white boxing strips that all away, creating a blank slate. That's valuable for homes that obviously need repair. If a home needs to be gutted, staging it isn't going to make it more attractive to the buyer, as they should recognize there's substantial work involved. White boxing, on the other hand, could help them see the bones of the home, the key features that may make this purchase more desirable. 
Real estate broker Kimberly Jay shared, "Staging these kinds of homes is like putting lipstick on a pig" (via Apartment Therapy). Jay notes, "Buyers know the home needs a gut renovation, so price accordingly. White boxing can be a good thing when you want people to use their own ideas to envision how to use the space instead of home staging where you're providing those ideas for them.
Why a seller may want to use the white boxing strategy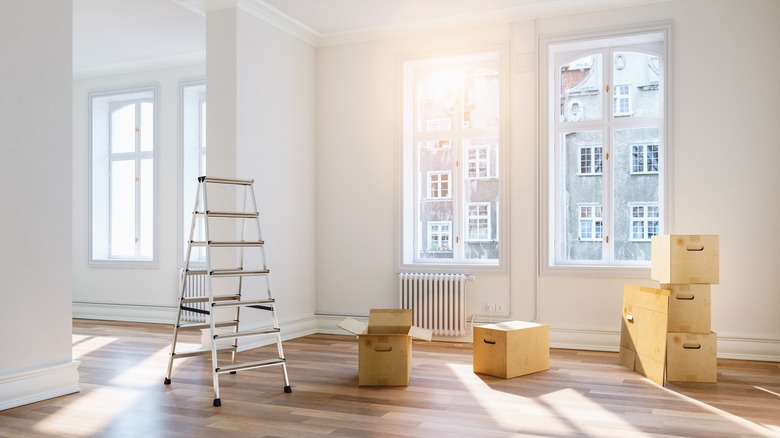 r.classen/Shutterstock
Several scenarios may benefit from the white boxing method. Whereas a traditional residential home may benefit from modern staging, white boxing creates an opportunity for the would-be buyer to have no visual limits to using that space. As noted, that works well in homes that need significant renovations and updates because it allows the buyer to see past the imperfections in what could occur.
Another situation when this home selling strategy may work well is with luxury homes. In an upscale market, most property buyers will customize, modernize, and reinvent the function of a space. High-end buyers usually have the budget to completely remodel the space, and likely plan to do so. By white boxing the home, all of the décor and clutter are removed, and the potential buyer can see the architectural features that make the home stand out. This also minimizes the need for significant renovations to sell the home since the target home buyer is much different – you're not trying to attract the family that's moving into their first home, but rather someone with the budget to completely refresh and renovate the space.
There are drawbacks to white boxing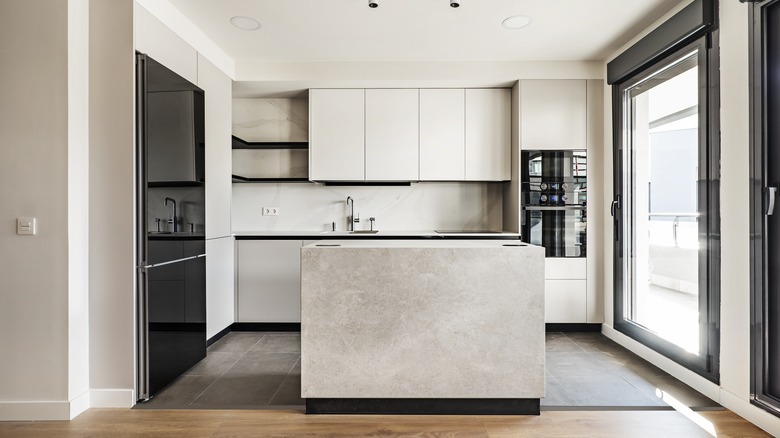 Toyakisphoto/Shutterstock
The white boxing strategy doesn't work in every situation, though. For example, Realtor Ariel Baverman shares that "If a buyer is going with an FHA or VA loan, and even most conventional loans, the property has to be in a safe and habitable condition," (via LowerMyBills.com). While white boxing means you don't have to try to dress up the home, it doesn't mean you can simply sell it to anyone. Since you're seeking a very specific buyer, that person can be hard to find. If you're selling a home in a popular suburban community where buyers are likely to be those moving to a first home, they may not have an extensive budget to upgrade. They want the seller to have the home in a move-in-ready condition instead. 
If the home isn't in bad condition but is in a competitive market, white boxing may not be ideal, either. Instead, consider this method for high-end properties and those you do not have the budget or desire to upgrade yourself. Then, price it accordingly. If you're selling the property as-is, you may have to price it lower in non-competitive markets just to get enough people to consider it with the renovations it needs. On the flip side, when the home has great bones, white boxing may help to show off those features better than typical home staging.