Add Charming Decor To Your Mantel With This Genius Pool Noodle Hack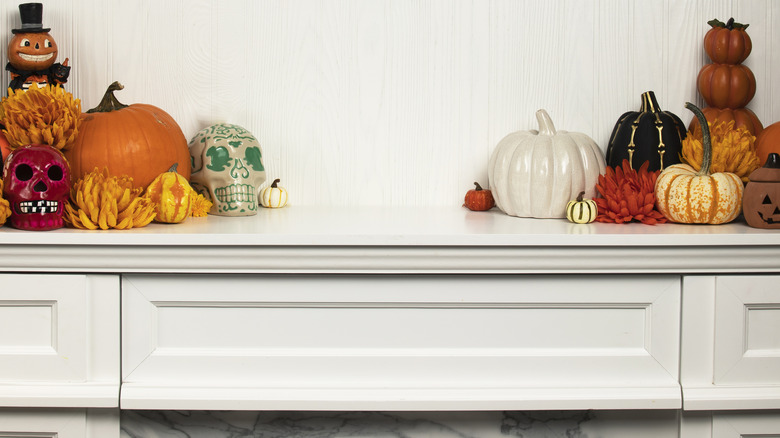 Alberto Tolentino Pineda/Getty Images
The fireplace in any room usually serves as a focal point, particularly when decorated to fit the season, whether it's summertime florals or holiday evergreens. While swags and garlands are a popular standard for mantels far and wide, they can sometimes be a little unruly to install with hooks and wire to stay firmly put. A great DIY hack from Tik Tokker @deedeescraftykorner using everyday pool noodles as a foam berth for hanging florals and greenery is creating a buzz as a solution to droopy and slippery garlands.
You will need an interlocking pool noodle cut down to the width of your mantel or desired length. The interlocking ridges should allow you to affix the noodle firmly to the front edge of your fireplace. The foam of the pool noodle wraps around the front of the mantel now provides a blank canvas for adding decorative and floral pieces to your fireplace, which you can find at many home and craft retailers.
Customizing your mantel
In the fall, you can outfit your foam cylinder with pumpkins, beautiful autumn flowers, and other decorative elements. You can also use a staple gun to adhere other kinds of greenery or garland to the foam perfect for all seasons, including summertime blooms, moss, winter evergreens, berries, metallic sprays, and ferns. You can even use your pool noodle to make a custom wreath to match your new mantel decoration to hang above the fireplace.
Another great hack involves using a flat board and a rounded pool noodle sliced in half vertically. Use an adhesive like E-6600 to glue down the halved pool noodle pieces side by side, press them down with bricks, and allow them to dry. You can then use your pool noodle foam to make a full long format arrangement that can just sit on top of your mantel. This DIY also can make a great centerpiece for a long table. You can also place a bendable wire in the noodles to shape them as desired like in this great floral fireplace sculpture hack from @pinkplayhouse.