The Property Brothers Have One Rule When It Comes To Styling A Small Bathroom
Realpeoplegroup/Getty Images
We may receive a commission on purchases made from links.
While small bathrooms can make perfect guest bathrooms, if multiple people share the space, the limited area sometimes isn't enough to hold all your necessities. Tiny bathrooms are often only designed with storage space under the sink, but sometimes you'll get lucky with a medicine cabinet. If you're looking to maximize your storage, the Property Brothers Drew and Jonathan Scott have one rule: utilize every inch of the room.
There are many ways to style the space to make the most of your small bathroom. Take advantage of towel racks, shelves, drawers, and other items that will hold all your toiletries and other essentials. However, before you start browsing online for these items, declutter your possessions by throwing away expired products and things you don't use every day. You'll have a better idea of what you're working with to prevent buying too many storage items, and throwing away things you don't use makes room for new products. Once you've cleaned out your bathroom, it's time to figure out what storage components you need.
Practical ways to make use of every corner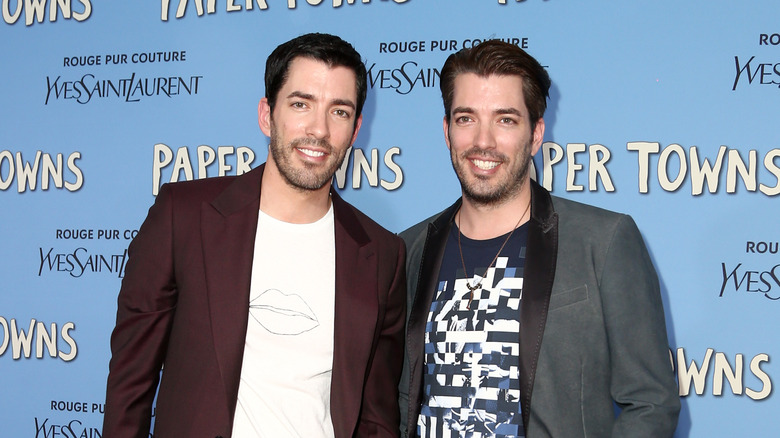 Debby Wong/Shutterstock
Using every corner of your bathroom is essential, but you also want to avoid making the room look disorderly. This is why organizing with storage solutions inside your cabinets and on your shelves is important. "There are creative solutions like kickplate storage, hanging racks that can go inside your cabinets or on the backs of doors, and organizers in your drawers," The Property Brothers told MyDomaine. "Avoid the room looking cluttered, but bring your storage A-game." 
It's also important to avoid a messy look when choosing the right storage components. Adding an overhead cabinet above the toilet can enhance storage space, as you can place your towels, toilet paper, or hand soap on the shelves for easy access. On the other hand, bulky overhead cabinetry can sometimes overwhelm a small room and make it look cluttered. Instead of cabinetry, you could add floating shelves above the toilet to display décor or bathroom-related items you use daily. The ZGO Floating Shelves on Amazon are an excellent example of what you can use in your bathroom. This pack of two shelves costs $25, and you could either display them together or place them on different walls. If you don't have enough space for shelves, place a decorative basket on the back of the toilet to hold extra hand towels or toilet paper.
Install vanities with multiple storage spaces
Sometimes installing additional furniture to add more storage can overwhelm a small bathroom. Instead of trying to fit more in the space, the Property Brothers suggest updating your vanity to get the most storage possible. For example, if you have a vanity with only cabinets, swap it out for one that also has a drawer. They recommend their Scott Living Free Standing Single Bathroom Vanity with an Engineered Quartz Top, which is sold on Wayfair for around $1,000. According to Drew and Jonathan Scott, "This vanity not only looks great, but packs a spacious two-door cabinet and a top-tilt drawer all within a petite 36-inch frame that will fit almost any bathroom," per Drew & Jonathan.
Another excellent option the Property Brothers recommend is the Teamson Home Catalina Removable Wooden Wall Cabinet, available on Amazon for about $70. It has two cabinet doors that reveal three separate storage compartments. You could hang this above your toilet or next to your vanity mirror. While you could install this along with a storage vanity, using solely the wall cabinet will most likely provide sufficient space for your bathroom essentials.