Jenny Marrs Has A Few Simple Tips To Give Classic Farmhouse Decor A Modern Edge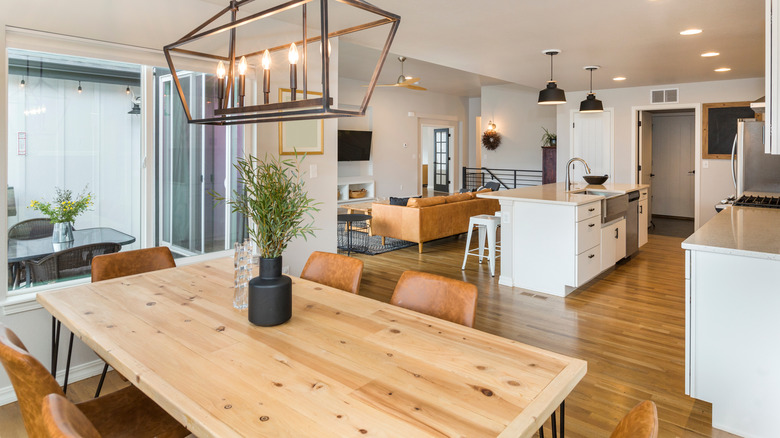 Neil Podoll/Shutterstock
Even as the trend cycle continues to change, the farmhouse decor style has been a prevailing favorite. Marked by rustic elements like natural wood accents and vintage furniture, the interior design style is incredibly comfortable and homey. A farmhouse color palette tends to lean towards neutral tones, with bright whites and cream shades being the main colors. Additionally, pops of brown and green are often used to add more interest. While farmhouse decor can feel quite traditional, many designers have found ways to add a modern spin.  
HGTV's Jenny Marrs, who lives in an actual renovated farmhouse in Arkansas with her husband and their children, has a few tips for giving such a classic style more of a modern edge. It's all about mixing materials by using a combination of sleek, modern elements and traditional farmhouse pieces. Marrs' own kitchen features plenty of light wood tones including the table at the center of the room, a matching bench, and exposed beams on the ceiling. The textured wood is contrasted with white marble countertops and gold light fixtures that add a more contemporary touch to the room.
How to mix old and new elements
Taking cues from both traditional style and contemporary trends will help make your farmhouse feel more elevated and modern. The range in Jenny Marrs' kitchen is the perfect example of how to mix these styles together. The Ilve range she chose has an old-world charm while featuring a contemporary misty blue finish and gold details. It creates a statement that instantly draws in the eye among the white walls and cabinets. Plus, it's accessorized with a vintage-looking brass tea kettle and more traditional cooking tools.
Another way to modernize a farmhouse interior is by mixing in a few industrial elements, as farmhouse and industrial styles work well together. Further, since industrial is a modern-looking design style, incorporating these details will help make the farmhouse pieces feel more contemporary. In Season 3, Episode 6 of "Fixer to Fabulous," Jenny Marrs and her husband Dave use a concrete skim coating to cover old brick on a fireplace. Concrete is a staple of industrial design and instantly gives the room a contemporary look. Because they pair this material with natural elements like wooden floors, the room has plenty of interesting textures.
Stick with clean lines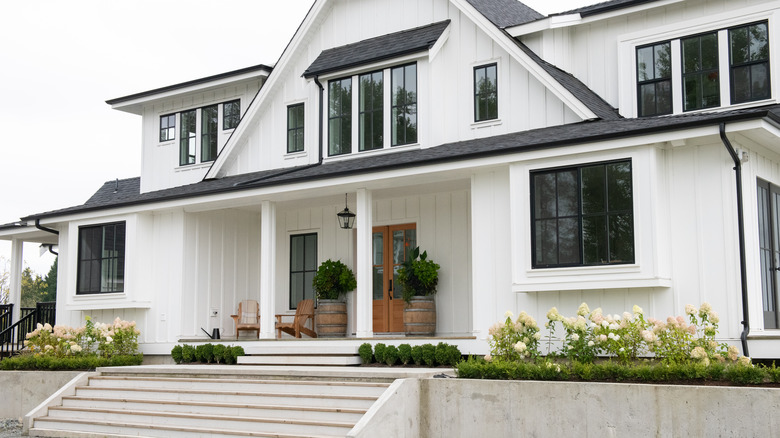 TheCreativeBrigade/Shutterstock
When it comes to most antique furniture pieces, the lines can be quite ornate. And while these pieces can add some visual interest to a room, they're not the best way to convey a modern style. Jenny Marrs recommends clean, simple lines and unadorned furniture for an interior that's more modern as well as calming. However, this doesn't mean you have to stick with all modern furniture pieces. Instead, you could use a majority of modern pieces and only a few antique accents.
This design philosophy can easily be carried throughout the house. On the exterior, vertical siding in a bright white finish will add a modern element. Use a farmhouse-style front door in a natural wood finish and windows with a more traditional grille pattern to add a farmhouse look. Or, in the bedroom, consider using furniture pieces with clean lines for the main items like the bed and the dresser but antique-looking side tables as nightstands.