The Ultimate Alternative To Washing Paint Brushes Between Coats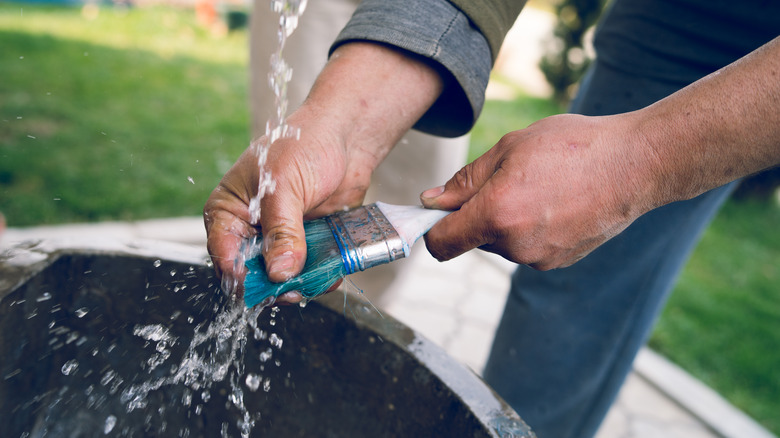 Miljan Zivkovic/Shutterstock
We may receive a commission on purchases made from links.
Giving your house a makeover with a coat of paint has its perks. For one, the ambiance changes, and it's as though you're living in a whole new space. Secondly, you get to indulge in a fun weekend project. While some loathe prepping and painting for hours, others enjoy the task of laying down a drop sheet and painting over something old. Even if you find painting to be exciting, cleaning up isn't everyone's favorite, especially when it comes to washing the paintbrushes. An easy way to wash your paintbrushes between coats is using a paintbrush-and-roller spinner. Removing all the extra water and paint from when the paintbrushes are left soaking is quick. You won't have to resort to hacks like storing your paintbrush in the fridge if you decide to take a short break. 
Using the spinner attachment is ideal when you need to apply a different coat of paint. Instead of washing your brushes and waiting for them to dry, the spinner removes the excess paint faster to prepare them for the next paint color. In addition, the attachment is effective at cleaning any brushes, so you won't have to purchase a new pack every time you start a different project or try to restore them once you feel like they've met their end. It's easy to use and highly affordable.
How to use the paintbrush-and-roller spinner
The paintbrush-and-roller spinner is sold at many retailers at various prices. Home Depot has the most affordable option from the Project Select brand at $8.97, with a 4.2-star rating from 200 buyers. Alternatively, Amazon sells a Purdy brand for $23.48, with a 4.7-star rating from over 5,000 buyers. They clean your standard paintbrushes and rollers the same way, but their only difference is that they're sold in different colors. So, if you like your tools and appliances to match, Project Select has a black finish, while Purdy has a yellow tone. However, the Purdy brush-and-roller spinner only holds Purdy brand paintbrushes, so some other brands might not fit in the insert.
Before using the spinner attachment, ensure you first soak your brush in a bucket full of water and remove as much paint as possible. Using the brush spinner is super easy. It has a handle at the top that you pull up and push down, and the bottom has an opening with a small jaw-like holder where you insert your paintbrush handle. Pulling and pushing the top handle spins the brush, removing all the water it holds. You can also use the attachment to clean rollers by inserting the bottom part into the roller and pulling the top to spin the roller. When you rotate the brush or roller, do it inside an empty bucket to prevent water droplets from flying everywhere.