The Benefits Of Using A Dark Paint On Your Ceilings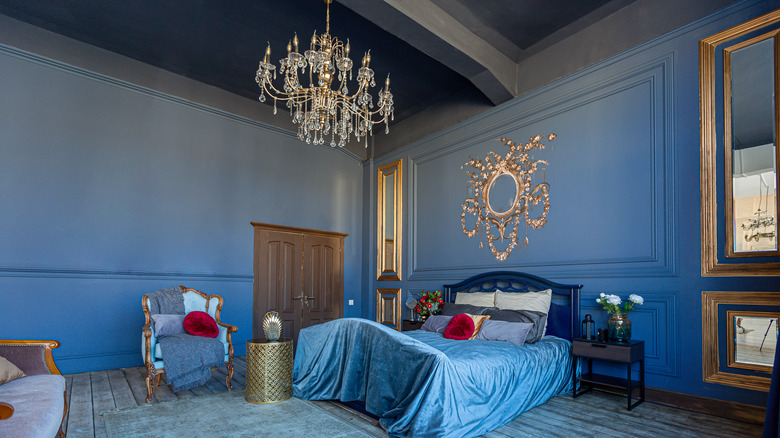 Pinkystock/Shutterstock
When decorating, most people rarely think about their ceilings, but this surface can add character, ambiance, and personality to a room, depending on the material they're made of and the color they're painted. Generally, ceilings are painted with white, neutral hues that complement various aesthetics, and when paired with light or white walls, can make a room look and feel significantly larger. Other pale or muted hues have a similar effect, but dark ceilings can make a statement of their own, and therefore darker shades shouldn't be overlooked.
No matter your ceiling's material, painting it will add another design dimension to your space. Dark paint can be an excellent way to create contrast and drama in your home while also emphasizing various design aesthetics, from modern to maximalist and art deco. It really depends on how you use it and how it highlights — or rather, shades — your room.
What a dark ceiling can do
Much like an accent wall, a dark ceiling can add a pop of color — thereby adding interest — to a room. It will draw the eye upward, perhaps showcasing custom crown molding, architecture, or a lighting element. And just as bright ceilings can make a room seem taller, dark ceilings can make a large room seem cozier by adding warmth and decreasing its visual height.
Dark paint colors are bold, so a room with a dark ceiling naturally makes a bold statement, infusing personality and drama into your space. A deep blue in the bathroom can create the feeling of an underwater adventure, while a black ceiling against lighter walls can invoke a graphic, stylized look. Or bring the woodsy outdoors in with a rich forest green. The point is that the sky's the limit when it comes to paint colors, and they shouldn't necessarily be limited to your walls. Get samples, play around with ideas, and go with whatever speaks to you. You might find a dark ceiling is exactly what you're looking for.