What Time Of Year Is Ideal For Buying A New Television?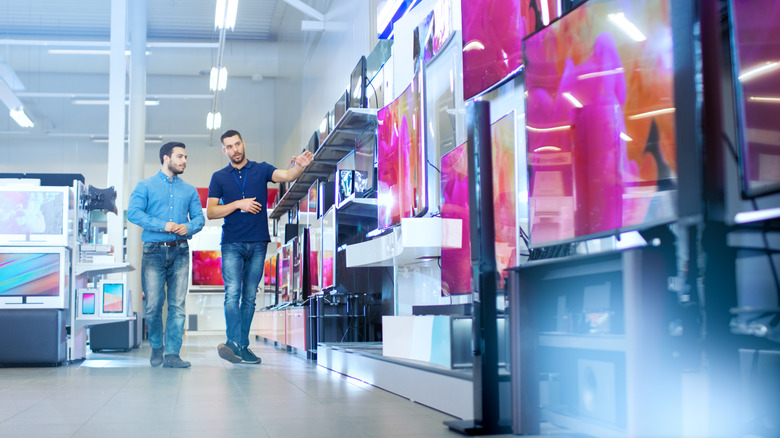 Gorodenkoff/Shutterstock
Timing can play a crucial role in getting the best deals and discounts. The ideal time to buy a TV depends on various factors, mainly surrounding major holidays and promotional events like the release schedules for new models or major holidays. Traditionally, several periods during the year offer excellent opportunities to score a great deal on a new TV. 
Retailers typically begin to discount their older model TVs around late March and early April to make room for the year's newest offerings, so it's pretty standard to see springtime sales focusing on tech blowouts around this time of year. Coincidentally, this is also when some people can expect to get a refund check from their yearly taxes, which makes it an opportune time to find good deals on TVs that really aren't that old. According to The Street, discounts usually range from 25 to 35%.
The same can be said for summer, especially in July and August, when retailers are trying a last-ditch effort to sell off their old inventory. These TVs are usually steeply discounted, so you can expect a major TV score ... if inventory doesn't sell out first. 
Purchase around holidays and promotional events
Gorodenkoff/Shutterstock
Black Friday and Cyber Monday are renowned shopping events that occur on the Friday and Monday after Thanksgiving. Depending on the retailer, Black Friday sales can extend throughout the weekend. You can expect to find TV prices substantially discounted, with some vendors cutting TV prices in half. 
Shoppers can also benefit from the relatively new mid-year sales extravaganza known as Black Friday in July. During this period, you'll be able to take advantage of some pretty steep discounts, too, with several big box stores and Amazon having mid-summer sales. 
Another good time to shop for a new flat screen is around February, specifically in the weeks leading up to the Super Bowl. As this highly anticipated game approaches, it's not uncommon for retailers to try and entice customers with promotions and sizable discounts on TVs.
From the last day of Christmas through the first week of January, retailers also offer up TVs at a steeply discounted price to make way for newer models. While these rollback prices aren't going to be as substantial as Black Friday deals, you can still expect to save at least 30% on any remaining inventory.