How Often Should You Repaint Your Home's Entryway?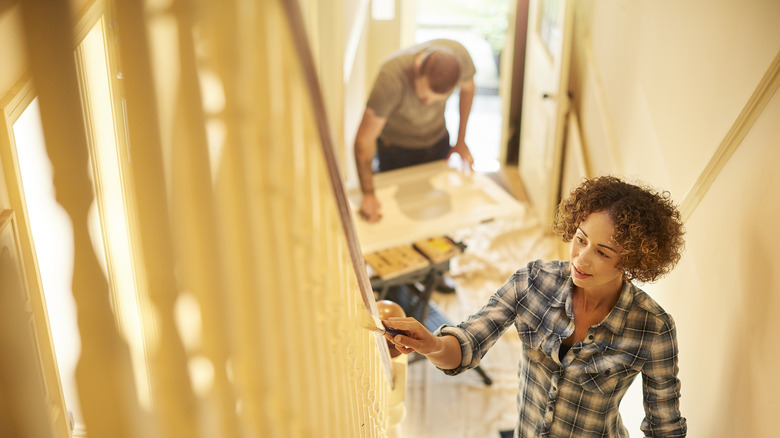 Sturti/Getty Images
The entryway is a major focal point of a house when it comes to interior design, as it's one of the few areas that the general public gets to see on a regular basis. It's the first feature visitors experience when entering your home, and homeowners wanting to make a great first impression likely want to keep this space clean, decorated, and well-cared for. It's usually one of the most frequently used spaces in the home as well, with guests and residents of the house likely passing through to use the front door several times each day. Hence, it's easy for this area to become cluttered and dirty from shoe prints, scuff marks, and unwanted contents from outside. You should repaint your home's entryway every two to three years to make up for the imperfections that develop over time due to heavy foot traffic and general wear and tear.
Painting, or repainting, is a simple home renovation project you can complete on your own within a day or weekend. However, painting or prep mishaps can drastically impact the final result of your paint job. Taking the time to properly plan your next project is necessary in order to execute a paint job that will dry smoothly and stay intact for longer periods of time. 
Painting your entryway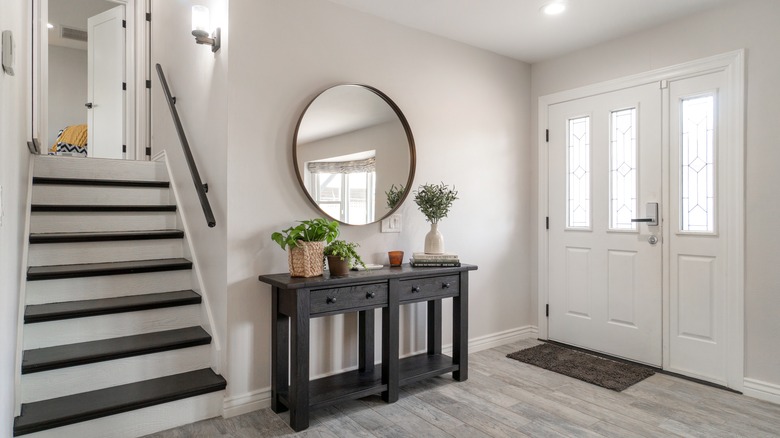 Allison J. Hahn/Shutterstock
Entryways, along with hallways, are among the rooms in the house that need repainting most often. As connectors in the home, they see the most use from residents who navigate from one room to another while performing everyday chores. Because these rooms are smaller and narrower on average in comparison to other rooms of the house designed to entertain and hold more people, it's easy to brush or bump against the walls and baseboards when not paying attention, leaving behind permanent marks and scratches. The extent of these damages may increase if you have small children or pets in the home.
Though you don't need to wait until your entryway is compromised by dirt and scuff marks to begin a paint job. Repainting the space is just as favorable if you're seeking an aesthetic change in your home or looking to make your entryway more appealing and in tune with your personality. While neutral tones are popular choices among homeowners, opting for classic white paint isn't the only avenue to making your entryway attractive. Some stylists recommend jazzing up the space by incorporating bright colors, which make the area feel larger and welcome a feeling of warmth when entering the home. Homeowners could also get creative by adding a matte or glossy accent wall to their entryway to capture guests' attention, or try free-handing their own eye-catching design by toying with geometric shapes and funky patterns. For some, the larger the impact, the better.
How to make your entryway paint last longer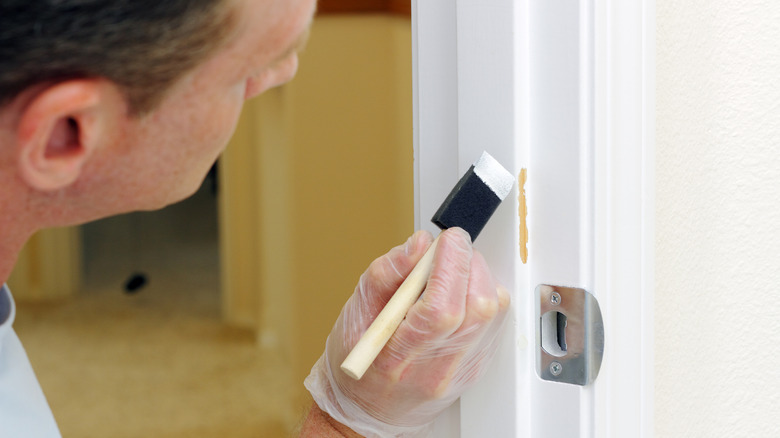 Serenethos/Getty Images
Touching up your home's interior paint is inevitable if you'll be living in it for several years, but there are extra steps you can take to ensure your next paint job will last a longer time. To begin, invest in high-quality materials, especially paint. Opting for the least-expensive variety will certainly reflect in your entryway's final look, as cheaper formulas tend to be thinner, messier, and wear away quicker than pricier paints. Before breaking out your rollers and brushes, give your entryway or walls a thorough clean, removing any dust, cobwebs, and greasy spots that would prevent the new layers of paint from applying and drying smoothly. Wipe the surfaces twice to be safe: once with a cloth doused in detergent or soap and again with a plain wet cloth to remove any excess soapy residue. Also, take time to fix any imperfections, including cracks, holes, or damage caused by rotting wood. Doing so will keep the imperfections from shining through the new coats of paint, making your DIY paint job appear all the more professional.
Adding a coat of primer before applying your paint also helps your entryway remain fresher longer and look its best since the formula is designed to provide the best adhesion possible and make colors appear brighter and richer. Apply top coats using the appropriate thickness to prevent your paint job from appearing too soft or dull or from drying incorrectly and cracking due to heaviness.