How Much Money You Should Spend On A New Mattress, According To Experts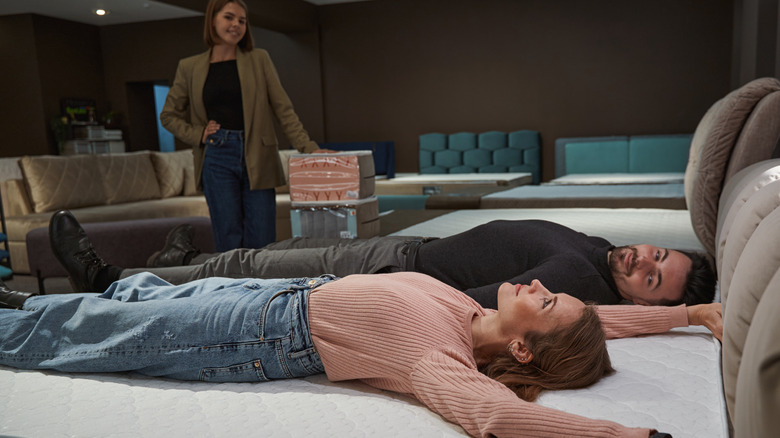 Yacobchuk/Getty Images
We spend a third of our lives sleeping. For those eight hours each night, a quality mattress is essential. But is it really necessary to shell out $3,000 for a Purple mattress, or are the discount furniture ones for a few hundred dollars a better bet? As it happens, how much money you should spend on a new mattress depends on what kind of sleeper you are, but if you're lucky enough to not suffer from any aches and pains, you might be able to keep the cost under $1,000.
The material, features, and size are all personal preferences. Different mattress fills vary by price, with spring and foam typically found at the lowest price points and luxury hybrids (combination of springs, foams, latex, or gel) at the highest. Plus, size matters: California king beds will cost more than twins, while the average price for a queen bed is around $1,500.
Just going for the cheapest option is one mistake everyone makes when buying mattresses. Staying within budget is important, but so is finding a bed that will give you a peaceful night's sleep.
The price point depends on your physical needs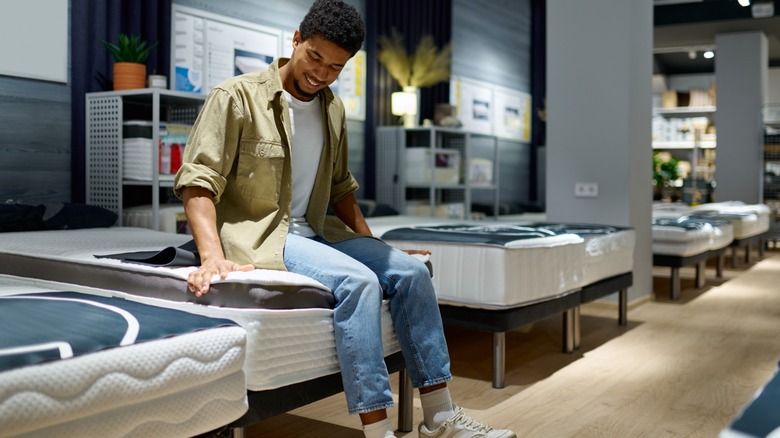 Nomad_Soul/Shutterstock
You want a bed that caters to your sleep position and physical needs. Firm mattresses are best for back sleepers as they provide the most support. A soft to medium mattress will satisfy side sleepers because it contours to the body. A medium to firm mattress is ideal for combination sleepers to combat tossing and turning.
"If a person has no musculoskeletal or back issues, they can probably get away with spending between $500 and $1,000 on a decent mattress," Dr. Elizabeth Nguyen, a board-certified physiatrist in physical medicine and rehabilitation, told the Wall Street Journal. "If you have chronic pain issues, it may be worth spending $1,000 or more to make sure you're getting additional features to address your specific needs."
A higher price doesn't always mean better quality, so take note of features like built-in cooling, support, layers, and warranty. Ultimately, there's no substitute for getting to the store and just trying out the options: Testing the mattress is the best way to determine if it will be money well spent. 
The best time to buy a mattress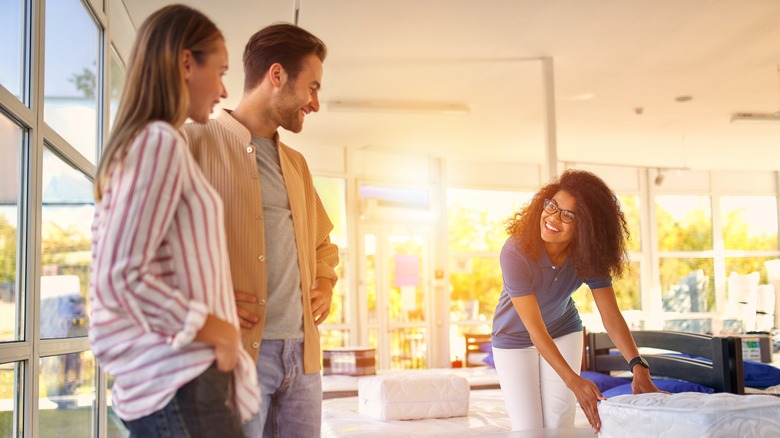 ORION PRODUCTION/Shutterstock
Whether the 10-year lifespan on your bed is up or you're tired of lumps invading your sleep, when it is time for a new mattress, you want a great deal. Several stores offer steep discounts during the holiday season. Presidents Day, Memorial Day, Fourth of July, Labor Day, Black Friday, Cyber Monday, and Amazon Prime Day are all times when you can get mattresses on sale.
Overall, early spring is the best season for mattress shopping. During this time of year, companies try to sell out their old inventory to free the sales floor for the newest products. There'll be deals in the bedding section in March, April, and the beginning of May. On the other hand, June, August, and October typically don't have holidays that garner discounts, or everything-must-go bargains for aged inventory.
You don't have to spend your life savings on a mattress, but it is an investment. Price is not the most critical factor, but materials, support, and durability — your sleeper should last a decade and be the perfect reset every night.