The Must-Try Hack For Storing Plastic Shopping Bags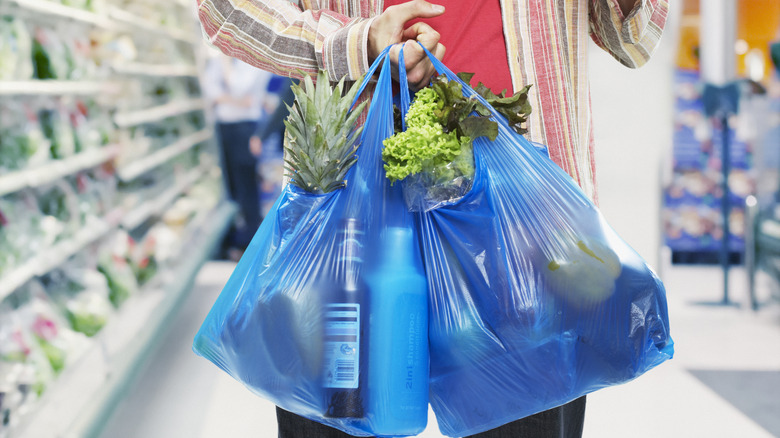 Paul Bradbury/Getty Images
We may receive a commission on purchases made from links.
We've all lived the same experience of forgetting our reusable tote bags for the grocery store and having to use plastic bags. We mentally remind ourselves to put the tote bags back in the car once we get home, but until then, plastic bags will have to do. While using plastic bags isn't the end of the world, the pile they create under the kitchen sink cabinet can be a nightmare. You probably either have them all stored in one bag or folded and tied into tiny balls thrown everywhere. Regardless, they still take up space. However, TikToker @miseenplace_au created a clever hack to store her plastic shopping bags, and all you need is double-sided tape and a file holder.
Instead of throwing out your grocery bags, the file holder helps to keep them in one neat place under your sink. And, if you've stopped using plastic bags altogether, you could use this hack to store other bags such as ziplock or cooler types. While this hack recommends placing the file holder on a cabinet door, there are other places to install it like on the inside of your pantry door.
How to use a file holder to store your shopping bags
There are many ways to store your reusable shopping bags, which you might already be an expert on if you use them frequently. However, if you find yourself with a pile of plastic bags after a trip to the grocery store when you forgot your reusable types, a file holder is the perfect item to store them in. In TikToker @miseenplace_au's video, she attaches a file holder to the inside of her cabinet with double-sided tape.
Wipe down the cabinet door with a damp cloth to remove stickiness, build-up, and dirt, then allow the door to air dry. This will enable the tape to stick better to the surface. Then, measure out four pieces of tape and attach them to every side of the file holder. Finally, tie your plastic shopping bags into tiny balls and pop them into the holder.
When choosing the right holder, the Durable Plastic Foldable Desktop Book Storage Box from Temu that costs under $6 may be the right choice. There are also file holders that can be mounted on the wall without the need for double-sided tape, like the Four-Piece Acrylic File Holder Wall Organizer from Amazon, which costs about $27. Find what works best for your space to store your shopping bags.