The TikTok Hack That Gives Your Boring IKEA Vase A Trendy Upgrade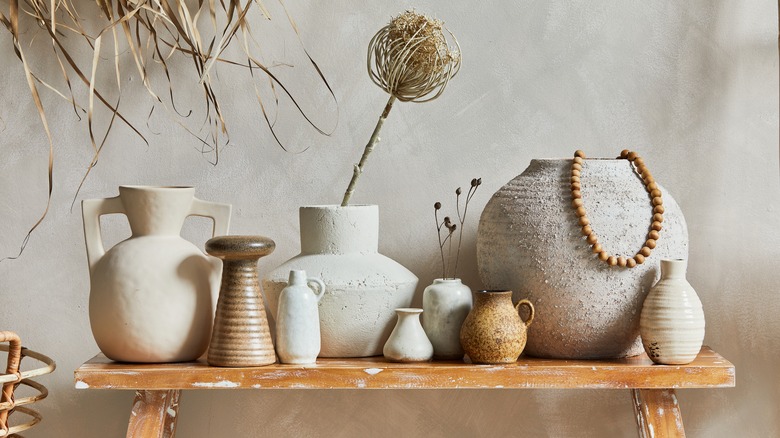 Followtheflow/Shutterstock
Decor for your home does not have to be expensive. You are just one do-it-yourself away from all those luxury pieces you see in showrooms and on magazine covers, and you don't need grand artwork to make a statement, either. Small items or trinkets, like a vase, speak volumes.
For example, you can transform a simple glass vase into a textured focal piece or textile vase. For this trendy upgrade, all you need is paint and baking soda. It is a DIY you can complete in less than an hour. This look is perfect for restyling cheap plastic vases for a high-end look or upcycling containers destined for the garbage.
Starting with the Räffelbjörk vase from IKEA, you end up with a fabulous showstopper just a few materials later. Fill your new textured vessel with flowers, tall candles, greenery, or feathers to fit your aesthetic. For a trick that will help make styling your vase easier, you can even leave it empty.
Turn a glass vase into a textured art piece
Texture is essential in any room, and a textile vase is a great way to incorporate it. To start this DIY, wipe your glass vase so it is free from dust and debris. Then in a container, mix your preferred paint color with baking soda. The powder is key to creating a textured look. Go for light gray to mimic cement, black to modernize things, or a vibrant hue to bring in bright colors. A quarter cup of baking soda for every cup of paint will do.
Protect your counter with a piece of cardboard or foil and start painting. Slather all sides, the rim of the vase, and inside the opening. You can dap the wet paint with a crumbled paper towel to double down on the textile effect. It will add a popcorn ceiling design. Let your creation dry, and you're all set. Now you have a decorative piece to zhuzh up any desk, mantel, or shelf.