Bryan Baeumler Explains What To Add To Make Your Home Feel Like A Resort - Exclusive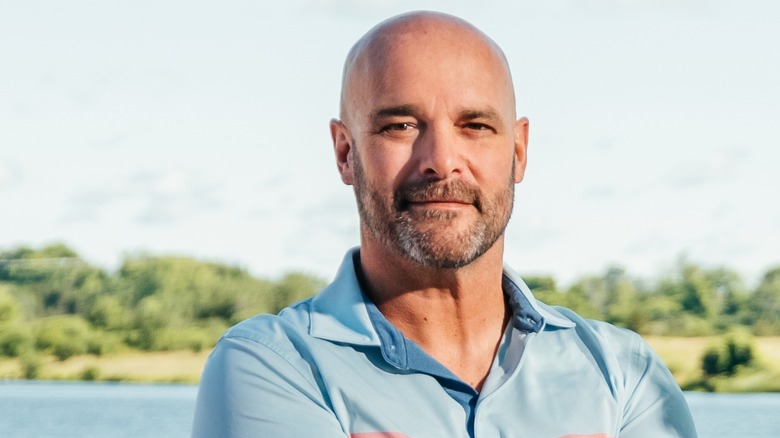 HGTV
There's no better feeling than sitting on serene shores and relaxing by the water. That's exactly why Bryan Baeumler and Scott McGilvary are co-hosting a new renovation show on HGTV, "Renovation Resort Showdown," where designer and contractor pairs tackle the renovation of a lakeside resort. Each pair will renovate a lakeside cabin, striving to create a space where vacationers can fully relax and take in the scenic beauty.
Though you may not be able to completely recreate the full relaxation of a vacation while at home, you can capture it. And when it comes to renovations, choosing the right features is essential to creating a home that evokes the feeling of a resort. In an exclusive interview with House Digest, Baeumler shared that outdoor spaces are the key. "Outdoor living is a big thing that people are putting in," Baeumler explained. "Outdoor living spaces, a little bit of whimsy." According to him, having a space where you can enjoy the fresh air and beautiful weather is sure to make your home feel like a more luxurious resort space.
Luxurious outdoor living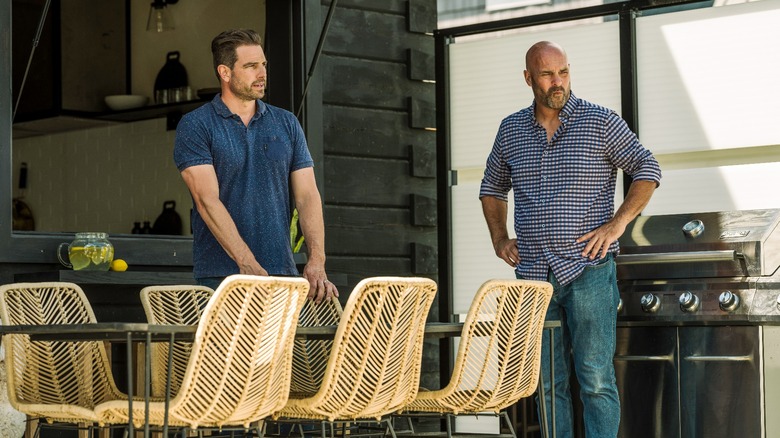 HGTV
Think about your favorite resorts where you've stayed and how so many of them have incredible outdoor spaces. From lush gardens to outdoor restaurants and bars to poolside lounging, the outdoors is one of visitors' favorite spaces to hang out. Bryan Baeumler believes you can get inspired by the whimsy and themes of these resort areas and bring that into your own home. "You can go a little more overboard on a rental property or vacation property with design," Bryan Baeumler told us, "but there's no reason why you can't create theme zones in your own home." Consider the color palettes, fabrics, and prints that resorts often use and incorporate that into the design of your own spaces.
In terms of the features you should add to outdoor spaces, Baeumler suggests considering the common amenities many resorts offer their guests: "With those outdoor spaces, we're seeing pools and sun shelves and outdoor entertainment playgrounds so people can enjoy more of a staycation at home." Having an outdoor area helps to extend the livable space in your home and provides an area for you to entertain your friends and family. Consider adding an outdoor kitchen, a living room with a fireplace, and other amenities that make the outdoors feel luxe.
Amenities to play and relax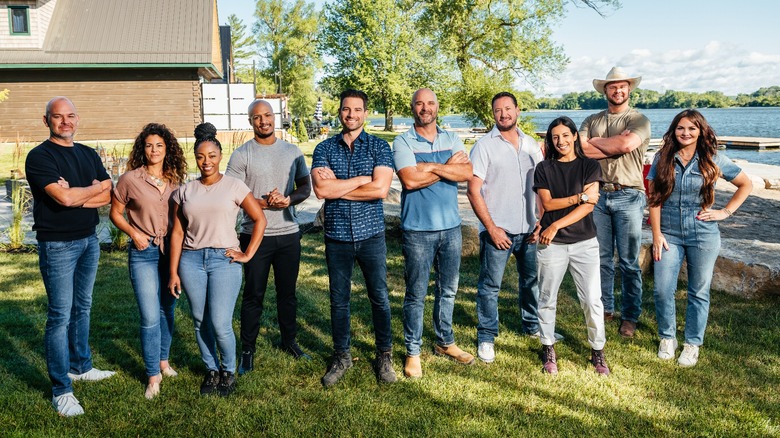 HGTV
While creating luxurious outdoor spaces will help your home feel more like a vacation spot, you can always look to resorts for inspiration for your indoor amenities, too. The features many people added during the pandemic are still worth considering for your home. "During the pandemic, people were looking to change the use of their home or to maximize the use of their home," Bryan Beaumler explained. "We saw schoolrooms being put in, office spaces being built, spas being built, gyms." Home spas and gyms, in particular, can be a great way to turn your own home into a mini resort.
Consider creating a spa in your own bathroom with deep soaking tubs, steam jets, heated floors and towel racks, plush towels, and calming scents to help you wind down — or add a full spa room with a sauna and a hot tub. A home gym doesn't need to have every machine, but rather the ones you use most often. Having a dedicated space for cardio and weights — or any other leisure activities — instantly elevates your home to be more like a luxurious resort.
New episodes of "Renovation Resort Showdown" air Sundays 9:00 p.m. ET on HGTV and are available to stream on MAX.