How To Decorate Your Bathroom Like A Wellness Retreat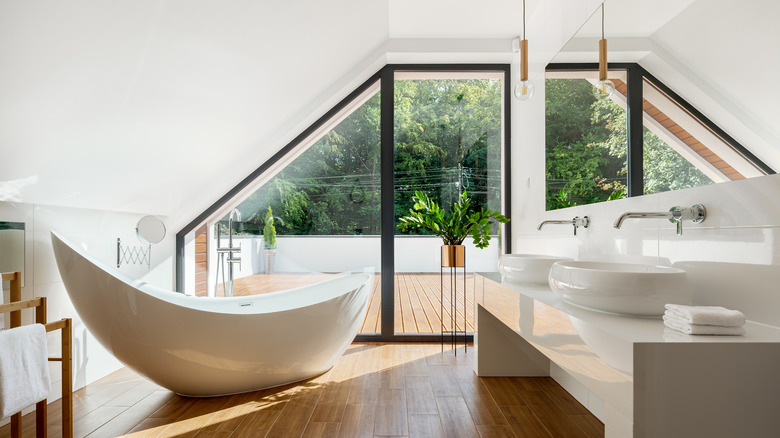 Dariusz Jarzabek/Shutterstock
We may receive a commission on purchases made from links.
From sunrise meditation sessions to detoxifying spa treatments, the typical wellness retreat offers a slew of activities designed to boost the mind, body, and soul. According to a survey by American Express, nearly 70% of travelers are focusing on wellness for their next vacation by booking stays at these health-centered resorts and spas. However, you certainly don't have to travel far to experience all the benefits of a wellness retreat. 
If you're craving a little serenity, you can transform your bathroom into a world-class wellness escape and watch your worries melt away — no travel required. It just takes a few simple tips and tricks to bring the spa home, so there's no need to start a new remodeling project. By investing in a few self-care essentials like scented candles, soft towels, and a bath body pillow, penciling in downtime will become much more appealing at the end of the day. You can also give your bathroom a spa-like ambiance by installing new shelving, incorporating natural materials, and brightening up the space with a fresh coat of white paint. With a little TLC, your bathroom will become a sanctuary for rest and relaxation.
Set the mood with plenty of candles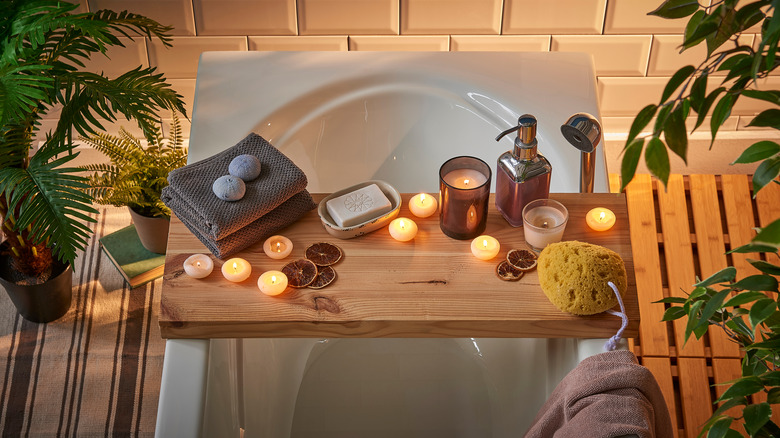 United photo studio/Shutterstock
Few things are as relaxing as lighting a candle and watching the flame gently flicker while sinking into a luxurious bubble bath. The soft lighting provided by candles is the perfect way to bring a spa-like atmosphere into your home. According to Travel & Leisure, there are also psychological benefits linked to candles. It's been proven that scented candles can boost mood, lower stress levels, and improve general mental health. 
If you're looking to recreate the calming scents found in your favorite spa, opt for candles with lavender, jasmine, sandalwood, or cucumber fragrances (via Homesick). Citrus-scented candles will help brighten your mood if you've been feeling down, while scents like rosemary and chamomile are best for calming anxiety. And when it comes to choosing the best candle brands, go for French candlemaker Diptyque if you fancy a splurge. For those more on a budget, try Nest New York, which has earned a cult following over the years due to its premium wax and refreshing scents.
Cut back on clutter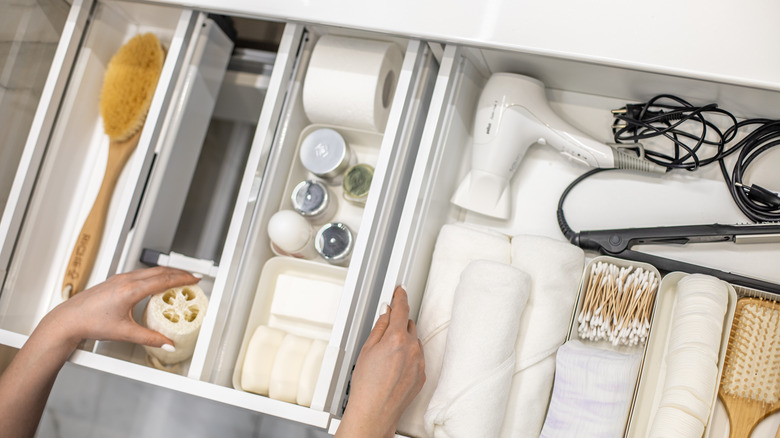 Kostikova Natalia/Shutterstock
One way to spark joy in your home spa is by removing all traces of clutter. According to The Spruce, a well-organized bathroom not only looks good but also functions better since you can easily find what you need. You won't have to worry about tripping over empty bottles or searching fruitlessly for a band-aid with better organization. Plus, your space will become easier to clean and maintain once everything is in its proper place.
To start decluttering your bathroom, go through all of your products and decide which to keep or toss. Then, sort the remaining products into different categories based on whether they belong in the shower, cabinet, shelf, or elsewhere. Before putting everything back, give your bathroom a thorough cleaning and determine if you need any storage containers like a shower caddy or small baskets for cosmetics. Only keep essential items like hand soap on countertops for a spa-like feel. 
Welcome in the great outdoors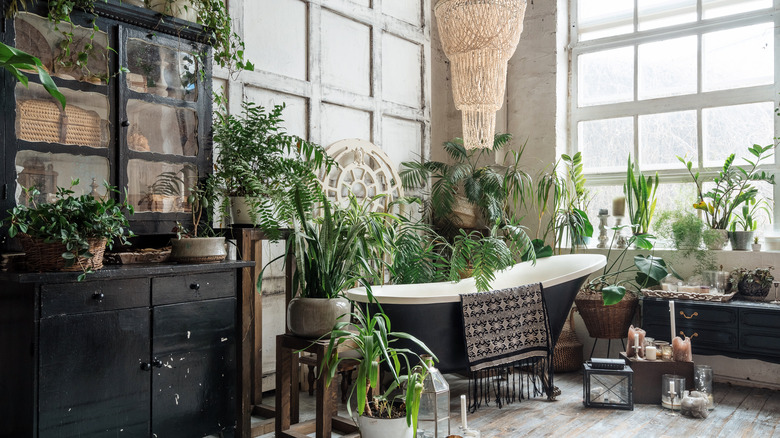 Brizmaker/Shutterstock
Known for their ability to improve air quality and boost concentration, houseplants make a great addition to any bathroom. According to Marie Claire U.K., research has proven that houseplants reduce stress in people by about 40% since they remind us of the outdoors. "By bringing the outside in and enriching our indoor spaces with houseplants, this reminds us of a natural, simple way of living. A pace of life that is slower yet still incredibly intelligent, beautiful and efficient," wellness expert Emma Mills told the publication. The act of watering and taking care of plants is also good for the soul and helps us feel more connected with the natural world. Adding a few plants to a shelf or window ledge will transform any room into a living, breathing wellness escape in no time. 
If you're unsure about which plants to select for your bathroom, look for species that are suited to warm and humid environments. Most tropical plants thrive in these conditions, so bird's nest fern, pothos, air plants, and aloe vera are good options. If you are a beginner with no green thumb in sight, snake plants and spider plants will be your best friends (via Apartment Therapy). When decorating with plants in the bathroom, ensure they receive lots of natural light and are not too close to where water sprays. And if your space just isn't equipped to keep plants alive, you can always decorate with faux flowers or greenery.
Incorporate natural materials like wood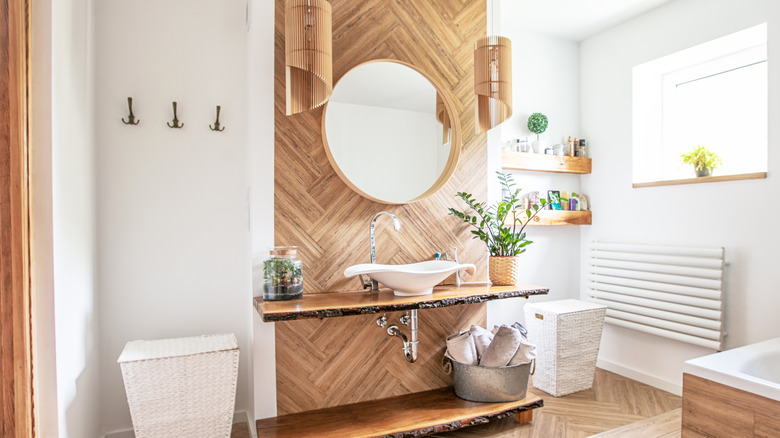 NeonShot/Shutterstock
Just like plants, adding natural materials to your bathroom will help bring the great outdoors inside and achieve a spa-worthy atmosphere. As reported by The Spruce, wood is one of the most popular materials used in the home since it's incredibly versatile and eco-friendly. And while you might be hesitant to add wood in a space with excess moisture, adding a protective topcoat or seal will ensure you have a barrier against water damage. 
There are plenty of ways to incorporate wood into a bathroom space. Use reclaimed wood to make a DIY spa vanity (via The Space Between) or install wooden countertops or flooring. If you really want to take the plunge, you can also splash out on a wooden soaking tub. Cedar tubs are a staple in Japanese bathing culture since the material contains resins that protect against rot and decay (via Dwell). Of course, you can always keep it simple by decorating your bathroom with a rustic wooden stool. The use of natural materials will help ground the space.
Relax in style by adding a bathtub tray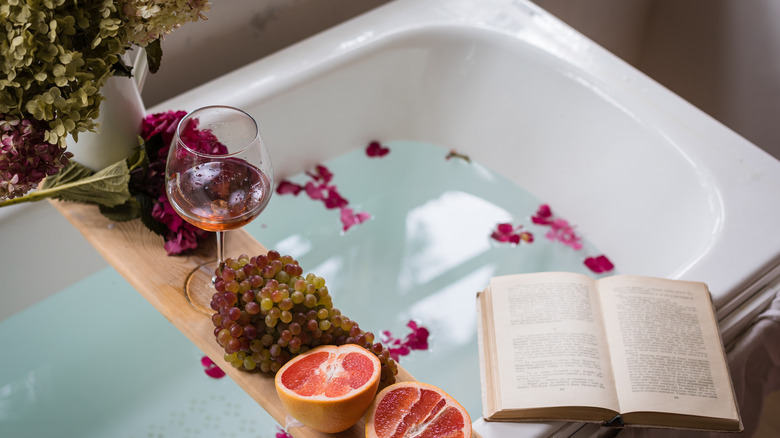 Katia Seniutina/Shutterstock
One of the easiest ways to transform your bathroom into an oasis of wellness is by placing a tray across your tub. As reported by The Strategist, bath trays are the ultimate bathroom accessory, making it easy to spend hours soaking in the tub with your favorite Netflix show and other forms of entertainment. You'll never want to leave your tub ever again. The best bath caddies have enough space to hold all of your bath time essentials, including candles, soap, books, snacks, and a glass of wine. 
While bath trays come in all shapes and sizes, the best ones have a stylish design, adjustable sides, multiple compartments, and a holder for propping up a book or tablet. Choose from wood, metal, ceramic, plastic, and stainless steel trays, depending on your bathroom's overall look and style. Traditional bamboo trays are a sure way to make your baths more decadent, plus it effortlessly captures the feeling of being at a spa.
Install pretty shelving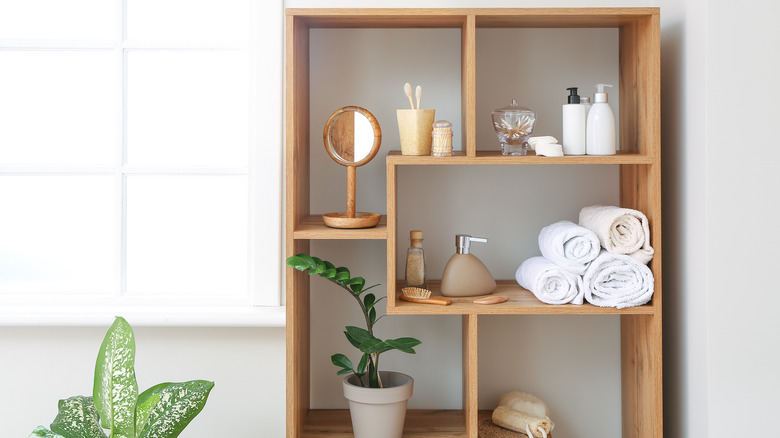 Pixel-Shot/Shutterstock
There's a lot to love about bathroom shelving, no matter what size your bathroom is. It not only increases storage space, but also provides a spot to display pretty decorative items like houseplants and mirrors. While you might have to master the art of folding your towels so you can display them next to your toothbrush holder, it's well worth the effort. It might seem extra, but it opens up more storage space in the linen closet. According to The Spruce, installing shelves on empty walls is the perfect way to make more room for storage without taking up valuable floor space.
From floating shelves to floor-to-ceiling cubbies, there are various ways you can get creative with bathroom shelving. Mini shelves are a cute way to display hand soap and lotion above the sink, while wider shelves can also work as benches (via House Beautiful). If space is limited, make use of windowsills or any other existing surfaces in the room.
Hang up some soothing artwork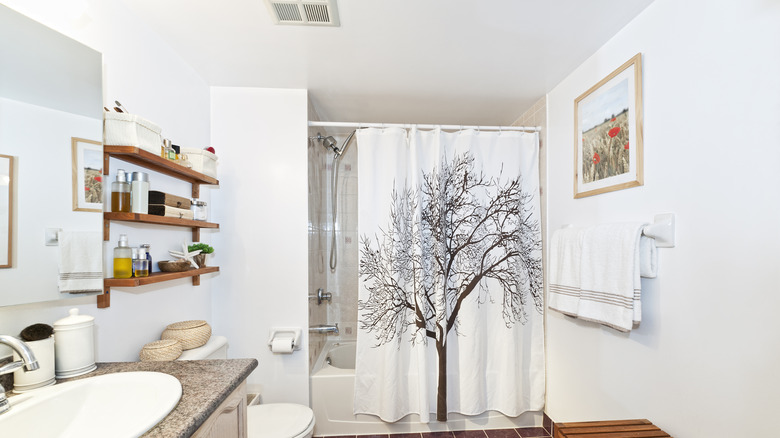 Elena Elisseeva/Shutterstock
A trip to the spa should ideally transport you to a world of tranquility and serenity, far away from the concerns of everyday life. One way to achieve this relaxing atmosphere is by paying attention to the artwork in your bathroom. According to Elle Decor, the bathroom is the one room in the home that is often neglected when decorating with art. However, a single picture can have a big impact.
Every bathroom deserves to be spruced up with some eye-catching art, whether it's a framed painting hung on the wall or a statement sculptural piece placed on a shelf. To help your space feel like a calming spa, opt for pictures of nature or pieces with soothing blue tones (via Apartment Therapy). While picking out calming artwork is certainly a matter of personal preference, ocean-themed art, watercolor paintings, and abstract prints tend to all produce a peaceful feeling.
Opt for a spa-like, all-white color palette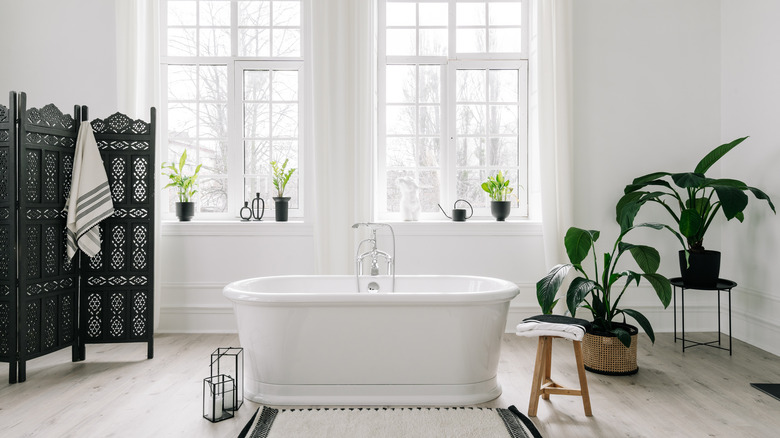 Brizmaker/Shutterstock
If you think white walls sound boring, think again. Light, bright, and timeless, a white bathroom will never go out of style. As reported by Better Homes and Gardens, the neutral tone helps create a polished and calming atmosphere in the bathroom, which is perfect for your at-home spa experience. White works especially well in smaller bathrooms since it reflects light around the room and makes it feel more open and spacious (via Martha Stewart). 
Additionally, there are so many different shades and styles of white paint you can implement in your bathroom. Painting your bathroom in cooler shades of white will give it a clean look, while off-white tones help make a dark space feel warmer and cozier (via Architectural Digest). To create contrast, you can play with dark cabinets and floors, or add bright pops of color. Bringing in metal accents is also a fun way to liven up all-white rooms, as well as extending subway tiles across the walls.
Upgrade your soap dispensers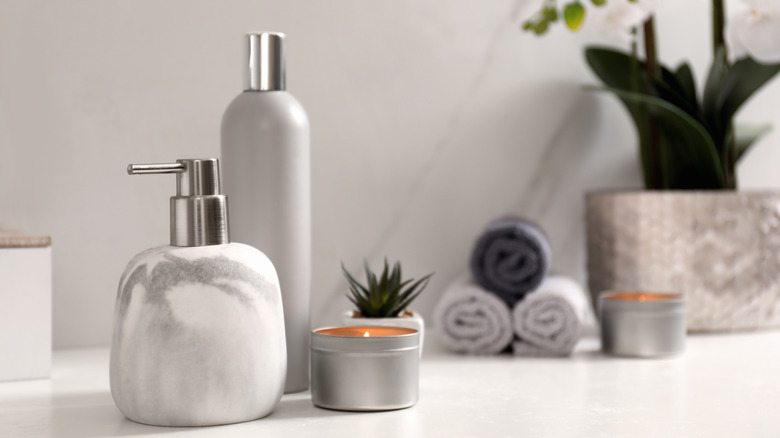 New Africa/Shutterstock
Good wellness retreats know that it's all in the details, from the soft towels in the rooms to the gentle fragrances that linger in the air. Even small items like soap dispensers help create a relaxing and serene spa experience. According to The Spruce, chic soap dispensers have the power to make countertops look better and complement existing decorations. They also come with various practical benefits, including the fact that they are reusable and reduce environmental waste. Plus, you can save money by filling them with liquid soap bought in bulk (via Central Co-Op). Score!
If you're looking to upgrade your soap dispenser, you're certainly spoilt for choice. The Blomus Sono dispenser has great reviews and comes in various cool, neutral shades. Or, if you're feeling fancy, opt for a rechargeable one like the Simplehuman Touch-Free Soap Dispenser. If you're short on counter space, look for a wall-mounted dispenser to save room.
Design a zen playlist for unwinding in style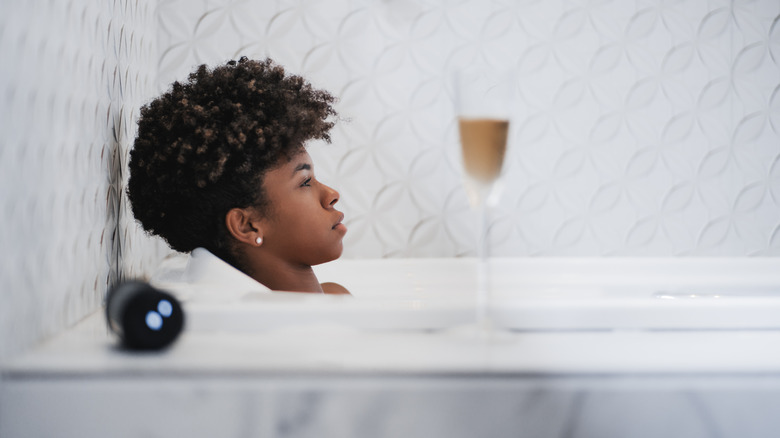 SkyNext/Shutterstock
After lighting some candles, pouring a glass of bubbly, and settling into a warm bath, the only thing missing is some great tunes to help you fully relax and unwind. According to InStyle, the best songs for soaking are equally soothing and sultry, and will help melt your worries away in no time. When designing a bath playlist, avoid adding energetic or fast-paced songs. Instead, opt for soft and calming jams to set the mood for peaceful soaks.
While musical taste is highly personal, there are undoubtedly plenty of classic songs that belong on your bath playlist. Norah Jones, Solange, Bon Iver, Adele, Enya, Rhye, and Corinne Bailey Rae are all great artists known for their soothing sounds that deserve a listen. Once you put together a variety of tunes you love, you'll just need to get in the tub, press play, and treat yourself to pure relaxation.
Indulge yourself with fluffy bath towels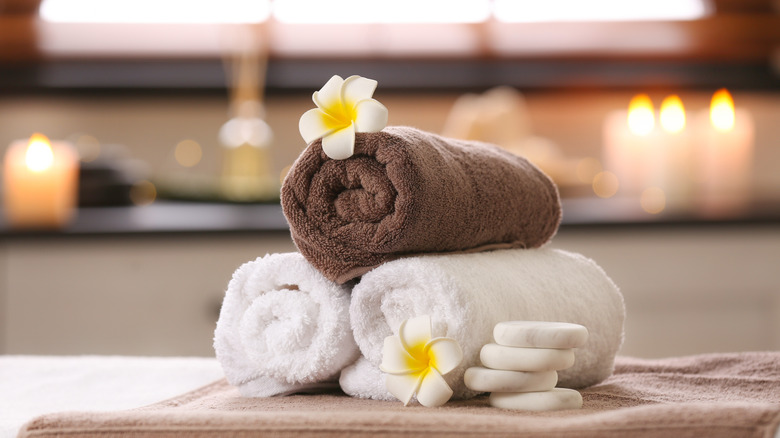 New Africa/Shutterstock
You don't have to travel to a wellness retreat to pamper yourself with soft, fluffy towels. Wrapping yourself in a fresh towel post-bath or shower is one of the simplest ways to feel completely rejuvenated. If you want to nail that spa aesthetic, stock up on white towels, roll them up neatly, and stack the rolls on a shelf or in a basket for easy access. Having plenty of fresh towels on hand is also great for visitors. 
When stocking up on new towels, it's best to look for 100% organic cotton material. As reported by House Beautiful, most bath towels are treated with a host of chemicals to make them feel softer to the touch. However, these chemicals cause the towel to be hydrophobic and repel water over time. If you want to treat yourself, go for Frette bath towels, which feel like a stay at a luxury hotel. Or, for a more budget-friendly option, look into Pinzon Egyptian Cotton towels, which are a top-seller on Amazon.
Choose a luxurious shower head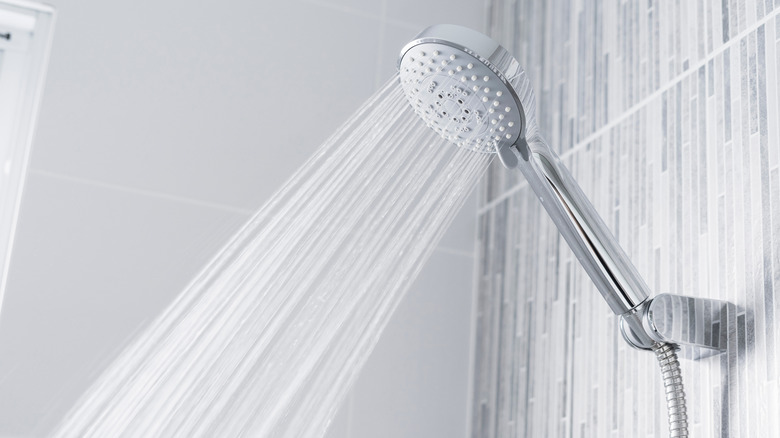 Ben bryant/Shutterstock
Not a bath person? You can still enjoy a luxury spa experience at home by taking your shower head to the next level. There are lots of high-quality options available these days that will make your shower so much better with powerful spray modes, water filtration systems, and massage capabilities. According to The Spruce, there are four main shower heads types: wall-mount, hand-held, top-mount, and panels. Choosing the right head comes down to your budget, preferences, and ease of installation.
One of the best shower heads on the market is the Kohler Forte (via CNN). This shower head features high-pressure settings that make rinsing out shampoo, conditioner, and other hair care products a breeze, plus it has a massage mode for soothing out any sore muscles. It's also low flow, which means it reduces the amount of water wasted and helps save money on your water bill. 
Explore the world of aromatherapy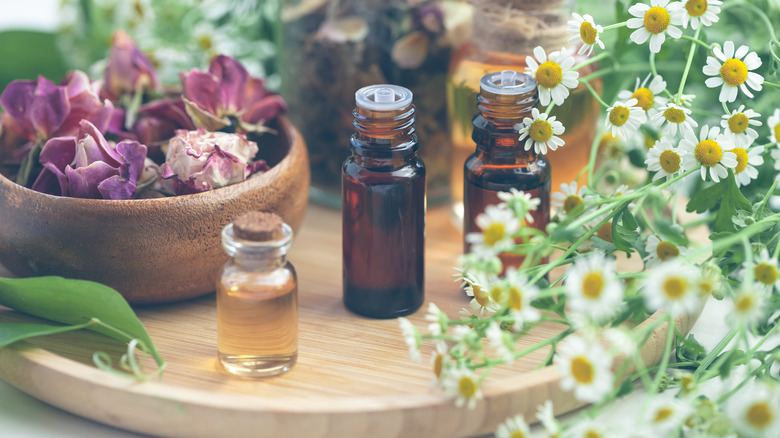 Vera Prokhorova/Shutterstock
Appeal to your sense of smell by infusing your next bath with healing essential oils. According to Healthline, people have been practicing aromatherapy since ancient times by creating aromatic oils and balms with plant extracts. These oils, known as essential oils, capture the plant's scent and boast unique wellness properties. Breathing in these smells can affect an area of your brain known as the limbic system, which processes emotion and memory (via Healthline).
There are many different ways to reap the benefits of essential oils, but one of the most popular methods is to add them to a hot bath. Adding three to 12 drops of your favorite oil will create a fragrant experience without irritating your skin (via Good Housekeeping). Each oil has unique benefits, but the most popular scents include lavender for better sleep and stress relief, lemon for mood boosts, and eucalyptus for pain relief (via Healthline). Mixing essential oils is also a good idea since it allows you to enjoy a variety of great benefits.
Create a calming atmosphere with lighting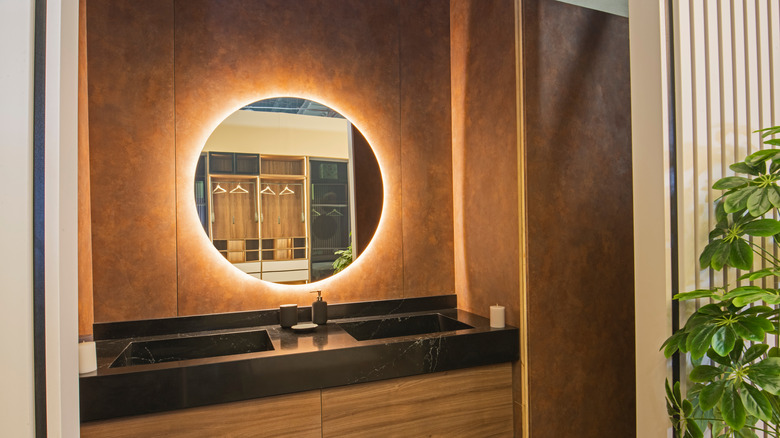 Paul Vinten/Shutterstock
Setting the right mood in your bathroom starts with turning on the right lights. Ideally, bathroom lighting will help us wake up in the morning and feel our best, and then help us relax and unwind at night. According to Hunker, it's important to layer relaxing, ambient lighting with more practical, task lighting. It's important to have both because different lights serve different wellness purposes. For example, bright lights have the power to stimulate serotonin and kick-start our brains. On the other hand, soft and warm lighting can produce melatonin, helping us get a better night's sleep (via The Spa Industry Association). 
Using dimmers in your bathroom will allow you to adjust the lights to your perfect level, whether it's a bright light for putting on make-up in the morning or a soothing low light for bath time. When picking out a dimmer for your bathroom, choose one that is compatible with your current wiring and fixtures (via The Spruce). The Lutron Maestro LED+ Dimmer Switch is a great, versatile option, which features tap controls and lots of different lighting levels.