Try One Viral Laundry Basket Storage Hack And Thank Us Later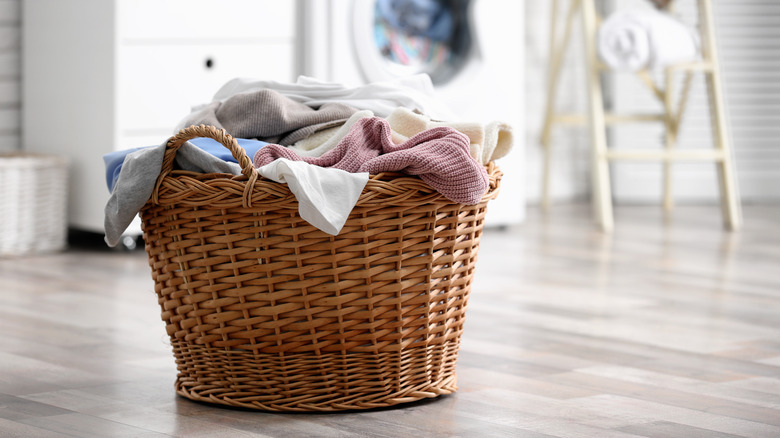 New Africa/Shutterstock
If you have a large family or just love to change outfits often, chances are that you spend a good chunk of time in the laundry room. However, depending on how many people you live with, sorting out laundry can become an overwhelming task. Laundry baskets often mean things get mixed up, particularly if you have children of a similar age, and a lack of storage leads to a generally messy look. If you're looking for a solution to this issue, look no further. This viral hack will update your laundry room and turn it into an area where even the smallest items have a place. Basically, you'll designate a separate laundry basket for each member of your family.
This hack works by giving you a space to sort out laundry when it has been washed so it doesn't just pile up. Best of all, it doesn't require any DIY work, so it's ideal if you're not exactly savvy with a hammer and drill. Here's everything you need to know about this viral hack so you can take the first step to transforming your laundry room from a cluttered space into an organized dream.
This hack will whip your laundry room into shape
To start, you'll need to buy a few storage racks and as many storage baskets as there are people in your family — i.e. purchase four if there are four people. Place each basket in a storage rack slot and voila! You now have spaces to store the freshly-laundered items of each member of the family. This trick will not only help to keep laundry organized, but it may also encourage children to collect their own laundry if they see it's in their designated slot. 
To add some personality to the hack, you could buy stickers and labels that each family member can then customize. Not only could this be a fun family activity, but it will also help you avoid any mix-ups. As well as a slot for each person, @mommylifesquad recommends including one extra basket for clean towels. Because this laundry room organization hack is customizable, you could mix it up however you desire. For example, you could use one small basket for socks and another for underwear instead of designating a basket for each person. The best way to utilize this hack is to make it work for you, so take some time to think about how you want to organize things before getting started.