The Bedroom Detail That'll Make Your Room A Retreat (But You're Likely Forgetting It)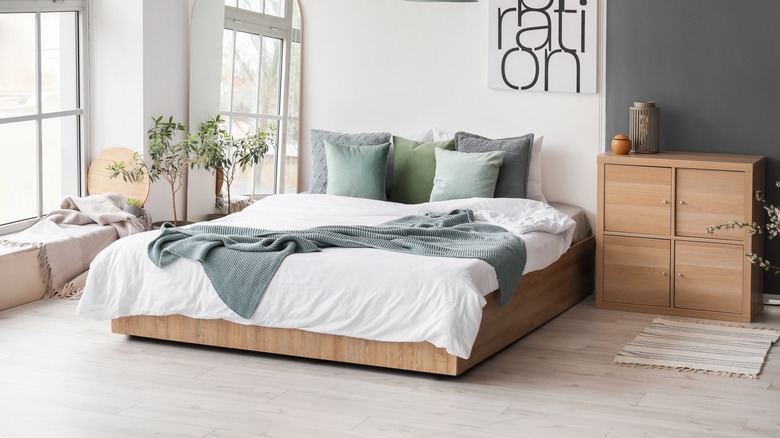 Pixel-Shot/Shutterstock
Although you might've put in a lot of work to style your bedroom and let your personality shine, there's a good chance that you might be using the room for activities besides sleeping. While a bed and a mattress are non-negotiables, they aren't exactly the best or most comfortable place to catch up on work, read, watch TV, eat your meals, converse with your partner, or overthink. However, adding furniture pieces like a sofa or ottoman to your bedroom will provide extra seating space and let you enjoy your me-time — without necessarily having to lie down or sit awkwardly on your comfy bed.
This bedroom detail will allow you to turn your bedroom into a retreat with cozy and well-designed furniture pieces, encouraging you to spend time in your bedroom besides sleeping. Further, adding comfortable furniture to your bedroom will help you improve your posture while sitting. It can offer your back some much-needed support while you watch TV, read, work, or simply unwind with a glass of your favorite wine.
Why add seating to your bedroom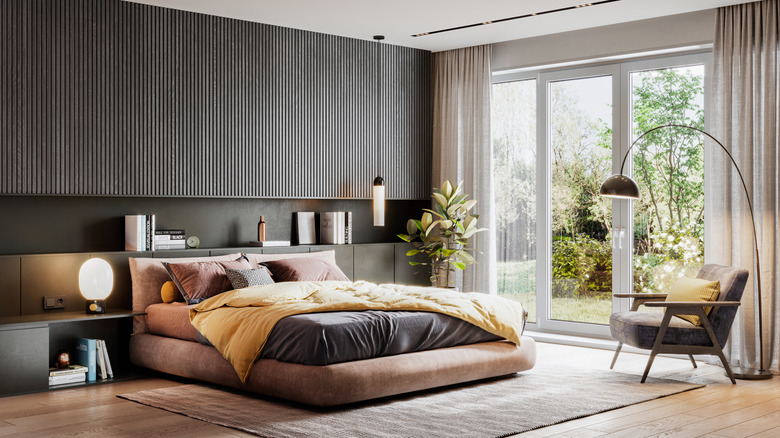 Alvarez/Getty Images
Adding comfortable furniture, such as a chair, sofa, or lounge, to a bedroom has multiple benefits. For starters, it gives you a place to relax and indulge in activities like reading, streaming a movie or web series for a quiet night in, or spending quality time with your partner. Moreover, it offers individuals a place to sit and tie their shoelaces or put on their makeup or parents a space to sink in and read their child's favorite bedtime story. It also provides your guests with a seating option besides your bed.
Besides offering extra seating space, tasteful bedroom furniture can help you fill in awkward, empty corners and add a touch of elegance to your room. Moreover, it upgrades your bedroom from mere sleeping space to a multipurpose room where you can enjoy your me-time. But while picking furniture for your bedroom, don't forget to consider the room's size, layout, and décor. You should even determine the function of the furniture. For instance, if you'd like to sit and read, a chair, sofa, or ottoman will all serve the intended purpose. But if you want a space to work, then adding a chair and a table would work best. Additionally, it helps to choose furniture crafted out of high-quality materials.
Furniture options for your bedroom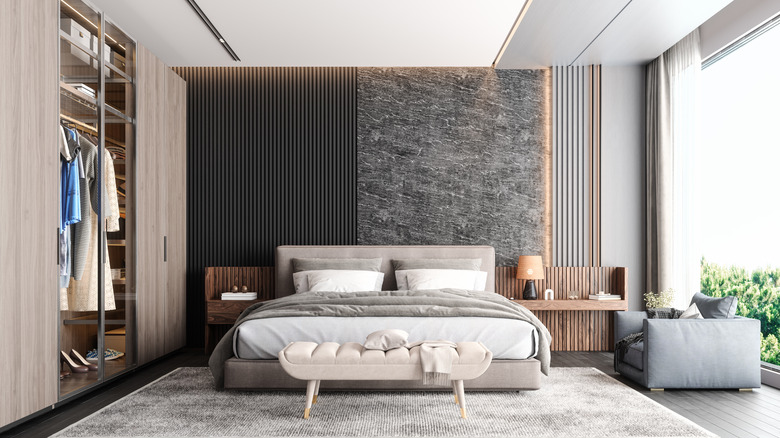 Onurdongel/Getty Images
The possibilities are practically endless when choosing and adding furniture to your bedroom. You can place an elegant, plush chair or install a built-in window seat near a good light source to create your reading or ruminating nook. Alternatively, you can pair the chair with a sturdy desk or table to get started with your home (or bedroom) office.
Similarly, an ottoman or bench placed at the foot of your bed will provide additional sitting room. Moreover, if you choose one outfitted with a hollow compartment, it'll also offer extra storage. Further, you'll have a convenient space to toss your extra pillows or other items, like a folder or purse, without losing them. Hanging chairs and daybeds are other great furniture options to sit back and relax after a long and hectic day. You can even experiment with a quirky and colorful stool or miniature sofas to add character to your bedroom.