The Wrapping Paper Hack That'll Create A Work Of Art For Your Wall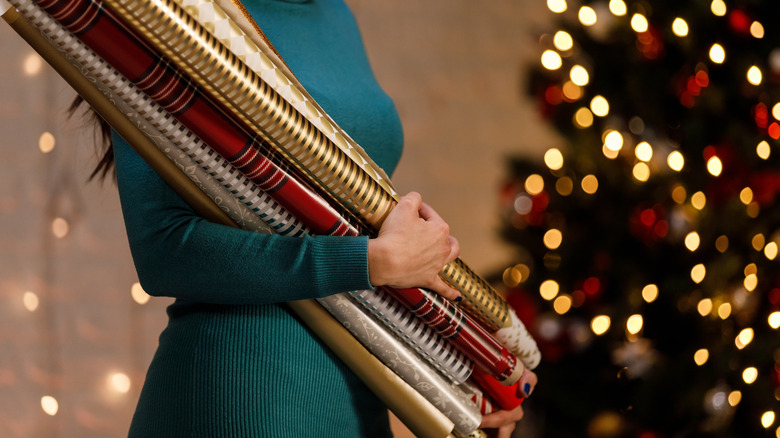 Fotostorm/Getty Images
When you're decorating your home for autumn or winter, you can go all out, and no one will question it. You can set up inflatable characters outside in your yard, fill the porch with string lights and pumpkins, and decorate the interior with everything holiday-related. However, it gets a little more challenging to decorate your home when it comes to sunnier seasons, like spring and summer. While you can still go all out with bright-colored décors, such as pineapple-themed floaties for your pool, some folks want something more subtle. To give your home a pop of color for every season, fill picture frames with wrapping paper and display them on your walls to create a fun, festive art wall.
There are tons of wrapping paper designs, so you can find and choose which ones will look best on your wall. In addition, pick a theme to go with and find wrapping paper that will match, such as a pool day theme for summer, ghosts and pumpkins for fall, Christmas trees and snowmen for winter, or blooming flowers for spring. Choose colors and patterns that will stand out and complement festive designs for a balanced look. All your friends and family will ask you to teach them how to make their own wrapping paper art wall at home.
How to use wrapping paper with picture frames
Styling picture frames with wrapping paper is effortless and will elevate any wall you display them on. You want to use more than two picture frames for your art wall to have a variety of sizes. If you already have a gallery wall, you can mix the wrapping paper with the rest of the art that's already hung. You'll need two to three different-sized picture frames, tape, scissors, magic erase sponge, and wrapping paper.
Start by cleaning your picture frames with the magic erase marker. You want to remove dirt, marks, and grime from the sides to make them brand-new, especially if you thrifted your frames. Then, lay out the wrapping paper you're going to use for your first frame. Remove the frame's backing and place it on top of the wallpaper. You will use the backing as a template, so you don't have to measure both with a ruler. The backing makes the process easier and faster.
Once you place the backing on the wallpaper, cut around the backing, leaving about half an inch of paper on each side. After you've cut the wrapping paper, place it in the frame with the backing and secure it with the tiny clips. You'll have extra paper hanging from the sides that you can tape to the frame or leave as is. Finally, situate your frame on the wall and repeat the steps for the rest of your art.