Are You Forgetting The Perfect First Step When Cleaning Your Oven?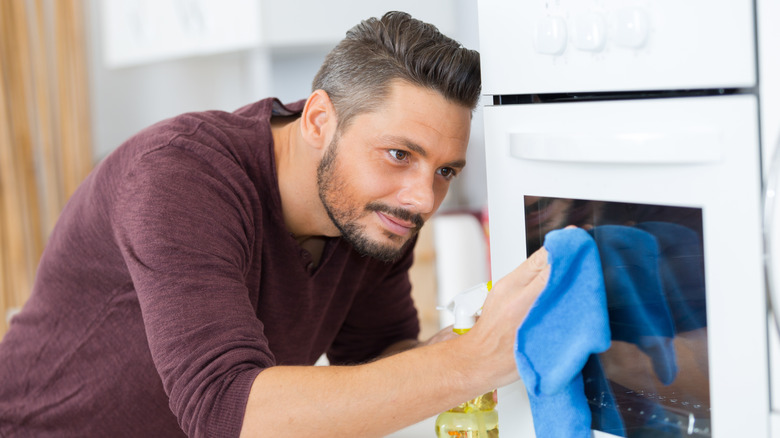 ALPA PROD/Shutterstock
We may receive a commission on purchases made from links.
There's a trick to cleaning your oven that'll start your efforts off right whether you're performing a deep clean or just keeping it tidy. And no, it's not the activation of the self-clean option. This trick actually begins with a tool not often used in kitchens – the vacuum. The portable appliance typically comes equipped with handy attachments and when those small pieces snap into place, you have a suction hose that's pretty effective at removing food debris.
Typically, oven interiors can go out of sight, out of mind as soon as the door slams shut. Sure, you know the sticky residue leftover from your baked sweet potato will continue to burn but the thought of cleaning it slips your mind as you wait for the oven to cool. It's not until the next meal is sliding onto the preheated racks that you realize the mess remains. Thus, the cycle begins. Luckily, the vacuum trick is a major help, and it can be utilized as soon as the oven has cooled.
Using a vacuum to clean your oven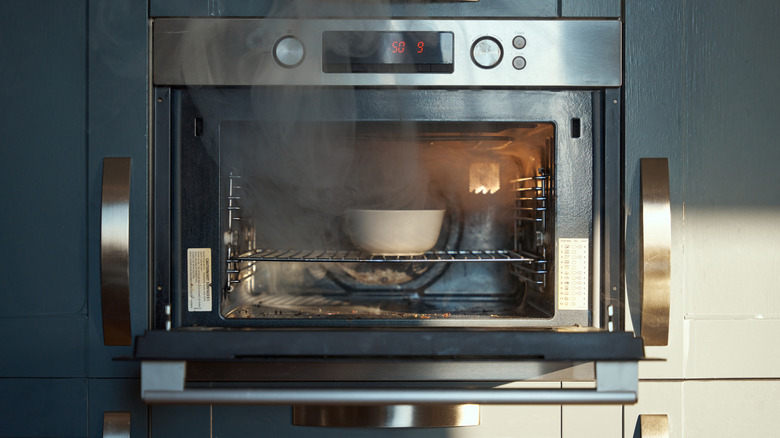 Ignatiev/Getty Images
Before you fire up the vacuum, you do want to take a few precautions. The oven needs to be off and completely cooled before you begin any cleaning of the interior. Remove the racks and set them aside then assess the situation. If there's stuck-on food, you'll want to give those spots a scrap. Wallpaper scrapers work well here, as do spatulas, though you may want to wrap either in a dish towel to avoid damaging the oven's coating. You shouldn't bring any cleaning liquids to the party yet either. Moreover, an electrical appliance should never be used on a wet surface.
After the debris is free, it's the vacuum's time to shine. A handheld version is a great option here, but the attachments on a standard vacuum work just as well. Run the hose across the bottom of the oven in a side-to-side pattern then go for the areas that are harder to clean like the oven's door hinges. If you're feeling especially ambitious, you can move your cleaning efforts to the outside of the oven while you have the vacuum handy. Either scoot the appliance out from the wall or simply remove any bottom attachments so the vacuum's hose can reach any fallen food underneath the oven. Once you're satisfied all of the loose debris is gone, you can proceed with either the self-cleaning option or a hands-on scrub.
Choosing the best vacuum for miscellaneous tasks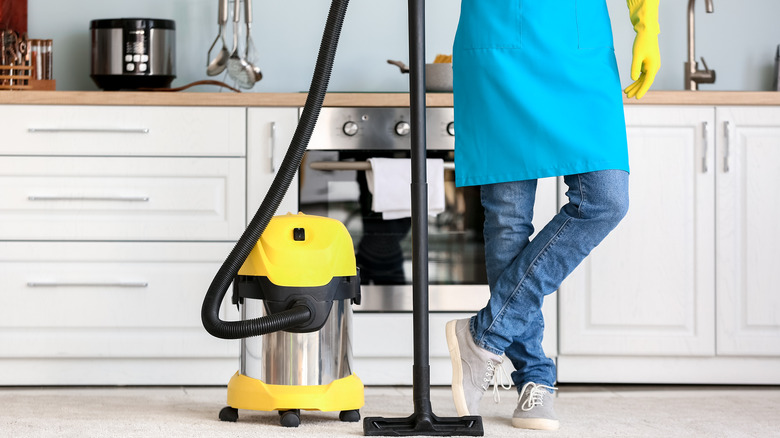 Pixel-Shot/Shutterstock
As mentioned earlier, a handheld vacuum is a great option to use in the oven cleaning process. While such an appliance can be just as expensive as its standard counterpart, there are some affordable options out there. Shark and Black+Decker both have options under $100, and several of those models do land on best-of lists. Wirecutter ranked the Ryobi ONE+ 18v model as its top choice, and it also sells for less than $100.
Handheld vacuums are quite useful for miscellaneous household tasks, but they're not for everybody. If you're shopping for a standard vacuum that can also perform great on surfaces other than the floor, there are some key features to consider. The attachments, of course, are important. You may also want to look for models that have a lift-away canister as that allows for better access to hard-to-reach places, such is the case with vacuuming the oven. This Shark model from Amazon is another frequent winner in the best-of category, and it's relatively cheap compared to similar options.