The Cornstarch Hack That'll Change The Way You Plant Carrots Forever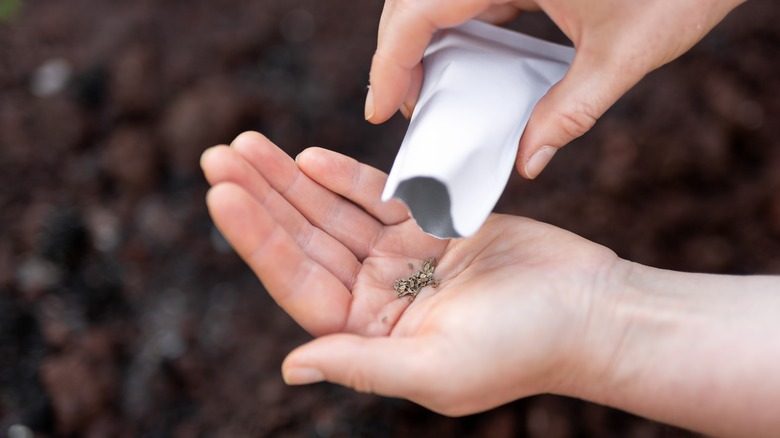 Max_555/Shutterstock
While carrots can grow up to an impressive 12 inches deep and 12 inches tall, carrot seeds themselves are surprisingly quite tiny — you could balance one on the tip of a ballpoint pen. When you're trying to plant these little seeds in your garden, it can be difficult to place them precisely in your soil. Accidentally drop the bag, and you'll never be able to pick out all those little specks in the dirt. Luckily, a TikTok video shared by creator Sky Maddox (@flowertofruithomestead) shows a handy trick for starting seeds that keeps carrot seeds right where you want them. All you have to do is mix a batter of cornstarch and water in a resealable bag, add in your carrot seeds, then snip the corner of the bag to pipe seeds directly into the soil.  
Using this cornstarch gel hack isn't just a good way to save time and frustration while sowing carrot seeds — it'll also give your seedlings a boost of nutrients and hydration. Learn more about how you can make your own carrot seed gel and harness the hidden benefits of cornstarch in your garden. 
Pipe in rows of cornstarch paste
To try this hack in your own garden, Harrowsmith recommends heating 1 cup of water in a large saucepan. When the water starts to boil, add in 2 tablespoons of cornstarch, thoroughly mixing it in with a spoon or whisk to ensure there are no clumps. Reduce the heat to a simmer and continue stirring until the liquid becomes a jelly-like consistency. Turn off the stove and allow the mixture to cool for a few minutes, then while it's still warm and runny, pour it into a gallon-sized resealable freezer bag. Allow the mixture to cool completely, then add in your carrot seeds and zip the bag closed tightly. Massage the bag until the seeds are thoroughly mixed into the jelly, then use a pair of scissors to snip off a small corner of the bag. Squeeze the bag to pipe the jelly into neat rows in your garden or pipe it in dots to grow carrots in containers. 
Soaking carrot seeds in water for up to 24 hours is highly recommended to help them get started, but they must be kept moist after soaking or sprouting. The corn starch gel hack is a great solution for this because it helps the seeds retain moisture even after you've transferred them to their place in the soil. Plus, the cornstarch enriches the soil with nutrients like magnesium, calcium, potassium, and phosphorous, which carrots need for healthy growth.