Make All Of Your Colorful Maximalist Furniture Dreams Come True With A Bit Of Unicorn Spit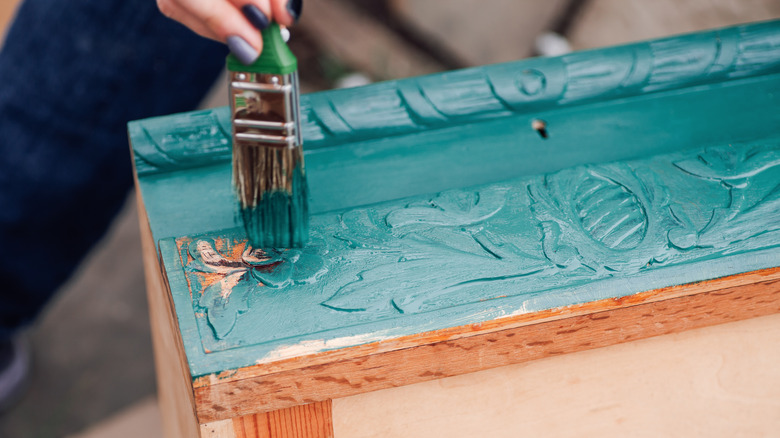 Iuliia Burmistrova/Getty Images
Is there anything better than coming home to a space that inspires joie de vivre? A maximalist interior design can inspire delight and look incredibly stylish. According to enthusiast and interior designer Megan Hopp, "Maximalism leans into big and bold decision making when it comes to color, pattern, texture, shape, and form." While a minimalist scheme relies on thoughtful but limited decor, clean lines, and neutral tones, a maximalist space is only limited by your imagination. Creating the perfect room that feels curated as opposed to cluttered relies on the furniture and decor you choose. Finding the right pieces may require several trips to antique stores, hours scouring Etsy, and a good chunk of change. Or, you can take a DIY route and create your dream maximalist furniture with the help of colorful Unicorn Spit, a gel-based furniture paint. 
Michelle Nicole's furniture stain and glaze comes in a variety of colors and finishes, like Starling Sasha, a vivid magenta, or Selene, a metallic white. Unicorn Spit can be applied to almost any furniture so long as it's made of wood, metal, glass, concrete, laminate, pottery, wicker, or fabric. So rather than searching for the perfect celestial dreamland dresser, you can create the look yourself. Custom-themed furniture is a great way to complete a cohesive and fun maximalist room.
Transform an old dresser with elbow grease and Unicorn Spit
Customizing a piece of furniture is a creative way to turn your maximalist dreams into reality. Often we are limited by paint colors and wood stains. Luckily, Unicorn Spit is the maximalist enthusiast's best friend. If you've ever stained wood before, using Unicorn Spit will be a walk in the park. First-timers may need to spend some time with the product directions, but thankfully Michelle Nicole has made the process easy. With a paintbrush, sandpaper, Unicorn Spit, ventilation, and an afternoon, you can transform nearly any piece you want.
The hardest part is choosing a color; with so many bold options, you're spoiled for choice. Furniture artist Ashley Blake used multiple colors to completely change the look of her dresser. Though she did not change the structure of the furniture, it looks entirely different when covered in a colorful blend of pink, blue, and purple. To get this dreamy appearance, Ashley first put down a base layer of pure paint. Then, she rolled a damp sea sponge over the wood to create spots for new, more vibrant spots of paint. Because she wanted a watercolor-inspired paint job, Ashley attempted to keep shapes organic, not perfect. 
Embrace color and use it liberally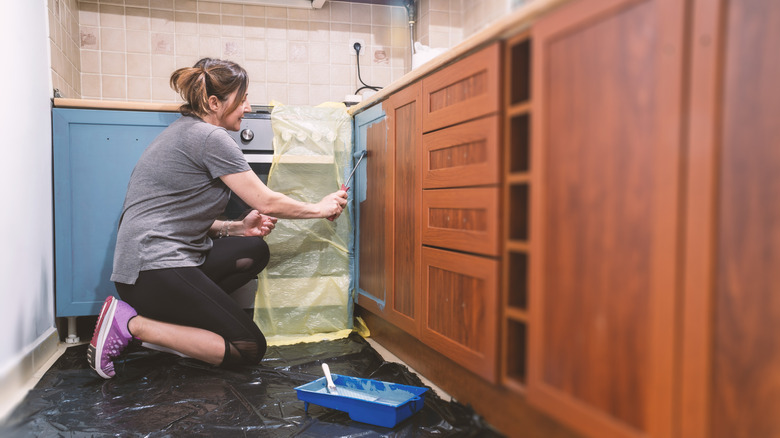 Photoman/Getty Images
Why stop with one piece of furniture when you can customize so much more? Because Unicorn Spit can be applied to a variety of surfaces and materials, you can safely stain or paint just about anything. A maximalist room makes use of color, pattern, and texture. You can incorporate these elements by painting focal points with a colorful stain like Unicorn Spit. Consider letting the furniture color blend with your bold wall shade, create a family of similar tones, or go dramatic and show off opposite or complementary colors. 
Maximalism is about taking things that might clash and making them work harmoniously. Let your strange decor be on full display, and when you can't find furniture to match, paint it yourself. Whether you choose to redesign a dresser to fit a dreamy pastel bedroom or stain shelves in a cottage-core kitchen, you can have the maximalist interior design of your dreams.