IKEA's TROFAST Bin Hack Is Perfect For Families With Kids
Keeping kids entertained can be challenging, especially if you don't have much to work with around your home. However, one TikTok by user @raisedwithdogs shows how IKEA's TROFAST bin can mix up your playtime sessions with your kids quickly and creatively. Instead, you can use it to help your little ones explore new sensations and have fun with whatever else you see fit. Not only that, but it can also help you to save money on something more pricey — a win-win situation for you and your kids.
If you already have an IKEA TROFAST storage cabinet, then perfect. If not, you can always go out and purchase one if you want to try out this hack for yourself. Either way, you shouldn't have too much trouble executing this trick yourself. But how exactly can you turn this piece of furniture into a crafty table? Let's take a look at how to build it.
Flip it upside down
To execute this TROFAST bin hack, you first need your TROFAST storage cabinet from IKEA for $99.99. Now you just need to remove the storage boxes inside and flip them over so that the bottom faces the ceiling. To make the fun part of the bin hack, place your small storage boxes on top of it. They should slot in quite seamlessly. You can slot the bigger ones underneath if you wish. When you finish this part, add the materials that you want to use in the storage boxes for your kids to play with. For example, you could use dry rice or pasta, sand, felt, slime, water, or even flour. There is plenty to experiment with. However, you should always consider the cleanup element and what you're willing to work with.
In addition to working well as a fun addition to playtime, this IKEA hack is also suitable for multiple children and can be used by several at once. This makes it ideal for families with several kids who are looking to keep them all happy at the same time.
The height is perfect for kids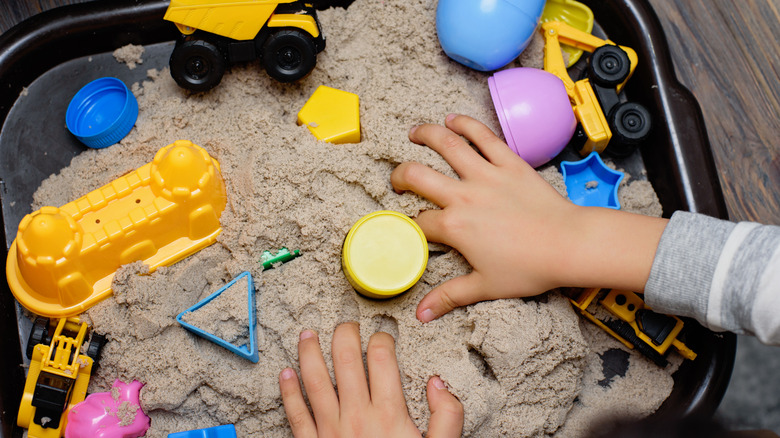 Serenko Natalia/Shutterstock
The design of the TROFAST bin makes it perfect for families with one or multiple children. Not only is it the ideal height for them to access it, but it also acts as a sturdy stand for you to place things on without worrying if your storage containers will come flying off during a play session. The wooden edges of the design help to prevent this from happening. Of course, this makes it an ideal option for kids and parents alike. After all, who wouldn't want to prevent a potential mess? Likewise, another reason it works so well is that there is space for multiple storage containers or other items that you wish to place there. This extra room arguably makes it very versatile.  
Even better, you can also easily swap out storage containers, giving you limitless options when it comes to playtime. This makes it easy to switch out and swap things whenever you need to. Just make sure to keep them clean. You could even incorporate it into your kids' room decor to help them learn. All you need to do now is test it for yourself and see if your children like it.