The Best Time Of Year To Buy A New Grill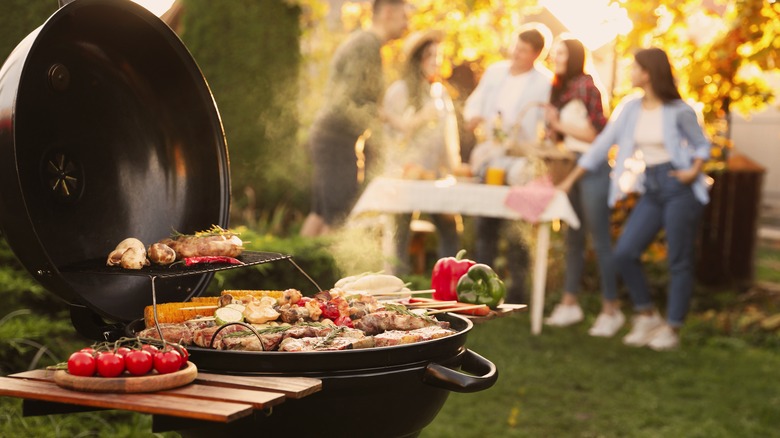 New Africa/Shutterstock
Summer time is also known as grilling season, and if your barbecue is looking a bit worse for wear, you might be tempted to upgrade. Feel free to pursue the aisles of your local home improvement or hardware store, as long as it's around a national holiday or peak grilling season has already passed you by. Otherwise, you might want to see how much more life you can get out of your large metal grilling buddy. 
The average barbecue grill should give you anywhere from five to 15 years of good use. However, if you really want to give it the longest life possible, there are a few things you might want to consider. First and foremost, it's important to keep your grill clean. After each barbecue session, make sure to give it a nice cleaning to keep any potential clogs or rust formation at bay. If you don't use it as often as you'd wish you did, a deep cleaning one a month is good preventative maintenance. Regularly check for gas leaks to ensure everything is running smoothly to avoid any accidents. Lastly, make sure that you keep your grill safe from the elements. Always use a cover, and if possible, store it in the garage. If you have a gas grill, do not store your propane tank with it in the garage. 
Wait for the off season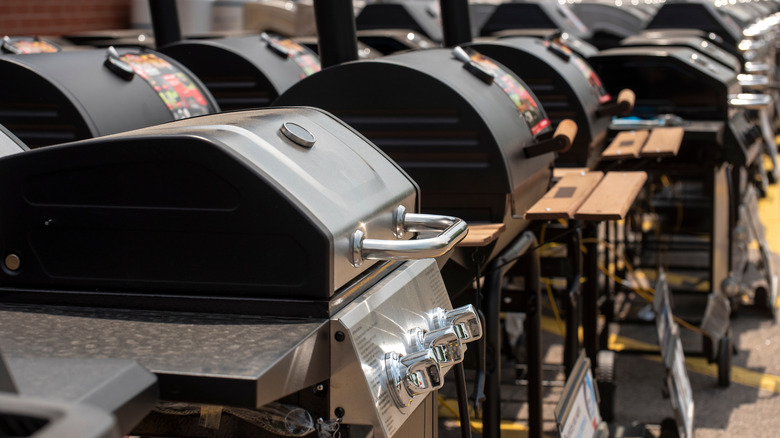 Sharkshock/Shutterstock
The best time to look into purchasing a brand-new barbecue is after the peak season in July and during national holidays. After the fourth of July, many retailers cut prices on their grills, and while the discounts may start off small, they tend to increase as brats and burgers make way for pumpkin spice lattes. September boasts deep discounts because stores are trying to clear out old inventory to make space for their winter and holiday items. This is also a good time to look into purchasing floor models, which can be snatched up for a fraction of their original price point.
On the other hand, the worst time to buy a grill is going to be in the months revving up to summer. In March, there aren't many sales going on, since stores are still selling whatever they had left over from winter. The exception to this three month dead zone is Memorial Day, though this particular national holiday is more known for mattress blowout sales and less for barbecues and grills. Prices tend to be the highest in June, when everyone wants to buy a new grill in anticipation of summer. So as much as you'd love to buy that sweet new barbecue-smoker combo, if it's between the months of March and June, do yourself (and your wallet) a favor and wait it out until after America's birthday.
Don't forget Prime Day and Black Friday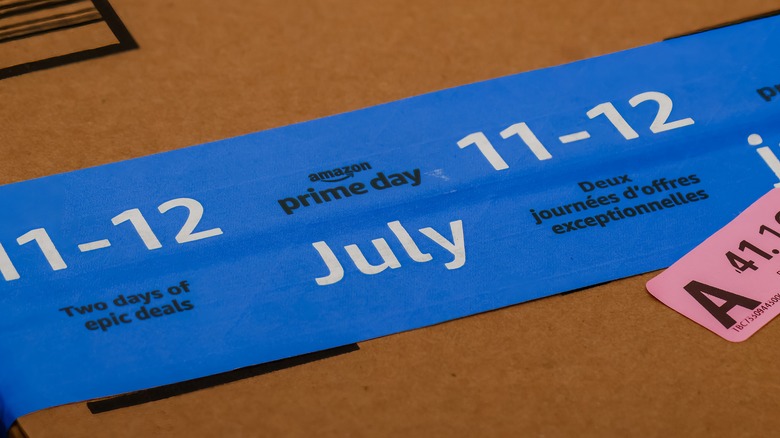 Prashanth Bala/Shutterstock
One of the best times to snag a great deal on a grill is during the much-anticipated Prime Day. This two-day shopping blowout sale was created by Amazon, and luckily, other big box retailers have followed suit. Black Friday, which has now expanded into a week-long shopping extravaganza for most brick-and-mortar and online retailers, is also one of the best times to pick up a price-slashed grill. 
To get your hands on the grill you've been eyeing before it goes on sale, it's essential to stay vigilant and plan ahead. Start by bookmarking the grills you're interested in on retailer websites, and keep an eye on their prices leading up to Prime Day, Memorial Day, or in the month or so after Independence Day.  Consider reaching out to store clerks to inquire about the availability of specific models, or use online tools to check stock levels at different store locations. Additionally, try online newsletter subscriptions and follow your favorite grill-tastic companies on their social media accounts for early access to deals and exclusive offers.