What's The Best Paint Finish For Your Ceiling?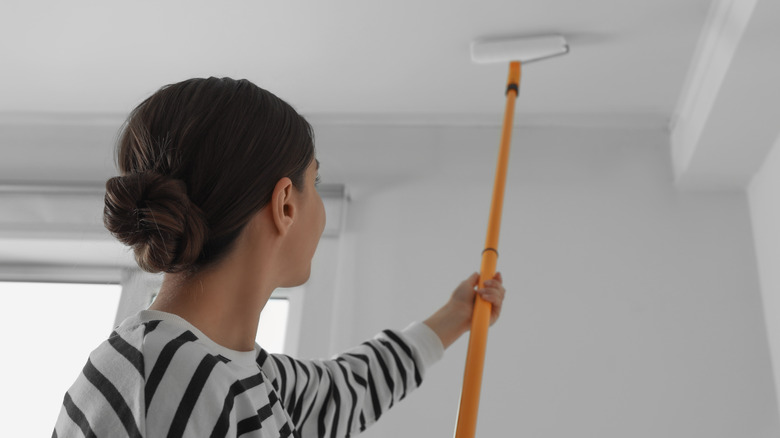 New Africa/Shutterstock
We highly recommend painting your ceiling to give any room in your house an elegant finish. While white is the most common color for what some designers call the fifth wall, sometimes a dark shade works best, and sometimes a creative touch to the ceiling can make the room pop.
it's important to note that interior paint comes in a variety of finishes. Flat or matte finishes absorb light and hide imperfections on the wall or ceiling, and are popular choices for bedrooms. Eggshell also covers up flaws, but still gives off a soft glow that's very attractive in dining and living rooms. A satin finish has more shine than eggshell, plus it's decently durable and easy to clean. Next is semi-gloss, which is more reflective than a satin finish and good for high-traffic areas like kitchens, because it's tough against moisture. Finally, the finish that's the most reflective is high gloss, which is preferred for wood trim and other surfaces that need to be scrubbed regularly.
For several reasons, ceilings should have a flat or matte finish, and possibly an eggshell or satin finish if you want to reflect more light into the room. The low-luster finishes produce a soft glow that can be attractive in rooms that are open to a lot of natural light. The ceiling sees very little wear and tear, so painting with high gloss, scuff-resistant paint isn't necessary. But most importantly, ceilings should not be highly reflective as this draws the eye up and away from the rest of the room.
Use the right paint for the job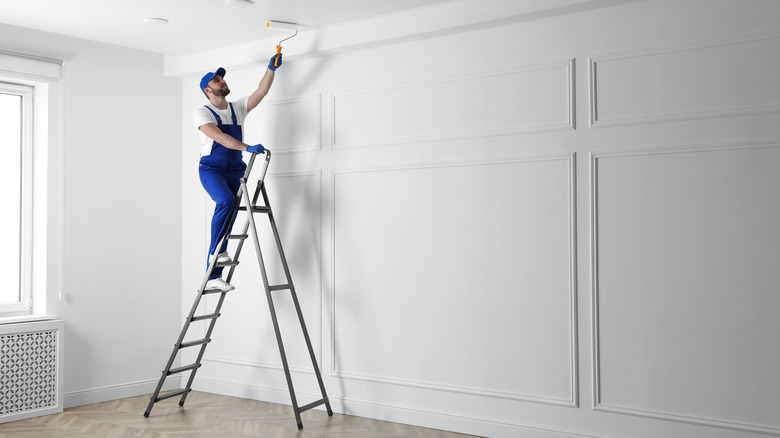 New Africa/Shutterstock
While you can use regular wall paint on a ceiling, be aware that wall paint has low viscosity, and applying it to a ceiling could lead to drips. A better way to go is to use paint made specifically for ceilings, and further, use paint that's meant for the kind of ceiling you have. Ceilings can be smooth drywall, plaster, stucco, masonry, acoustic tile, or wood. Pick the paint that will best adhere to the surface of your ceiling.
You can use latex paint for smooth or textured drywall, most often in a flat finish. This includes popcorn ceilings. If you have a drop ceiling with acoustic tile, use specifically-formulated sound-absorbing latex paint. Plaster and stucco ceilings need paint that really clings to the surface, so invest in paint that's specific to the material. This goes for rooms with masonry ceilings as well. Wood ceilings should be sanded and primed before adding the finishing coat. If the wood is stained, use oil-based paint.
Thoughts on color
The most popular color for ceilings is white. A white ceiling disappears compared to the rest of the room, and a light-colored ceiling makes the space feel taller and roomier. A white ceiling looks great with most color combinations, so if you change the color of your walls, you don't have to repaint your ceiling.
For some rooms — libraries and dens come to mind — you might want to lower the ceiling to make the room feel more cozy, and to do that, try a darker color or use the same color from the walls on the ceiling. If you have an older home with an ornate ceiling medallion or millwork, you might want to leave that white and use a contrasting color for the rest of the ceiling, which makes the craftsmanship stand out. If your ceiling is coffered or timbered, or if it's a tray ceiling, consider using something other than white to help highlight its architectural beauty.
Finally, we have suggestions on how to make painting your ceiling an easier task, from the prep work to the right tools to use. If you're painting an entire room, invest in sturdy drop cloths and professional-grade rollers and brushes. Also, remember to paint the ceiling before painting the walls.