The Genius DIY Accessory That Costs Only One Dollar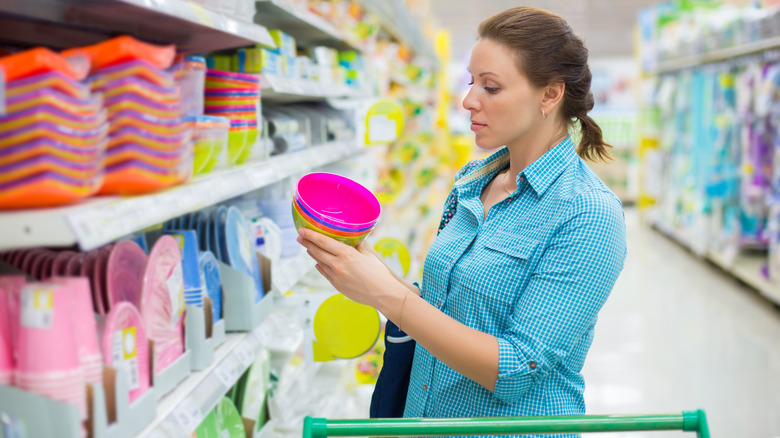 97/Getty Images
We may receive a commission on purchases made from links.
TikTok is full of surprises and DIY tips, especially when it comes to home decor. If you often find that your kitchen or bathroom sink looks cluttered or needs an extra dash of interior design, this genius DIY accessory that could cost as little as $1 will be perfect for you. All you'll need is a plastic plate, a matching bowl, and some E6000 glue. Once you've gathered these materials, you're ready to create your own pillar stand for holding soaps and other items. 
Not only is this piece a stylish way to revamp your bathroom or your kitchen, but it's also perfect for holding functional items like soap and lotion dispensers, kitchen sponges, and scrub brushes. Likewise, trying this hack will also give you creative freedom when it comes to the design and color, meaning that you can adapt it to fit the style of your space. And, because it's made out of plastic, it won't get damaged by soap or water. So, how can you build your own DIY pillar stand for yourself? Luckily, it's a fairly simple process that even beginners should find straightforward.
A plate, bowl, and some glue is all you need
To make this DIY accessory, you'll first need a plastic plate and bowl, which you can purchase from Target's Room Essentials collection for $0.50 each. However, you may be able to find something similar at Walmart or other discount stores. First, remove their barcodes or other stickers and give them a quick clean to get rid of any sticker residue. Now, you can move on to constructing the soap stand. All you need to do is apply some E6000 glue to the bottom side of your bowl before sticking it to the underside of the plate. 
When you finish, you should place a heavy object on top to weigh down the piece overnight. To see if the glue has dried, give it a little nudge. You need to make sure that it's firmly secure before you start using it to avoid any mishaps. This trick works so well because the bowl acts as a base for the plate and gives it a mini-stand appearance. Due to this piece's versatile nature, it will work well anywhere around your home. You can also elevate the look of the soap stand by adding a candle, a small plant, or any other decorative items.