Turn Your Boring Filing Cabinet Into A Chic Storage Solution With One Clever Hack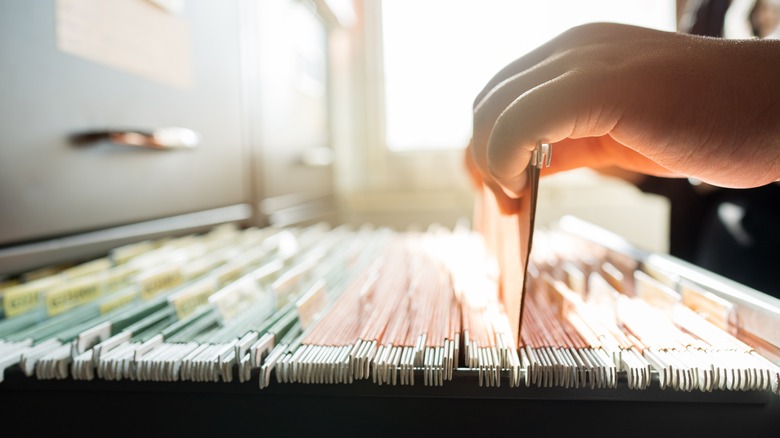 Nirat.pix/Shutterstock
Metal filing cabinets, once one of the most popular items in home offices and corporate workspaces, can often be found for cheap or free through second-hand outlets like thrift stores. With most files in digital spaces today, the need for keeping a lot of paper and file folders may have diminished, but that doesn't mean these cabinets can't be useful and stylish to hold whatever you may need to store, from important paper records to books and magazines.
While many of these cabinets have seen better days and can be found with well-worn dents and scratches, many higher-end cabinets are sturdy and intact, making them an excellent option for a cool upcycling DIY project. She's So CraftDee posted a tutorial on YouTube showing how to turn an ordinary putty-colored cabinet into a striking new piece of home décor you'd never guess was a standard office cabinet. By using some paint, a new wood top, and some molding, Dee makes a much more custom and beautiful creation, all for under $30 in materials.
How to make an upcycled file cabinet
She So Craftdee begins with a two-drawered metal cabinet, which can be found inexpensively in thrift stores, garage sales, and occasionally along the curb or behind office buildings on trash day. You will need several pieces of box trim, which offers a great chance to use up scraps from other projects. Begin by cleaning the cabinet thoroughly on the surface and removing the hardware and drawers. Sand the metal finish to prepare for paint. After cutting down your trim, use a permanent adhesive like E-6000 to apply the trim to the cabinet. You can use painter's tape to hold it in place while it dries and fill in any cracks, imperfections, or gaps with wood putty or caulk. For the drawers, you can buy 8-by-10 frames from the dollar store and apply them as trim to the front of the drawers with your adhesive.
The top of the cabinet can be outfitted with a wood top using wooden painter stickers cut down to make wood tiles applied with adhesive. After you have the cabinet ready to paint, begin by applying a primer that works on metal surfaces, then one to two coats of your desired color. For the hardware and file plates, use metal spray paint to give them a new life or replace them with updated handles. Finish your new wood top with your favorite wood stain and apply a clear coat to seal it against damage.