The Feature Christina Hall's Bedroom Had To Have, According To Her Husband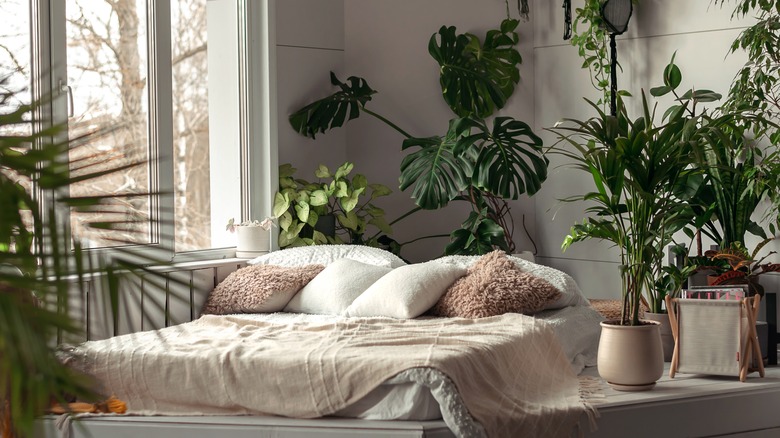 Tatiana Buzmakova/Shutterstock
Sometimes, the smallest details are some of the most important, with certain, often overlooked, features key to making a space functional and relaxing. Design expert and host Christina Hall recently showed HGTV around her spacious, glass-windowed Southern California home, which includes one such very important feature in the bedroom she shares with her husband. When showing off the bedroom, Josh Hall says, "One of the best features that my vampire wife here loves is that this room completely blacks out with blackout shades."
The bedroom, which shares its lofted ceilings and abundance of light with the rest of the home, as well as its panoramic views, can be made pitch black instantly with the touch of a button. This useful feature accompanies the bedroom's tropical Bali meets modern aesthetic, where a black accent wall adds a dramatic sense of depth to the room that is filled with natural accents like leather, rich wood, and greenery from abundant plants.
Christina Hall's black-out bedroom shades
While perfect for many living spaces, the openness and brightness of the room make it a poorer match for sleeping and resting, with ambient outdoor glow and sunlight a problem for much of the day. Black-out curtains and shades not only serve a purpose for sleeping soundly and deeply without interruption but provide a perfect set-up for the automatic projector screen that serves as a cozy entertainment spot no matter what time of day you are watching.
The automatically drawn screen and shades are just one of the features the Halls enjoy in their tastefully designed smart home, which features many amenities that are powered by a computer, including a larger dedicated home theater space and outdoor wooden sauna. Christina Hall tells HGTV that she designed the primary bedroom to be an oasis and retreat: "We wanted it to feel relaxing, very zen. We have more live plants, little sitting areas, and a fire feature."
Functional and stylish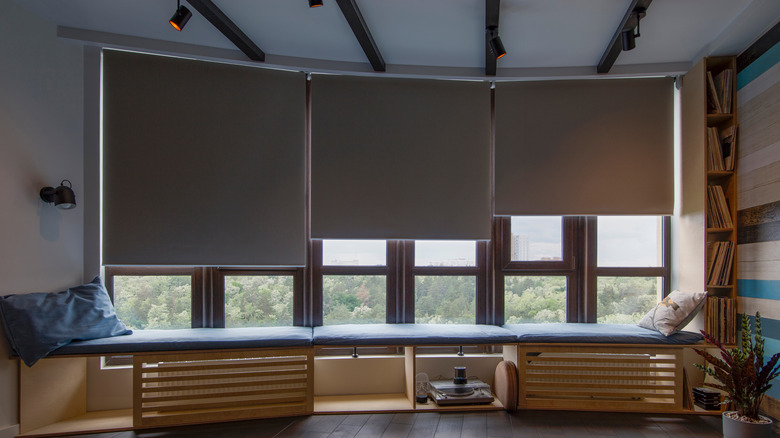 Astibuk/Shutterstock
To take advantage of this feature in your home, no matter the size of your room or windows, look for full blackout curtains or shades that come in a number of design options to fit various styles of rooms. While shades will provide full coverage, curtains are often a lower-cost and more viable alternative, especially if custom shades are required to fit your windows. Bedrooms are not the only place that may be ideal for black-out shades or curtains as well since they often work well in other rooms for avoiding too much light and heat when the sun is shining in. 
Not only will you sleep better, particularly if you work the night shift, but black-out window coverings also allow you to make your bedroom into a cozy little entertainment oasis when needed, with no pesky and persistent glare on your screen or devices. While Hall's bedroom has an enviable amount of natural sunlight when desired, she says, "I like light when I want it, but I prefer the dark."