Experts Agree: It's Time To Stop Arranging Furniture Around Your TV & Here's Why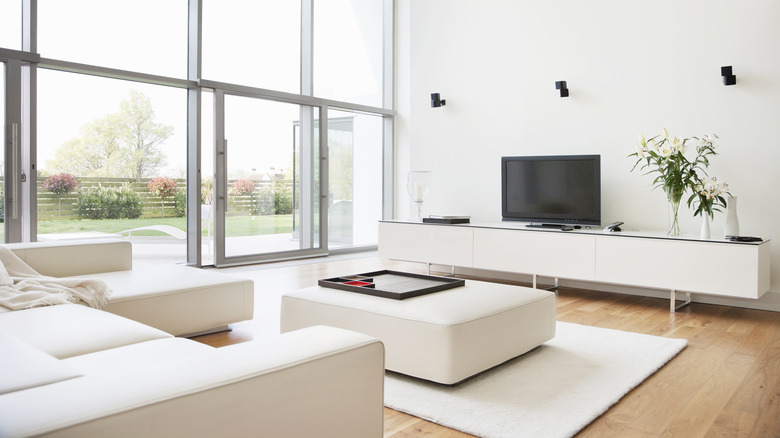 Robert Daly/Getty Images
In the past years, televisions have become the default focal point of most living rooms. Since a room's focal point usually sets the tone for furniture placement, most homeowners arrange their furniture around the TV for easier access to the black box and an uninterrupted viewing experience. But according to experts, it's time you stop arranging your furniture around your television. "TVs work well when they're positioned off-center so they won't become the focal point of all social interactions," Nidhi Kapur, founder and CEO of Maiden Home, explained to Apartment Therapy.
This layout mistake, Kapur says, will rob you of quality time with your family, partner, and kids. Moreover, having the tube as your living room's focal point will dictate all social interactions in your living room. For instance, if you've some guests over, they might spend the majority of their time being distracted by the TV rather than engaging in meaningful conversations. Moving furniture around to make your living room a general entertainment and relaxation space will better foster human connection.
Rearrange your furniture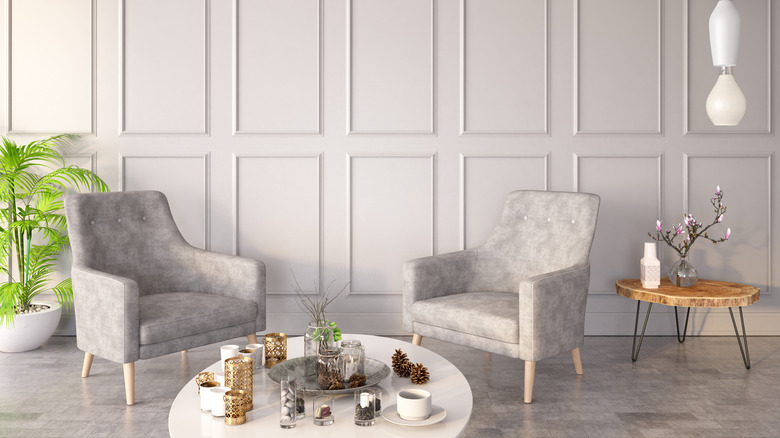 Asbe/Getty Images
Though you might not want to get rid of your TV altogether, consciously rearranging your living room furniture will go a long way in building a people-centric layout. To prioritize human connection and encourage natural conversation, ensure your furniture, such as chairs and sofa, faces each other. This will make it easier for individuals to relax and focus on one another. However, this trick might not be the best option if you've got a narrow living room, as the seating arrangement can be quite cozy.
If rearranging your furniture is not an option, you can invest in low-backed chairs or benches and place them in front of the tube such that they face the seating on the other side. This will ensure you've got a clear view of the TV to enjoy family movie nights or solo Netflix binge sessions. But when you've guests over, the people sitting on the chairs and benches will become the focus rather than the TV.
Take the focus off your TV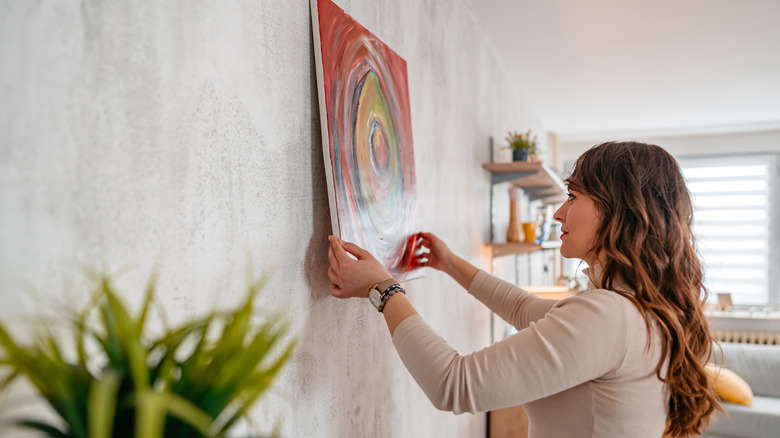 Urbazon/Getty Images
In case rearranging your furniture or investing in new pieces isn't a viable option, another great option is to take the focus off your TV without compromising on the room's aesthetics. Mount the TV on the wall at an angle lower than eye level or place it on a low cabinet to let your wall do the talking. Or you can strategically place it in an off-center area to prevent it from stealing all the attention.
Other ways include placing an art piece front-and-center of your space to let them steal the show. You can choose to showcase your envious art collection or display a piece with emotional value. If you're looking for a unique and dramatic focal point, a 3D art installation is sure to grab eyeballs. It won't just captivate the attention of your guests but even serve as an excellent conversation starter. Adding mirrors as will also give you a classy aesthetic and make your living room brighter. You can even give free rein to your creativity and let the television blend in with your living room décor.