15 Smart Ways To Make Your TV Blend In With Your Living Room Décor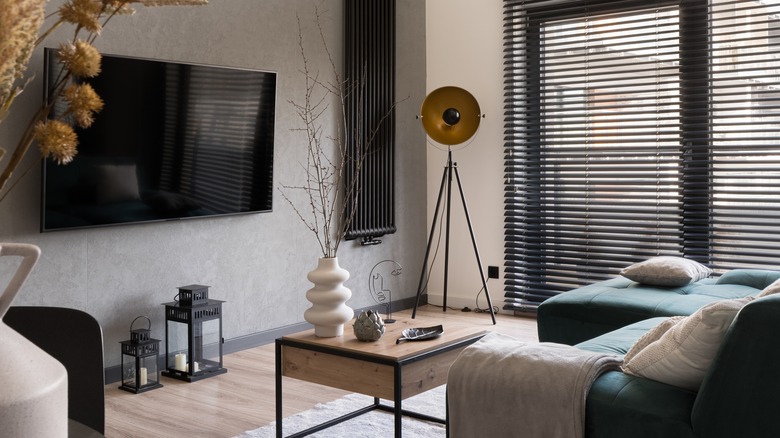 Dariusz Jarzabek/Shutterstock
We may receive a commission on purchases made from links.
While interior designers may, despite this fact, that doesn't make it less true: just about every living room is oriented around the television. Typically, we point all the furniture towards it and place it on the most flashy wall. Most interior designers hate this because they believe the TV isn't stylish, and you can probably understand where they're coming from. Televisions are typically black with messy cords, and some also have bulky frames. This piece could easily become an eyesore and ruin the whole design of your living room.
However, you probably don't want to completely get rid of your television, as it can provide entertainment. This is why Marta Mitchell Interior Design Group says when designing around a TV, you should consider both functionality and aesthetics. In other words, we want our living rooms to look beautiful while allowing for easy television access. If this is your goal, we've gathered clever ways to make your TV appear more cohesive with the rest of your décor.
1. Paint a dark accent wall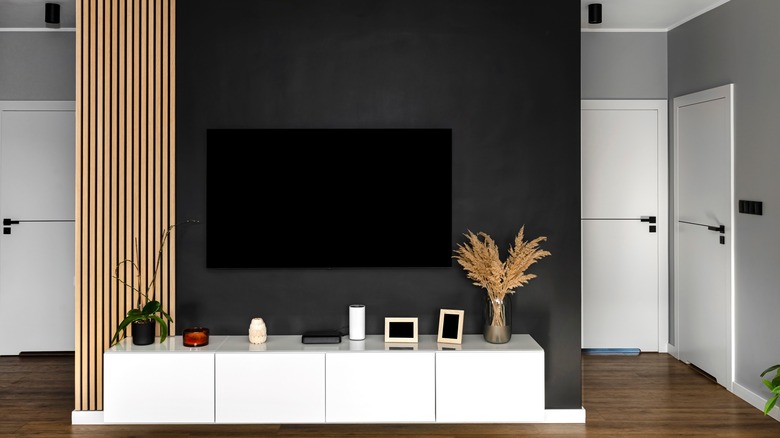 Kinek00/Shutterstock
Hanging your television on a dark black or gray wall will help it blend in when turned off. This is a simple way to make this bulky piece appear more cohesive with your decorations. 
2. Add other black elements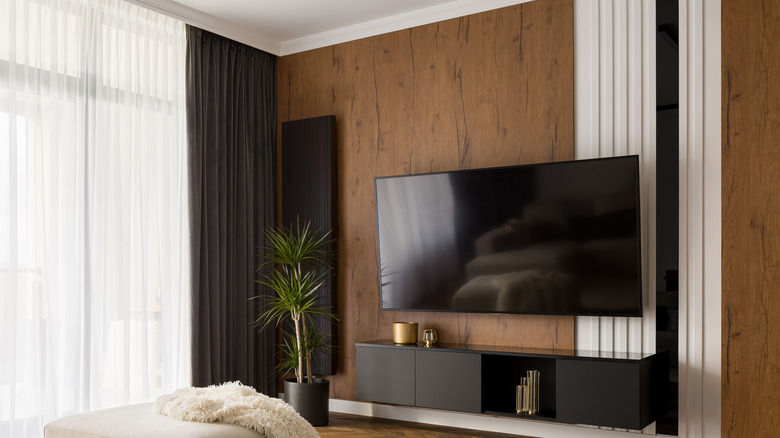 Dariusz Jarzabek/Shutterstock
Or, instead of painting the entire wall, add other black elements to the space. For instance, include black curtains, a dark entertainment stand, or deep wall detailing. 
3. Frame the television
To make your television look like an art piece, frame it. You could either build the frame yourself or purchase one from Amazon.
4. Curate a gallery wall
If you have lots of art pieces you love, place them around your television to create a gallery wall. In the above image, the floral print with the white frame is actually a TV. 
5. Place between two symmetrical pieces of art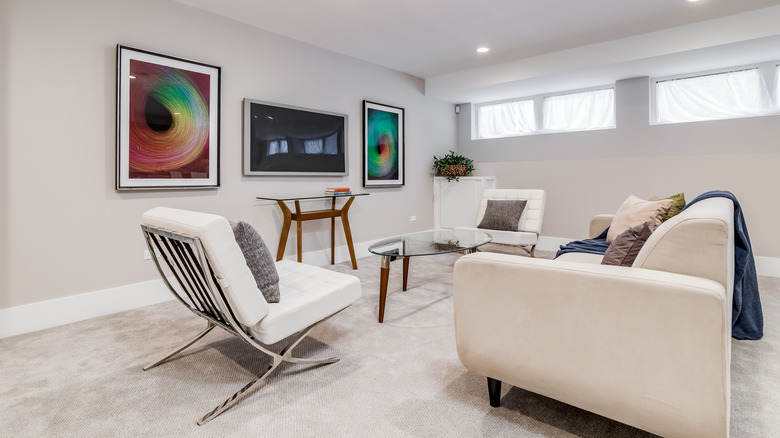 Hendrickson Photography/Shutterstock
Or, instead of surrounding your TV with a gallery wall, only place two symmetrical images on either side to make it appear like a group of three photos. The key to symmetry is getting the same frames for the two art pieces. 
6. Create a frame with wall trim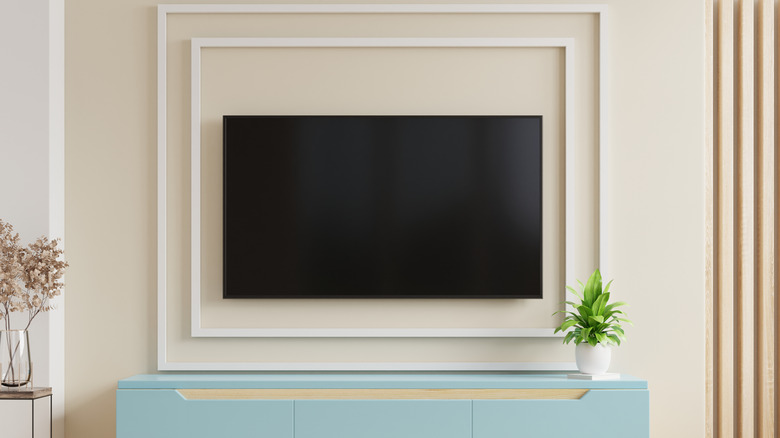 Vanit Janthra/Getty Images
To make your TV look like wall art without adding a frame, surround it with wall trim. This look could easily be DIY'd. 
7. Hide inside a camoflaged cabinet
Those who genuinely dislike the big black box could hide it inside a cabinet that swings open. This cabinet is camouflaged to look like a fireplace mantel in the above image. 
8. Cover with barn doors
Another way to cover your TV is with barn doors, which could easily be built above your fireplace mantel. These doors could either swing or slide open to reveal the television. 
9. Utilize a folding screen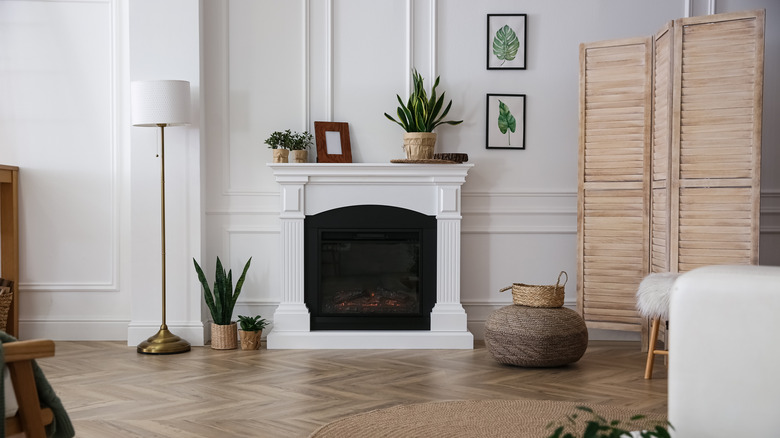 New Africa/Shutterstock
Another way to completely hide your TV is with a folding screen. To make your television easily accessible, place it on a utility cart and plug it into an extension cord to be brought to the center of the room. 
10. Distract with a unique entertainment stand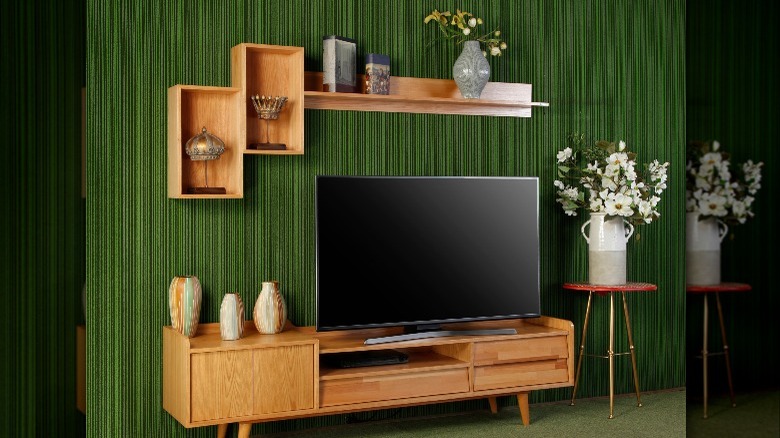 Tohid Hashemkhani/Shutterstock
Or, distract from the large black box with a unique entertainment stand. Those with asymmetrical designs or that have attractive floating shelving could work. 
11. Position inside a shelving unit
PhotoMavenStock/Shutterstock
Placing your TV inside a shelving unit instead of on an entertainment stand or a mantel will surround the black box in shelving, making it appear like it belongs. You'll get bonus points if the shelves are dark, as the television will blend in more. 
12. Use a decorative cubby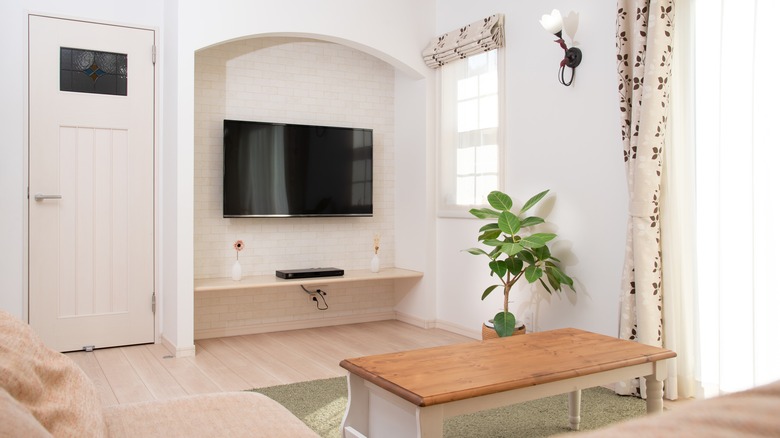 T.TATSU/Shutterstock
Another way to make your television appear purposeful is by placing it inside a decorative cubby, which would hide the TV from view when looking from the side. 
13. Put next to the fireplace, not above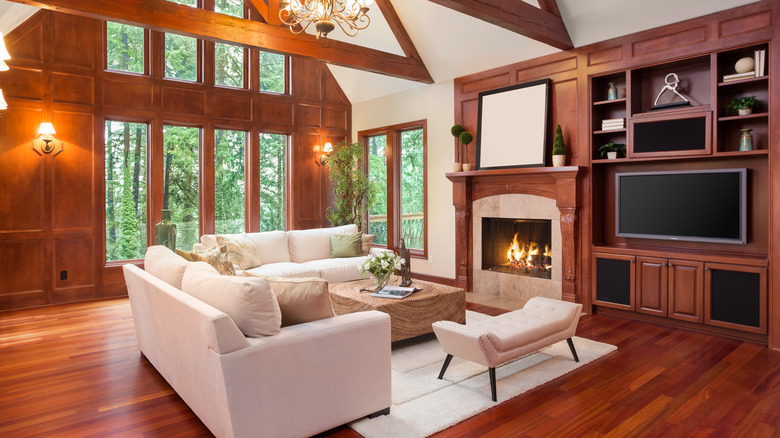 Hikesterson/Getty Images
If you don't want your television to be the focal point, place it next to the fireplace instead of above it, and this would disguise it as just another piece of art on your shelving. 
14. Replace it with a projector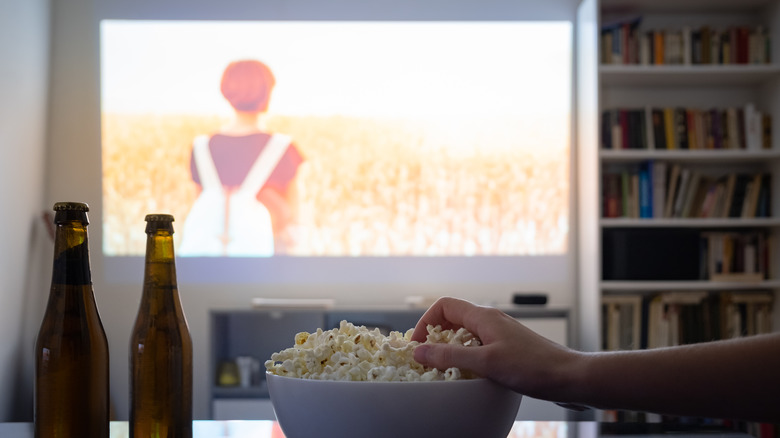 Aleksey Boyko/Shutterstock
Your space doesn't have to have a TV, even if you enjoy watching movies or television. Instead, you could face a projector onto a blank wall. However, if you want to watch anything during the day, make sure you cover the windows with blackout curtains.
15. Choose a smaller size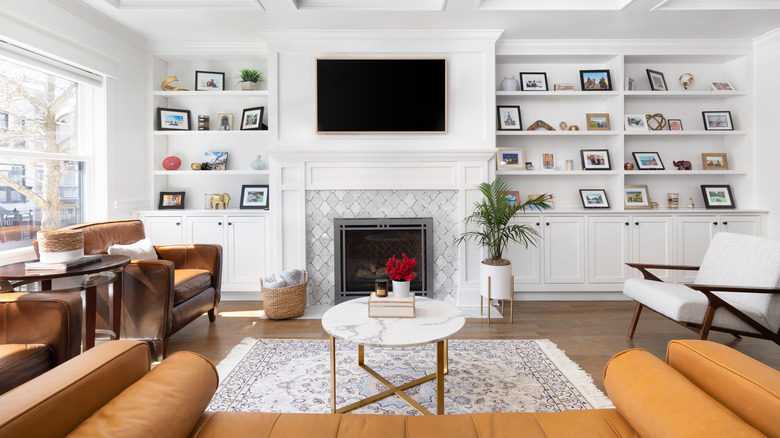 Hendrickson Photography/Shutterstock
To make your television appear purposeful in your living room, choose the right size. A large flat screen above the fireplace would stand out more than one that fits correctly in the space.