Turn Your IKEA BILLY Bookcase Into A Stunning Built-In Home Bar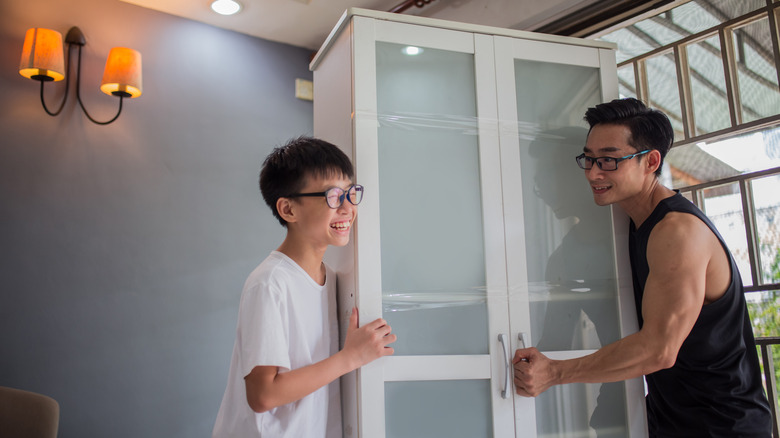 Kong Ding Chek/Getty Images
Although it may seem like just a standard shelf, there is something about IKEA's BILLY bookcase that struck a chord with folks in a big way. Since its introduction in 1978, the BILLY bookcase has sold more than 120 million units. The cheap price, along with several stylish veneers, makes this piece of storage popular for both the college campus crowds and fancy loft owners alike. One of the best aspects of the BILLY bookcase is its versatility. Not only is it ideal for books, but with the help of the ingenious imaginations of crafty folks, it can also be easily repurposed to accompany a budget fridge DIY project as well as a chic built-in office desk. But have you ever thought of taking those iconic IKEA bookcases and using them for your home bar? Luckily someone has.
With a simple design that allows the buyer to customize the space between the particleboard and paper foil shelves, this staple of the IKEA collection allows you to play with shelf placement to showcase a wide range of objects and decor. From taller items such as flower vases and framed pictures to small books or knickknacks, these shelves are only limited to your imagination. So it only makes sense that these bookcases would work perfectly for your home bar or even small restaurant. Let's take a look at how to repurpose your BILLY bookcase so that it fits right into a trendy bar atmosphere.
Here's how this TikTok creator used a pair of BILLY bookcases to showcase their stunning home bar
A TikTok video shared by @mrsbb1975 showed how they set up two BILLY bookcases ($89 each) from IKEA to help frame their stylish home bar. The shelves are spaced out perfectly to highlight taller liquor bottles around the middle, whereas, near the bottom, the shelves seemed to come into a tighter fit to accommodate the shorter bottles in their collection. Deciding to go with the classic white BILLY bookcase works in this design because it can remain in the background while creating a platform for the homeowner's interesting bottle display. If they were to instead opt for the black BILLY model or even the birch veneer, then it may seem too dark and actually take away from their showcase.
The bottles are kept safely on the shelf behind what looks like a collection of OXBERG glass doors ($60 each) which can be easily assembled into the existing bookcase. Having the bookcases bookend the counter space where the sink and shelves with rich greenery were held also does a wonder to frame these details and highlight the pink backsplash without taking anything away from the overall design. It really goes to show how these simple pieces of storage can go beyond the realm of a basic bookshelf with a little creative thinking.
Things to consider when using BILLY bookcases for your home bar
Deciding to incorporate IKEA's BILLY bookcases in your next home bar build is a great idea because of their classic look, which can be intertwined with almost any design style. Also, their affordable price point will help you cut costs of this project yet give you the comfort of knowing that you have a fairly durable piece of storage that can be customized to your preference. However, whether you are using the shelf to hold glassware or to display a number of liquor bottles, your priority has to be focused on being able to secure the case so that it isn't at risk of falling over, plus try to find a way to sturdy the shelves so they don't bend or break.
If you have a BILLY bookcase at home, you may be all too familiar with how the particle board shelves curve under the constant weight, which can be detrimental if you're storing heavy bottles. Luckily, you can solve this problem by either installing several vertical pieces of the same type of particle board in the middle of the shelf to help hold the weight, or place a horizontal strip right under the front of each shelf, or securing each board with the help of a brace on the back as shown by Proper DIY on YouTube. These tips will ensure that your BILLY bar shelf doesn't sag or break under the weight of heavy bottles.