Turn IKEA's Infamous BILLY Bookcase Into A Chic Built-In Office Desk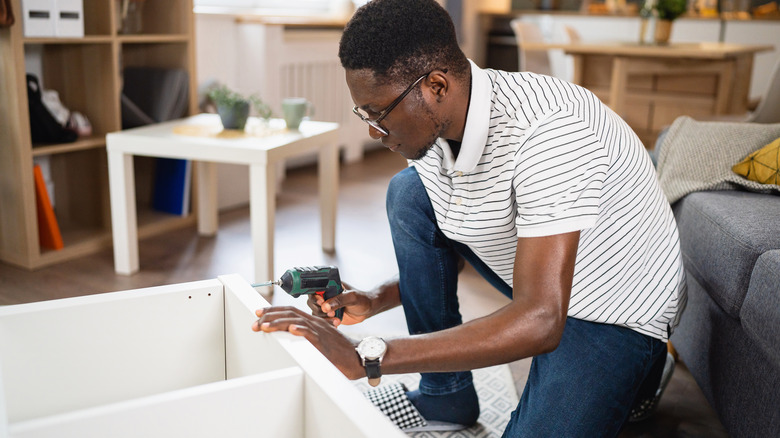 Srdjanpav/Getty Images
Ikea pieces remain as versatile as ever. Their simple forms and often customizable structures make it easy to use them for purposes that go beyond those they were intended for. The classic BILLY bookcase is a great example because it can be transformed into a shelving unit to hold virtually anything, from kitchen tools to shoes. One particularly creative use of it is as a storage compartment for your home office desk that makes it effortless to organize your items and keep them easily accessible.
The BILLY bookcase comes in various sizes and combinations. For this hack, you'll need to get two without doors that fit the space between your desk and the ceiling. Getting the right measurements for this is crucial because bookcases that fit perfectly will make the setup look chic and put-together. DIYer @fromcatterytohome shared a photo of their finished product where the bookcases fit perfectly into their desk corner. They also painted the bookshelves and the walls to match to make them look like a real set (via Instagram).
How to recreate this in your home
If you have a narrow corner to work with, get two tall, thin Ikea BILLY bookcase shelves, but if you have a wider wall for your desk area, you can get wider bookcases, as seen in the YouTube video above. Installing them to fit perfectly into the space between the desk and the ceiling is up to you. You could leave a gap above them, but just make sure the final result doesn't look odd. You'll also need sufficient space for your computer and other items that sit on top of your desk, so make sure the bookcases don't make the area between them feel cramped.
Next, paint the bookcases so that they match the colors and style of your home office desk and the room's décor. This will make the piece feel elegant and give the entire desk a custom-fit appearance. You can also include other details like trim on the edges or panels of wall cladding in the space between the bookcases. Once you've fixed them securely to the wall, they're ready to hold your all belongings and decorative items.