Keep The Lid From Sticking To Your Paint Can With One Clever TikTok Hack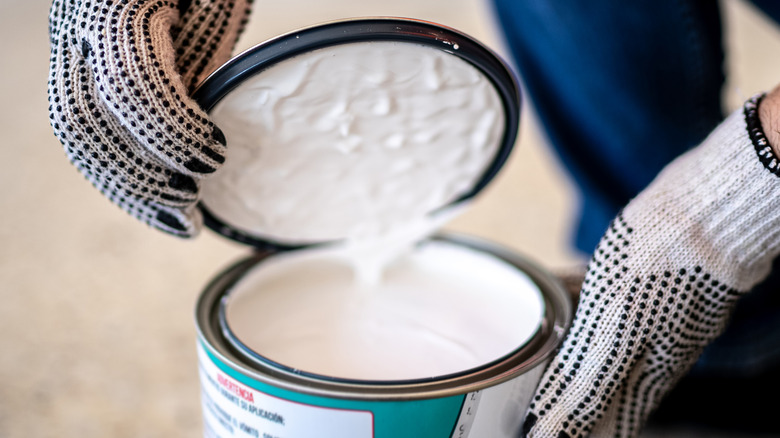 Fg Trade Latin/Getty Images
Painting can be messy, especially if you don't do it often. Not only do you have to prep all your walls and floors, but the can of paint itself can get messy too. Paint sticking to the lid of your paint bucket can make it tricky to remove, and may often result in you adding some extra elbow grease to remove it. While it can be a nightmare to remove, it doesn't have to be, thanks to one hack shared by @hometalk on TikTok. The hack involves plastic wrap, which is otherwise known as saran wrap. All you have to do is whip some out from the depths of your cupboards and use it with your paint can to achieve an easily removable lid every time. 
The next time you need to use the paint again, you should be able to remove your lid with ease. Now you know what the magic ingredient to this hack is, you can move on to the hack itself. So, how exactly can you use plastic wrap to keep the lid from sticking to your paint can?
Use plastic wrap on your paint can
@hometalk

Here are two genius paint can hacks for your next home project! 👀 Say goodbye to frustrating stuck lids by using plastic wrap as a barrier. Simply place a layer of plastic wrap over the paint can before closing it, and voila! No more sticky situations!🙌 If paint does get on the inside of the can lid fear not! Grab a nail and use it to create a small drainage hole to prevent sticking. Happy painting!🎨 @goodlyearth #diydecoration diydecorations diydecorating diyroomdecor diyinspiration diyfurniture #diyer diytutorial easydiy diycraft diyblogger diyprojects decoratingideas diyideas transformationchallenge diydecor diyhomedecor homedecor #doityourself diy #upcycle

♬ original sound - hometalk - hometalk
Thankfully, this TikTok plastic wrap hack can be done in just a few seconds, making it very quick and easy. As described in the video, all you need to do is to take a piece of saran wrap, place it over the opening of the can, then put the lid on firmly. Doing so should help to prevent your lid from getting stuck and being a nightmare to remove. The paint can lid should slip off with ease, thus making the whole painting process a complete breeze when you eventually decide to paint. 
Likewise, you don't have to worry about the saran wrap. You should be able to re-use the same piece again and again without having to swap it out, making it the perfect makeshift option. In addition, you should also ensure that the saran wrap is taut to prevent it from dipping into your paint. This should also help to ensure a nice firm fit for your paint lid to slip into. However, that's not all. You can even use saran wrap to protect your paint roller from going dry, which you could also try on top of this paint lid hack.
The saran wrap prevents the paint sticking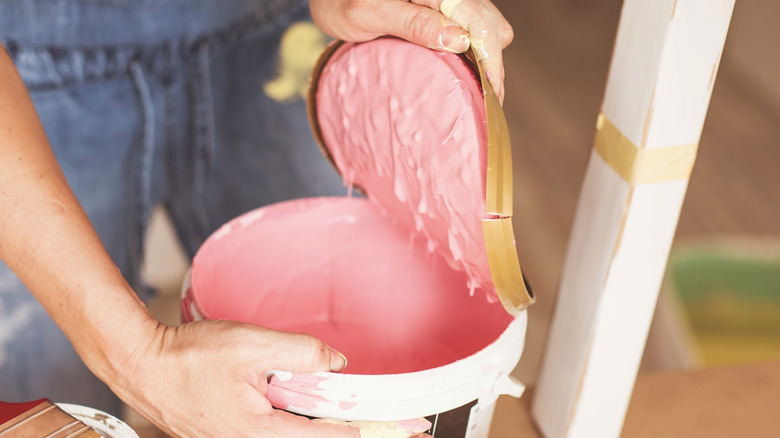 Fotostorm/Getty Images
One of the reasons this hack works so well is because the saran wrap helps to "[create] a barrier and keep it airtight," ensuring that the paint can't come into contact with your paint lid and thus seal it even tighter. The paint sticking to the lid is what makes it so challenging to remove once it dries up, creating an unnecessary hassle. However, you should ensure that you remove any excess after using your paint can and placing the lid back on, as the paint could end up sticking to the saran wrap, making it harder to remove in the future. As always, you should still be gentle when removing the paint lid, as you don't want to risk tearing your protective layer.
As well as closing a can of paint, there is also a right way to open a can of paint. While it may sound bizarre, this will again help to prevent any unnecessary mess, even with the plastic wrap involved. Either way, both of these methods should make opening your stuck paint lid a breeze. Now, you just need to find your paint bucket!