13 Potato Varieties Every Gardener Should Know About For National Potato Day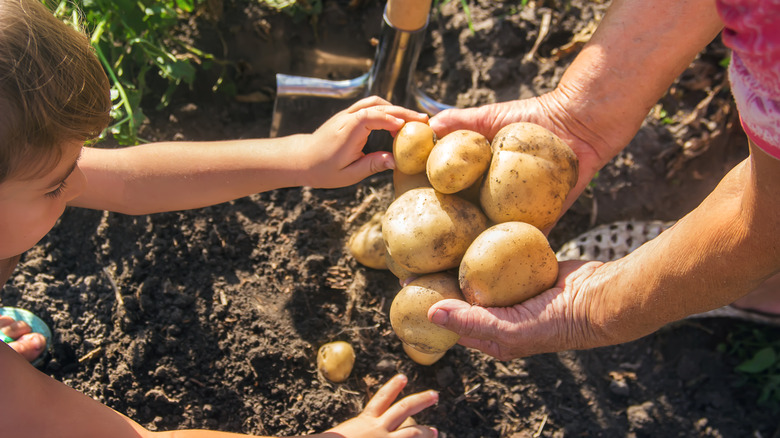 Tatevosian Yana/Shutterstock
We have a lot of things to thank potatoes for when we recognize them on August 19 for National Potato Day. As the third most-consumed food crop worldwide, potatoes have earned their spot as cheap, reliable, and delicious garden vegetables, with few challengers, since the late 18th century. Today, the humble root vegetable is grown in numerous countries that offer the right growing conditions and shipped to many more.
Potatoes are scientifically known as Solanum tuberosum, a species in the nightshade family. However, this species has more than 4,000 varieties. Many of these potato cultivars have been bred for their resistance to common diseases, pests, and poor growing conditions. Now, gardeners and farmers are able to reliably grow hoards of healthy potatoes with little effort. Whether you're looking to find some amazing varieties for planting in your garden or you're just brushing up on your knowledge for National Potato Day, we implore you to keep reading and join us in appreciating this versatile crop.
1. Idaho russet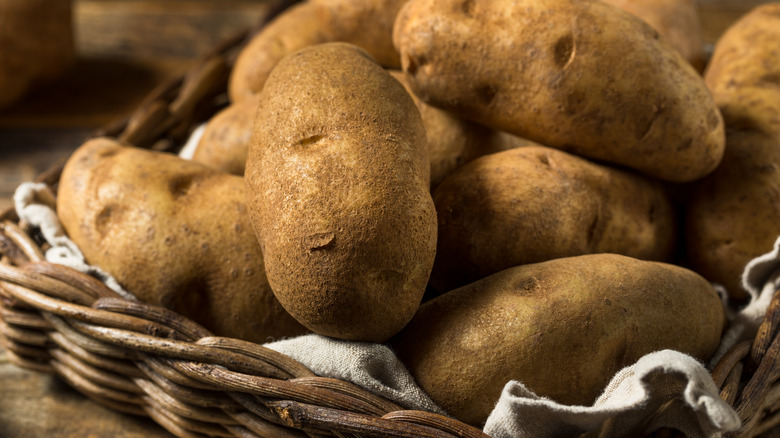 Bhofack2/Getty Images
More accurately called russet burbank potatoes, Idaho russets are an extremely popular potato variety that has stuck with us since the 1870s. The vegetables are identified by their thick and rough skin, and they can be found growing on large vining plants with white flowers. This plant is normally harvested later in the season, from mid-September to mid-October, when it's cared for properly. The Idaho russet will produce its potatoes particularly well when planted in cooler states, like in the Pacific Northwest. However, they will still grow in warmer and drier areas with a smaller yield come harvest time.
2. Kennebec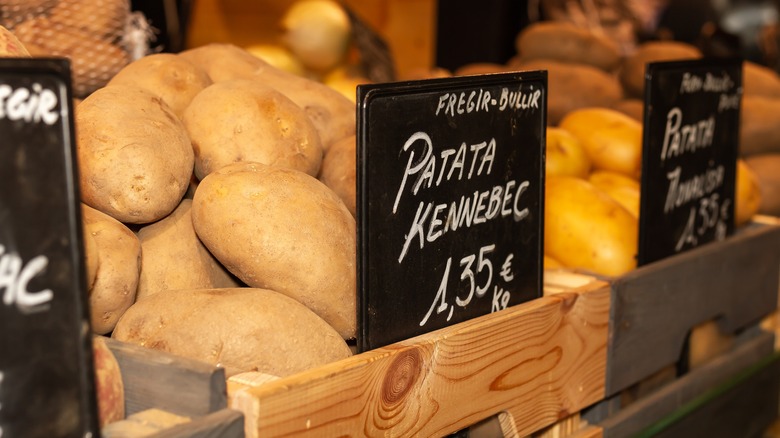 Carlos Pereira M/Shutterstock
The Kennebec potato variety has some physical similarities to the Idaho russet, only its skin is much smoother. The plant produces large yields of the vegetable in the late summer and early fall, even if they are growing in less-than-ideal conditions. This one is resistant to several diseases, including potato blight, potato virus A, and potato virus Y. Though they are adaptable to a range of soils and care schedules, the Kennebec potato is best grown in well-aerated and well-watered loam or sand in direct sunlight.
3. Magic molly
Gmvozd/Getty Images
An unusual purple fingerling cultivar is known as magic molly. This potato is considered to be not all that different in taste from most potatoes, but its color surely is. The skin and flesh are deeply pigmented with purple, which won't change no matter how you prepare them. Like our other potatoes, this late to mid-season crop performs best with access to full sunlight in fertile, moist, and well-draining soil. With good care, the plant should grow up to 20 inches tall and reward you with these gorgeous vegetables.
4. Pink fir apple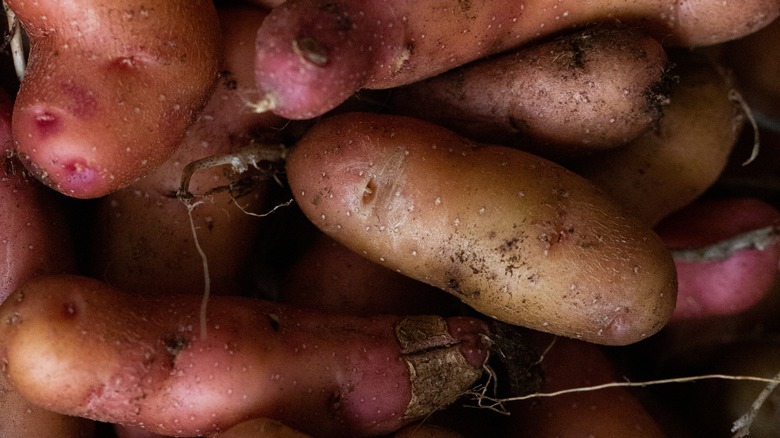 Jess Gregg/Shutterstock
During the Elizabethan era, potatoes were known as the "apples of love," which is part of the reason why this cultivar is known as the "pink fir apple". The smallish plant, which normally only reaches about 2 feet tall and wide, gives life to mature potatoes from August to October. The tender tubers have smooth brownish-pink skin and yellow flesh inside their long bodies. Pink fir apple potatoes should be planted in March for a high-yielding and tasty harvest.
5. Sarpo mira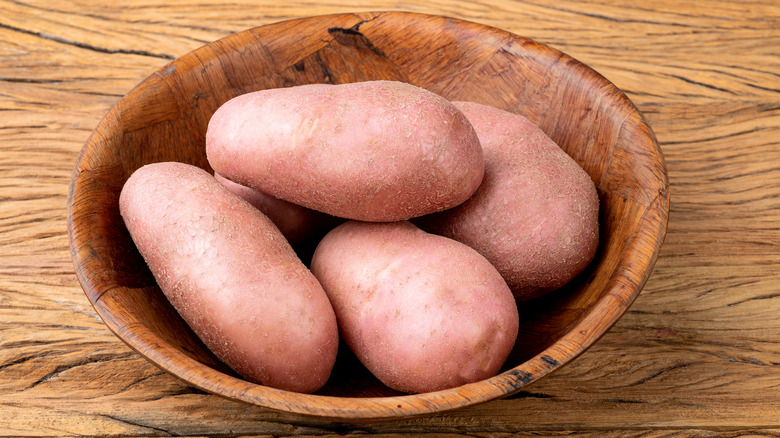 Odu Mazza/Getty Images
The Sarpo Mira potato is a strong late main crop variety that is well-known for its resistance to potato blight, drought, and pests, like slugs. Its deep roots allow the plant to be grown in a few different soil types as it more easily finds water in the soil compared to other potatoes. The plant's large leaves also help to control weed growth that threatens your harvest. With little intervention, a Sarpo Mira potato plant produces plenty of its delicious tubers in the early fall.
6. Maris piper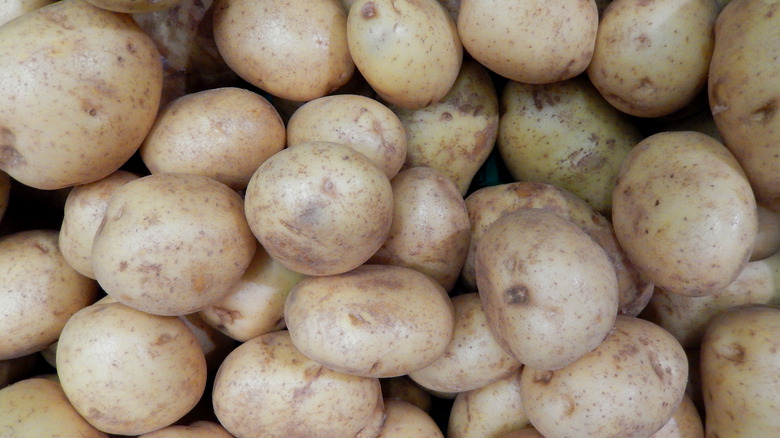 Mtreasure/Getty Images
The Maris Piper potato is popular for making chips, and not just because of its flavorful tubers. This potato plant variety has resistance to golden eelworms that frequently attack potatoes as well as some other root crops and nightshade vegetables. If you grow this type of potato, be sure to plant them in moist yet well-draining soil and keep them in direct sunlight. In July, the plants will begin to produce mature tubers and continue to do so until September with good maintenance.
7. Yukon gold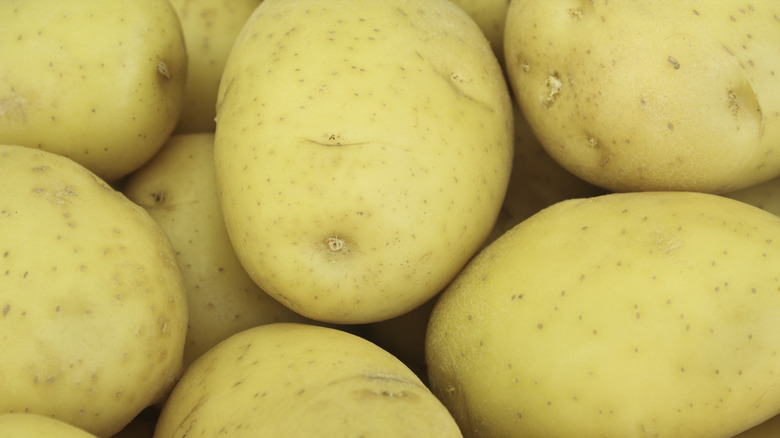 Douglascraig/Getty Images
The Yukon gold potato is among the most well-known varieties commonly sold at grocery stores. They are often used in a variety of dishes that can be elevated by the potatoes' buttery flavor. This cultivar is easily recognized by its thin and glossy yellow skin covering the tubers' yellow flesh. You can harvest these delicious potatoes in the summer when they are cared for correctly. Avoid planting the Yukon gold variety in cool and alkaline soils, which may lead to the development of diseases. Instead, grow them in fertile and well-draining soil positioned in warm, direct sunlight.
8. Casablanca
Casablanca potatoes are a first early variety that is normally ready to be harvested by June or July. Just before this time, the plant produces five-lobed white flowers with green leaves that are somewhat ornamental. The potato plant needs to be planted in fertile, deep, and well-draining soil to produce its small and white tubers with smooth skin. The vegetables are great for cooking and are favored by chefs. Likewise, they are a favorite of farmers too who enjoy their ability to resist potato rot, powdery scab, and potato blackleg.
9. Arran pilot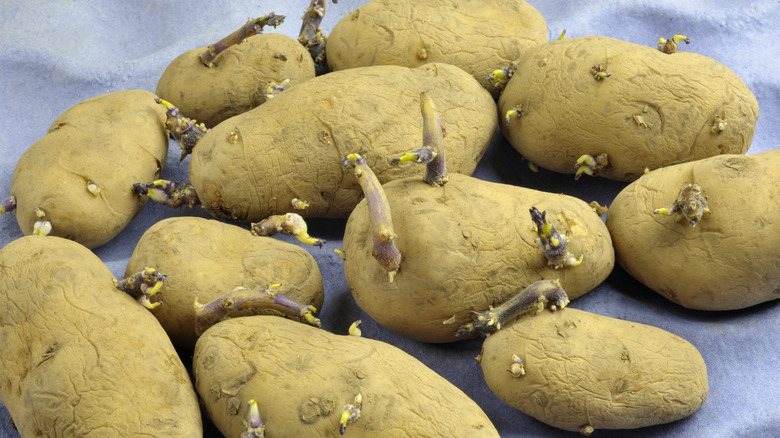 Graham Corney/Shutterstock
Capable of producing even earlier potatoes than the Casablanca variety, the Arran Pilot is ready to harvest as early as May. The potatoes can be eaten raw or cooked and have yellow flesh and almost translucent white skin. To harvest just before summer begins, the seeds must be planted in February in fertile, moist, and well-draining soil. After some weeks, the plant will grow to about 2 feet tall and wide as long as it has been kept in full sunlight.
10. Cara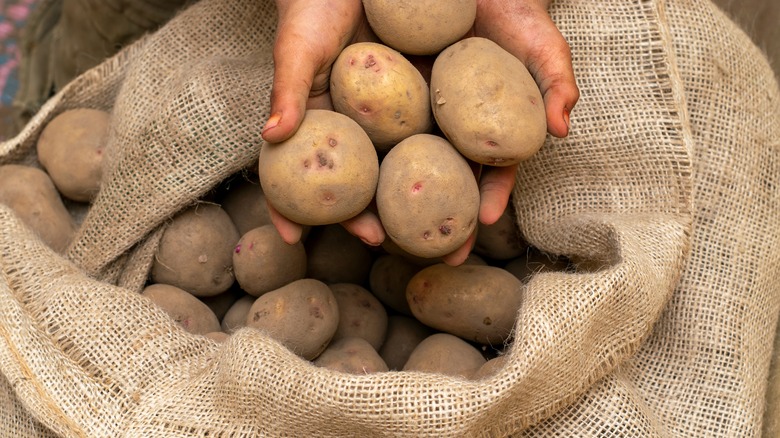 mohamed15/Shutterstock
A Scottish basic seed potato, the Cara variety is a fast-growing option that produces lots of small to medium-sized potatoes. It grows in the same conditions as most potato cultivars, thriving in fertile and well-draining soil in full sun or partial shade. The plant's soil should be kept evenly moist, although these potatoes do have some resistance to drought. In addition to being drought-tolerant, the variety is also known for its strength against certain diseases and pests, such as potato blight and golden eelworm.
11. Red pontiac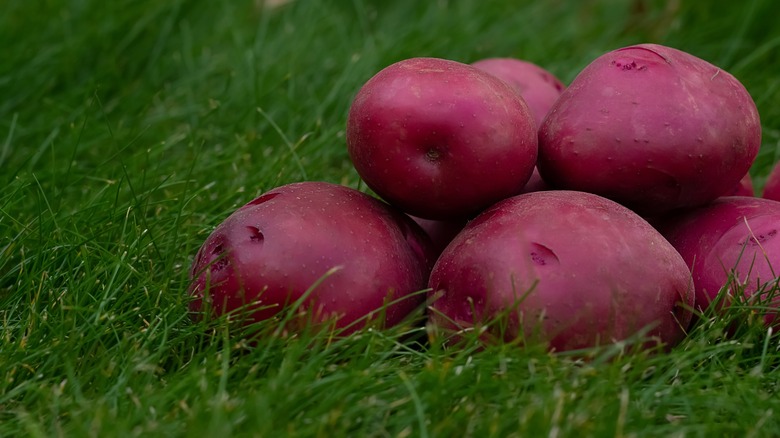 Saeedatun/Shutterstock
The variety commonly referred to as "Red pontiac" or "Dakota chief" is a red potato cultivar that wasn't introduced until 1945. The plant not only produces these fresh potatoes but also some white and purple blooms that are ornamental in the garden. Typically, "Red pontiacs" are grown at home due to their attractive growth habit and low-maintenance qualities. They are considered to be one of the easiest varieties of red potatoes to grow in a home garden.
12. Maris peer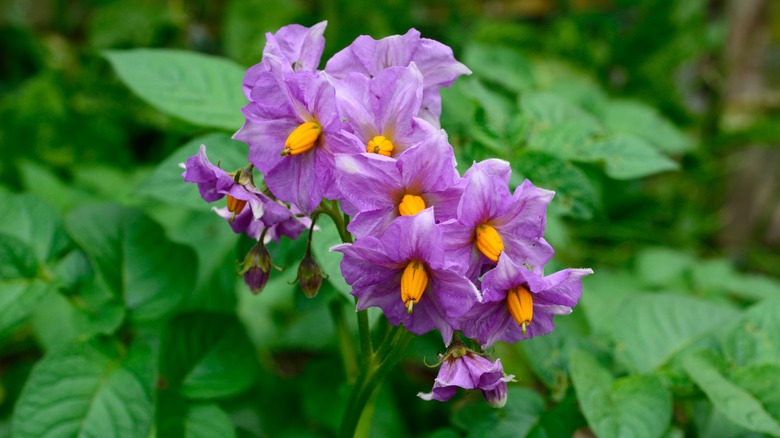 Caron Badkin/Shutterstock
Maris peer potatoes are a great option for growing in your home garden for several reasons. One that pulls some gardeners in is their beautiful purple flowers that have a soft fragrance. On top of this, the plants are also easy to grow, they can produce a high yield, and their tubers are very tasty. A second early variety, Maris peer potatoes are ready to harvest in July and August; however, they can instead be planted in August for harvest in late October.
13. Maris bard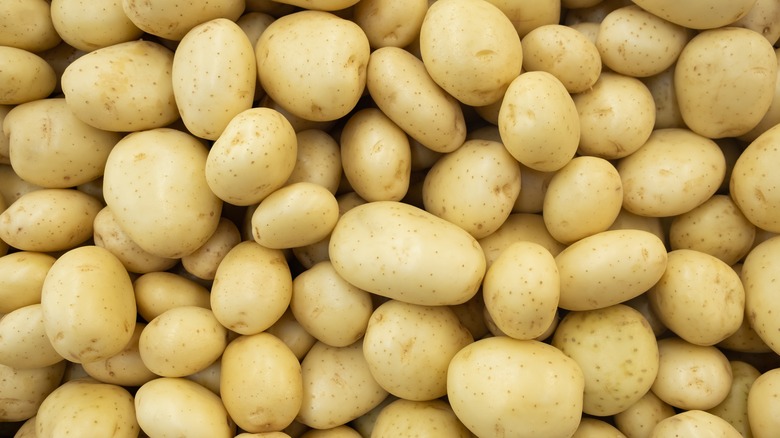 ArieStudio/Shutterstock
Maris bard potatoes are another Scottish basic seed potato that quickly produces high yields of the crop. They can be grown in fertile and well-draining soil that is kept plenty moist, and they should be kept in direct sunlight for most of the day. The white and smooth potatoes should reach maturity in May when they are planted just after the last bad frost in your area, in March or April. The Maris bard variety tends to grow reliably and is loved by home gardeners and farmers alike.