Where A Pro Recommends Using Trendy Aubergine Paint Tones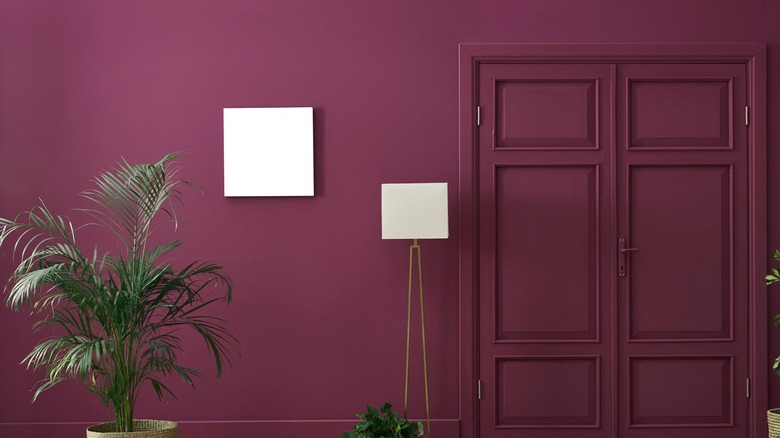 united photo studio/Shutterstock
Each year, there are new paint trends, and one of the latest colors to burst onto the scene is aubergine. If you're not familiar with aubergine (or eggplant, if you prefer), it's a dark, sometimes brownish-purple shade that will bring depth to any room. It's one of the hottest colors of the moment, and for good reason, but it's also a little tricky to pull off because of its darker hue. Thankfully, the pros have got you covered. Per design blog Camille Styles, designer Laura Pankonien says to put aubergine in a place you may not have thought of — the powder room. 
The designer specifically selected aubergine as one of her favorite color trends because of its ability to add drama to a room, so it makes sense that she would recommend using it in an oft-overlooked space. According to Pankonien's design advice, using the luxe shade in a space like this makes for "a special moment," especially when used on a vanity. Here's everything you need to know about the "it" paint color and how to utilize it in a room.
Styling aubergine doesn't have to be tricky
One of the most luxurious aubergine paint colors is "Brinjal" by Farrow & Ball. This sophisticated shade is practically made to accent a room, and its rich, warm hue will make any space feel cozier instantly. Unlike other paint colors, most aubergine paint shades will feature warm undertones due to the richness of the shade. Though aubergine will look nice with bright white, you may want to consider choosing shades like warm white instead to keep the cozy vibe going.
Adding aubergine paint will definitely add style to your powder room, but it's important to make sure you go about it in the right way. In general, powder bathrooms are smaller due to them only containing a sink and toilet, which means that the walls you're working with are probably also narrower. You may have heard that darker colors make a room appear even smaller, and if your bathroom doesn't get much natural light, this could be true. If you're worried about this, only paint one wall aubergine purple and opt for a white-adjacent shade for the other walls to create balance.
Balance is important when using a statement color like aubergine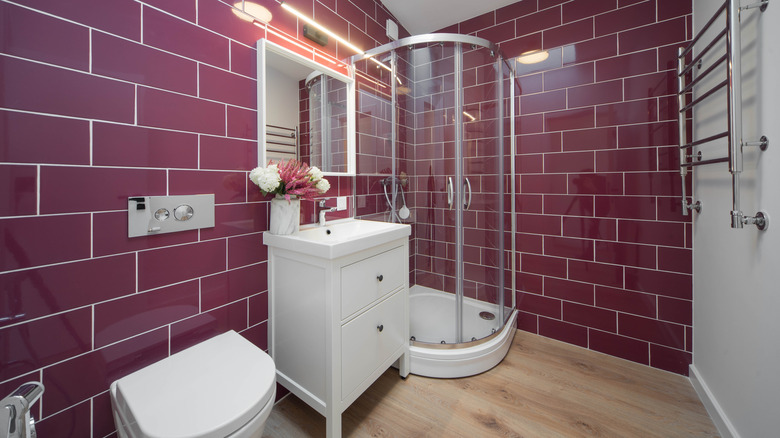 Aleks Kend/Shutterstock
Additionally, think of the 60-30-10 rule. This is a handy way to remember how to distribute colors evenly in a space. Sixty percent should be the main color of the room (usually a neutral), 30 percent should be the second most-used color, and 10 percent an accent color to finish the room. In a small bathroom, aubergine could make up either the 30 or 10 percent sections of the rule depending on how much natural light your bathroom receives. Of course, the above doesn't apply if you have a large powder bathroom that gets plenty of light, as aubergine paint won't look as bold.
Aubergine is a good shade to use as an accent in general. Rather than painting your walls the rich purple shade, consider accessorizing with it instead. An aubergine blind or even a small rug will add a luxe feel to your powder room and be on-trend without running the risk of making it look darker. Aubergine is a beautiful color guaranteed to make a statement, but it's important to think about the layout of your powder room so it will look refined and classy instead of closed-in.