HGTV's Jenn Todryk Spills Her Secrets On How To Beautifully Style A Mantel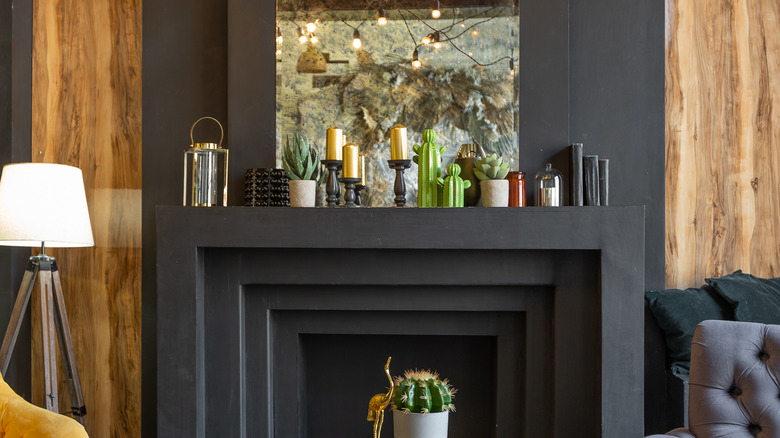 Pinkystock/Shutterstock
Mantels are often a centerpiece of decorating when stockings and autumnal foliage are key to colder-season décor. But your mantel has the potential to look great and serve as a stellar centerpiece for your living room any time of year, including spring and summer. HGTV host of "No Demo Reno," Jenn Todryk, showed YouTube audiences how she decorates hers, offering a great tutorial on creating a hearth that becomes a dynamic accent in any room.
In her video, Todryk decorates using a variety of layers, heights, and materials, revealing how you can use each of these factors to create a perfect visually-balanced fireplace surround — and it all starts with finding a focal point. The designer says to establish a focal point around which the rest of the décor can be molded. In her living room, she chooses a large round mirror that contrasts the straight lines of the fireplace and surrounding windows. From there, she focuses on a few key design elements like balance, layering, and texture. Here's how she achieves the look — and how you can adjust these steps to your design needs.
Balance and symmetry
Creating a sense of balance is at the forefront of Jenn Todryk's approach. After establishing her focal point, she describes the diagonal entrance to her room, where the fireplace is, and says to think about these angles of approach when choosing the visual weight of your decór. Opting for what she describes as "heavier" elements on the farthest point away from the entrance, Todryk uses a pair of tall candles. These objects form the highest point on the mantel from which everything else descends.
Considering the symmetry (or asymmetry) of your design is also essential. She seeks to balance out the heavier elements on the far side with lower and lighter pieces, like books and small vases, on the other. They offer a sense of uniformity in their placement on the opposite side of the mirror and their visual weight, forming a firm diagonal between the candles' height and the books' low lines. The greenery echoes a similar, diagonal line from the smaller plant on top of the mantel to the larger one below. Small tableaus and groupings keep the mantel and hearth from looking too crowded, but Todryk says you can still create the same effect but use fewer elements for more minimalist spaces.
Layering and depth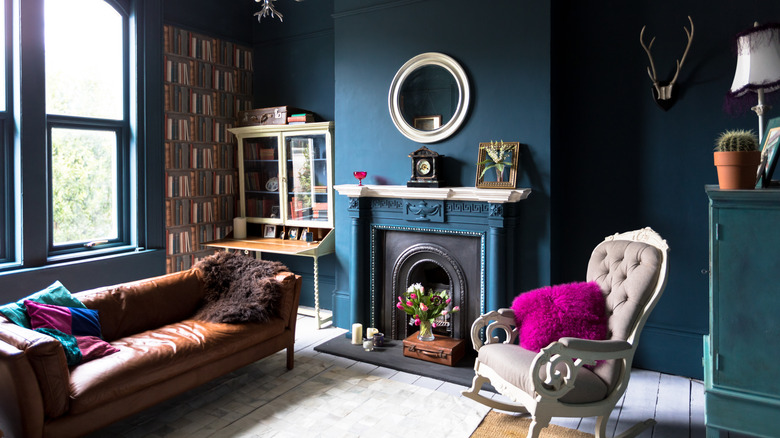 Nicolamargaret/Getty Images
Jenn Todryk proposes that you consider the fireplace a series of layers that can overlap and form a cohesive whole. The layering of a round mirror in the center provides an extra dimension to the square and rectangular lines of the mantel and fireplace surround. Additional objects like the plant on the mantel and the books under the vases add a variety of shapes that create more visual depth than singular or like-items would otherwise.
On the hearth, the wooden ladder is another object given more layers by the addition of the throw over its rungs and the books leaning against the mantel, providing the item with visual impact and functionality. While Todryk's is a predominantly neutral-colored space, if your room features more colors, this could also be a chance to play with layering of a different kind, with ample opportunities to tie accent colors in the room.
Texture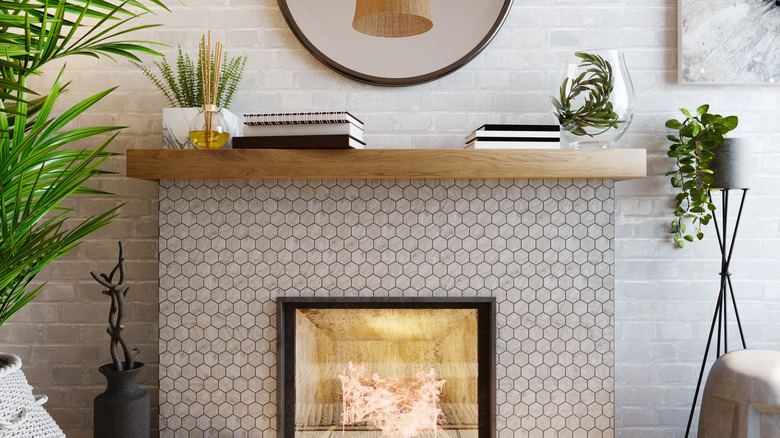 Ivan Zaplatynskyi/Getty Images
Texture is another crucial element, and Jenn Todryk works many into her mantel design, from natural materials like brick, wood, and plants to softer touches like woven baskets, a soft accent pillow, and a cozy throw blanket. These contrast with the rougher, more rustic materials like the brick surround and wood mantel. The effect is touchable and luxurious, making it a cozy spot to linger and enjoy even in seasons when the fireplace is not running. 
Maximize texture by bringing in many tactile elements, including ruddier and more rustic materials, metals, softer upholstered and woven items, and reflective elements like mirrors. Don't forget materials like baskets, patterned fabrics, and paper, including books and other printed materials. This is an easy aspect to swap out by season, so you can continue to change up your look throughout the year. These differences in texture help tell the story of your mantel, so also make sure to include mementos, souvenirs, art, and favorite books to add a personal touch.