Create A Gorgeous Boho-Chic Plant Stand With A Simple IKEA Stool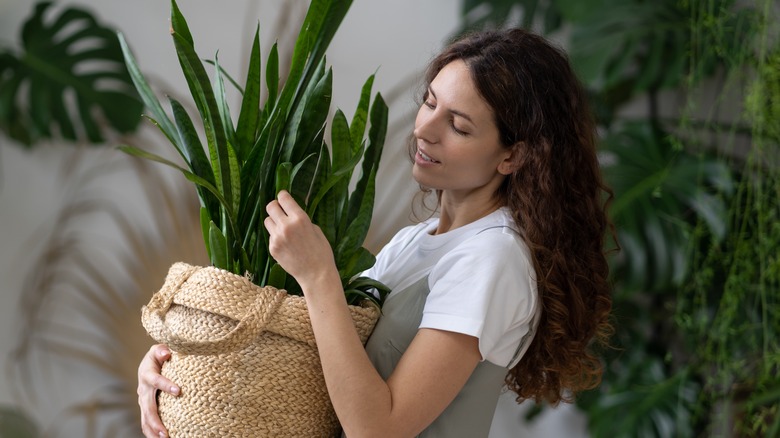 DimaBerlin/Shutterstock
While you can easily place miniature houseplants on a table or shelf, larger ones only tend to have one option: the floor. However, you can easily upgrade your home for larger houseplants using this gorgeous boho-chic plant stand by @katiebookser on TikTok. This stand can help elevate your space and give your houseplants a cozy new home that flatters the rest of your interior. For this hack, the stool acts as a support and props up your plant, while the basket provides space for you to add your chosen houseplant. All you need is an IKEA Marius stool, some cord, a wicker basket, and some scissors. That's it! These items should all come together to help you craft this dreamy boho-inspired plant stand, one of many IKEA furniture pieces that all plant lovers need.
Although you may find parts of this hack tricky, you should be able to master it with some patience and practice. Now for the critical part: the tutorial. Grab your tools and follow the instructions to recreate this trendy piece. Let's dive right into it!
Prepare your IKEA stool
Not only is this a fun way to show off your favorite houseplants, but it's also great if you're on a budget. To replicate this beautiful piece for yourself, you first need to take your IKEA Marius stool and disassemble it to remove the seat. Now for the tricky part! Take the legs and cover them fully from top to bottom using "spiral knots." This technique may take a little while to get used to, but you should be able to get the hang of it after a few tries. If it's your first time trying this technique, you can always practice with some spare pieces of string beforehand. This way, you'll be better prepared. 
The next part is easy. In the TikTok video, the content creator explains how to finish off the look: "[Attach] the legs to the top of the stool and [place] a basket on the seat. I secured the basket with more cord and tied some knots underneath." While the technique to create the boho look may take some practice, it certainly pays off when you see the final product! Now you should be left with a gorgeous plant stand for a fraction of the price of a store-bought one.