The Best Alternative To Dated White Trim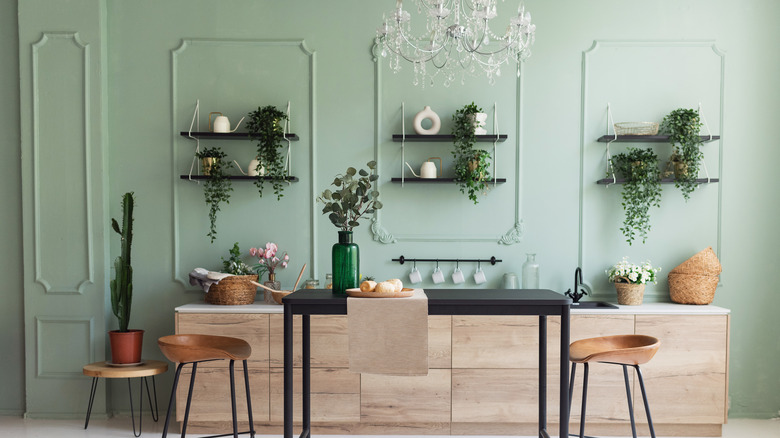 Lysikova Irina/Shutterstock
Over the years, homeowners have typically chosen clean, bright white for the trim of their living spaces. The classic look of white baseboards, molding, and other trim types conveys a timeless feeling of elegance and sophistication. However, the traditional contrast can make achieving a smooth and cohesive look difficult. This is particularly noteworthy in modern design, where many want a consistent and harmonious aesthetic.
A great alternative is to paint the trim the same color as the walls, which offers a more unified look. It can also help merge architectural elements with the overall space, making the room appear more spacious and amplifying the reflection of natural light. Additionally, it allows your furnishings and decor to stand out more effectively, all while contributing to a relaxed and expansive environment. By maintaining a uniform color palette, your decor will have a more balanced feel, which can in turn create a more comfortable and inviting setting.
The importance of texture, contrast, and aesthetic
To achieve the look you want, consider the texture of your walls and trim when deciding on the best paint finish. Different finishes — such as matte, satin, or eggshell — can subtly alter how the color appears on surfaces. If you're looking to create a bit of visual interest, consider opting for a subtle contrast between your walls and trim. For example, you may want to select a trim color that's slightly lighter or darker than the wall color, creating a gentle distinction that maintains unity throughout the space.
While matching trim and wall colors is a compelling trend, it's not a one-size-fits-all approach. Every space is unique, and personal preferences play a significant role in the outcome. Don't be afraid to adapt the technique to suit your vision, whether it's a subtle variation in color or a more daring departure from tradition. Ultimately, the goal is to create a space that reflects your sense of style and tastes, and with the right approach, you can achieve just that.