TikTok's Garden Marker Hack Makes Keeping Track Of Your Plants So Simple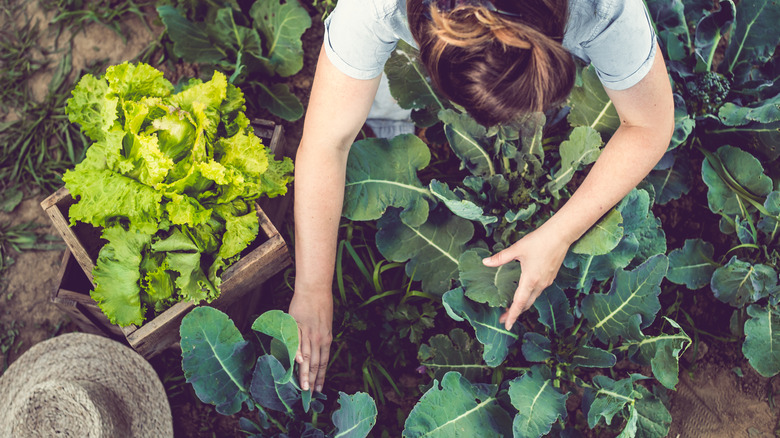 Sanjeri/Getty Images
We may receive a commission on purchases made from links.
If you're an avid gardener, you likely take pride in having a vibrant garden full of plants. However, as a result, you may find it challenging to keep track of them all. Thankfully, there's a simple solution: the TikTok garden marker hack by @jenwoodhouse. This method is excellent if you have a thriving vegetable garden budding with life and can help you keep track of your plants with minimal fuss — especially if you recently did some painting. All you need is some wooden paint stir sticks, some spray paint, and a white paint marker, and you should be ready to map out your garden in no time.
However, that's not all. This hack involves minimal fuss, making it a great solution if you want something quick and easy to organize your garden space. All you need to do is locate the perfect spray painting setting, and you're ready to get to work. Now, we'll show you how to do it yourself.
Apply spray paint to your wooden markers
To make your garden markers, grab some paint stir sticks and quickly coat them with black spray paint, ensuring an even coat. Once you finish, leave them to sit and dry. This should take less than a few hours for most types of spray paint. Once they're dry, you can take a white paint marker and note down all the plants your garden provides on both sides of the marker. It all depends on what you've planted in your vegetable garden. However, this method works wonders if you grow several plant variations, such as sweet, Thai, and holy basil. The final step is to stick them in your garden next to the corresponding plant. But ensure you've located the right one before doing so, or this could lead to an unwanted mix-up!
Not only does this hack keep your garden organized, but it can also provide a unique stylistic flourish for those brushing up on their penmanship. If you're artistic, you can even include a small line drawing for a personalized touch. Either way, your time wasted looking for specific plants will be a thing of the past. Now, you can enjoy your flourishing garden!