Can You Use Hydrogen Peroxide To Clean Wood Floors?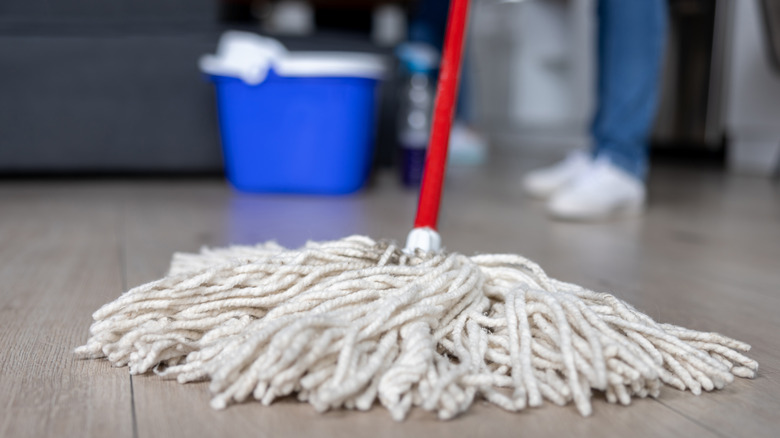 Hispanolistic/Getty Images
Cleaning your wooden floors regularly is a must if you want them to stay gleaming, but there's one product you should be cautious about using, and that's hydrogen peroxide. Though it isn't as potent as bleach, hydrogen peroxide is still a powerful cleaning agent that, much like bleach, has the ability to discolor wooden flooring. Via Family Handyman, Leanne Stapf, chief operating officer at The Cleaning Authority, recommended avoiding hydrogen peroxide entirely when cleaning wood floor to be on the safe side.
Nobody wants their wooden floor to look patchy, especially if it's antique or was expensive to fit. It may be tempting to clean with a strong cleaning agent like hydrogen peroxide so you know all bacteria and dirt have vanished, but not at the risk of damaging your flooring. For floors that are clean and safe from tarnishing, here are some of the best alternatives to hydrogen peroxide to use that will leave your floors clean without discoloration. 
These alternatives are less harsh on your floors than hydrogen peroxide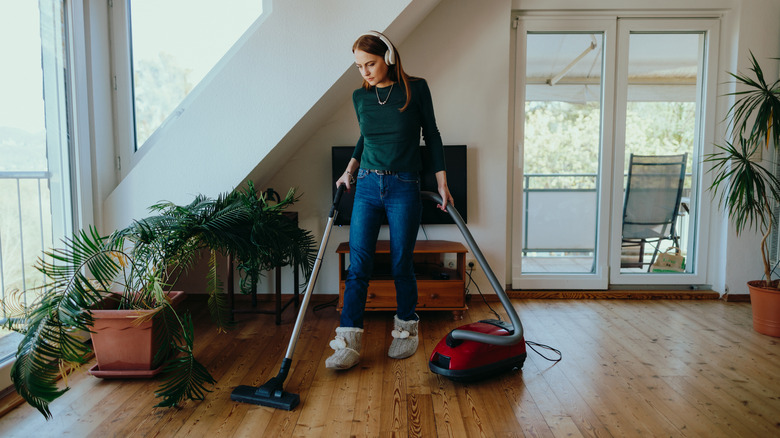 Cream_ph/Getty Images
Rather than use hydrogen peroxide, cleaning expert Leanne Stapf told Family Handyman that you should opt for a damp microfiber mop or cloth when cleaning. Remember too that cleaning hardwood floors is slightly different than cleaning engineered wood floors. For hardwood floors, you should dust mop weekly to get rid of all the little bits of dust that accumulate and damp mop seasonally. When mopping, always ensure the mop is damp, never soaking, as excess water can seep into your wood floor and cause it to bubble. 
As for engineered/laminate wood flooring, simply clean spills when they happen and then sweep or vacuum often depending on your preference. For more intense cleaning, use a steam mop instead of a regular one. This is because, as mentioned above, too much water can cause wood floors to bubble, particularly laminate wood floors. Don't just exercise caution with hydrogen peroxide, either. For any cleaning product, you should research whether it's suitable for your particular wood floor. If in doubt, steer clear and stick to water.